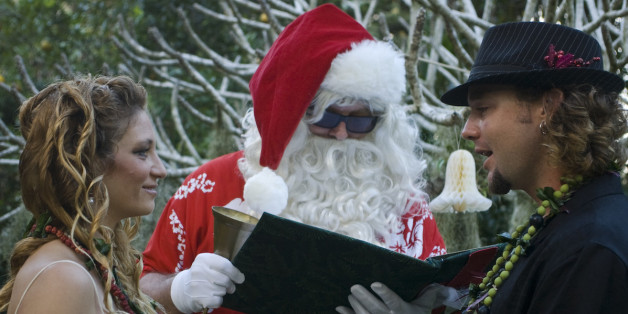 Turns out, Santa's got a side job.
Good ol' Saint Nick has long been the symbol for the jolly Christmas spirit and childhood dreams fulfilled, but holy matrimony?
Thanks to Phil Worwa, a Hawaii resident who owns and operates Santa In Paradise, Santa is available all year long to appear at special events and weddings.
Starting at $250, Worwa will officiate your wedding in full Santa garb and sneak little flourishes into his performance. "In the vows," he told The Huffington Post, "I'll have them say, 'I promise to be good to you every day, because Santa's watching.'"
To date, Worwa has married eight couples on the Hawaiian island of Kauai and relishes the eccentricity of it all. He boasts that the red outfit looks good with Hawaii's greenery, and he's married couples at Kipu Ranch, where they filmed scenes from Jurassic Park. "It's an aloha Santa marrying you in Jurassic Park," he said excitedly.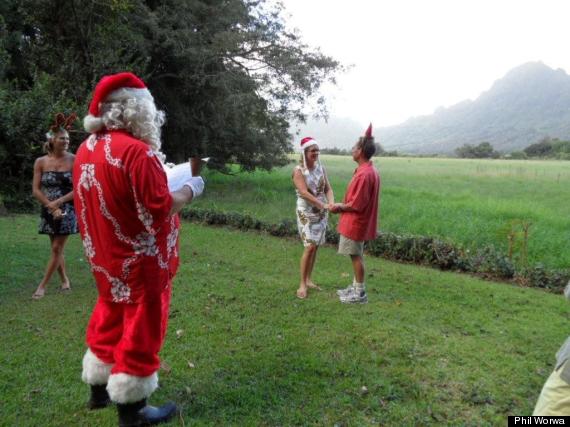 Worwa has really committed to the Santa lifestyle. His sleigh is a red Jeep Wrangler with Santa printed on the doors; he has a Santa face tattooed on his left calf; and he tells incredulous children that, "Mrs. Claus and I have an agreement that I can come down to Kauai every year while she stays at home at the North Pole."
But he also recognizes the inherent romance of marrying in Hawaii.
"It's kind of strange, the mystery and mysticism of Hawaii," he said. "In my ceremony, one of my phrases is, 'Feel the stirring wind. Those are your absent loved ones and ancestors embracing you for this special moment.' And wherever it is, at all my marriages and vow renewals, a breeze and a wind will blow through. People will stop and look at me thinking, where's the button that he pushes to get the air to do that? It makes me feel wonderful, because all of the sudden there's this unique bond that everybody has."
In a state where holding your wedding is clearly not an original idea, Santa Phil definitely mixes it up.
Keep in touch! Check out HuffPost Weddings on Facebook, Twitter and Pinterest.
BEFORE YOU GO
PHOTO GALLERY
Santa Seen In Strange Places