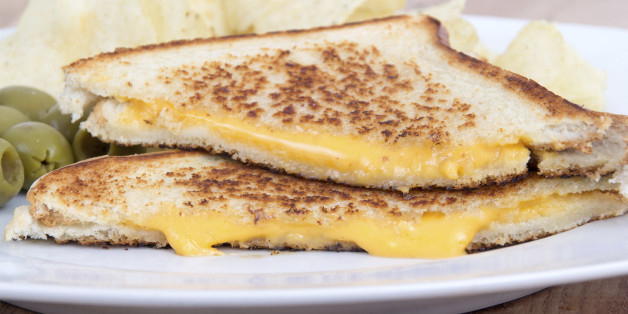 Andy: I really want to experiment with some grilled cheese tonight! Still got a ton of cheese, bread and butter. Need to add something
Kate: Love tomatoes with it, but tomatoes suck right now

Kate: What if you put a stuffed shell inside...
Andy: Ooooooh
Kate: Or some ricotta
Andy: My god!
Andy: I'm thinking of something to add some crunch
Kate: Ohhh def some crunch. Bread crumbs? Pine nuts? Raspberry jam with seeds in it? Bacon? Corn nuts?
Andy: What about like something more terrible for you, like potato chips/corn chips?
Kate: Funyuns, yep
Andy: MMMMMMM
Kate: Oooh Fritos
Andy: Fritos. Could be good
Kate: Fritos are so underrated
Andy: Totally! What about some pan fried potato slices (in the absence of french fries). Plus an egg? Like a breakfast sandwich?
Kate: Yeah but you'll need some ketchup
Kate: I say no to the egg. And I love me some eggs. But its not working with our vision -- melty cheese, runny yolk. Not tonight
Andy: Yeah doesn't add a lot of flavor. And just adds more soft squish mess. But we've already got that with the cheese
Kate: Avocado? if you don't mind warm avocado, I know some do. Avocado and Fritos.. onionsssss
Andy: Oh, onions!
Kate: Yeah onions y'all
Kate: PICKLES
Andy: Oooooooooooo
Andy: That's EPIC
Kate: Yeah. Almost TOO obvious
Andy: Like perfect flavor combo
Andy: Both sides of the spectrum
Kate: Yeah and the texture spectrum. Textrum, if you will
Andy: Flavor quadrants
Andy: Fladrants
Kate: There we go
Andy: This is high science, we'll devise "textrum fladrant theory"
Kate: Oh I do like that
Andy: Oh grilled mac and cheese
Kate: Yeah yo. YEAH
Kate: With breadcrumbs pls
Andy: YES
Andy: WE'VE DONE IT KATE
Andy: WE'VE CRACKED IT
BEFORE YOU GO
PHOTO GALLERY
Grilled Cheese Fails