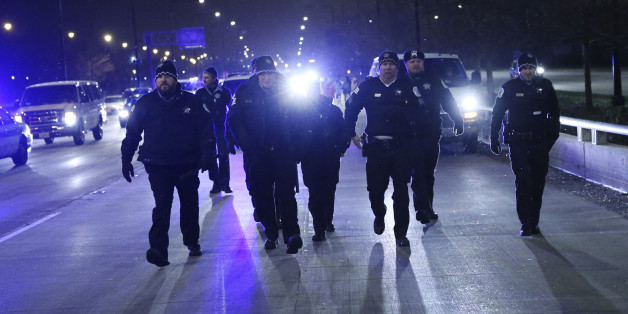 More than a month after a black 17-year-old was fatally shot by a Chicago police officer, a journalist and a law professor are calling for the release of squad car video they believe exists in hopes that the footage will clear up questions about what happened that night.
On Monday, journalist Jamie Kalven, founder of production company Invisible Institute, and University of Chicago Law School professor Craig Futterman, founder of the school's Civil Rights and Police Accountability Project, published a news release calling for the Chicago Police Department to release video footage of the police shooting that resulted in Laquan McDonald's death on Oct. 20.
"There's lots of reasons to question and doubt whether this level of deadly force was required and the only way in which it can be addressed is making the videos public," Kalven told The Huffington Post.
As the Chicago Police Department explained to news media at the time, at about 9:45 p.m., officers responded to a call from a person who said an individual was attempting to break into cars in the city's Archer Heights neighborhood.
According to the Chicago Sun-Times, a police spokesman said officers found McDonald "with a strange gaze about him," carrying a knife he used to slash a tire of a squad car and damage its windshield before running from officers. A second car arrived on the scene and attempted to box the teen into a fence. He allegedly refused requests to drop his knife, at which point an officer opened fire and shot him in the chest.
The Cook County Medical Examiner's Office ruled McDonald's death as a homicide after an autopsy confirmed the teen died of multiple gunshot wounds.
The pair, who have observed questionable patterns of police conduct in the past, sought out witnesses.
In a statement released Monday, the pair state that a witness whose car was stopped by the police action saw McDonald "shying away" from the officers. The witness said the teen was not posing an immediate threat to anyone after he was successfully boxed in. He told Kalven and Futterman the teen fell to the ground after first being shot but that the officer continued to fire bullets into his body.
Futterman says the witness, who they believe contacted the city "on his own initiative" to report what he saw, claims to have seen the officer fire "as many as six or seven" more shots into the boy.
One witness told CBS Chicago the shooting didn't need to happen.
"They didn't need to shoot him. They didn't. They basically had him face-to-face. There was no purpose why they had to shoot him," Alma Benitez said.
Kalven and Futterman believe that, given how the two squad cars were positioned at the scene of the shooting, those cars' dashboard cameras should have been recording at the time of the incident. Multiple businesses located on the same block of the shooting also may have captured relevant surveillance footage. Given what they believe to be the discrepancies in the CPD account of the shooting, they believe the footage should be released.
"The bottom line is there ought to be video that exists and that video will reveal the truth of what happened," Futterman said.
The Chicago Police Department deferred comment to the Independent Police Review Authority, which said through a spokesman that an investigation into the Oct. 20 incident is ongoing. The IPRA spokesman declined to comment further on the ongoing probe.
It is exceedingly rare for a Chicago police officer to be convicted of, or even charged with, shooting a civilian. Though hundreds of Chicagoans, a disproportionate number of them African-American, have been shot by police throughout the past 17 years, only two officers have faced trial for a shooting death. One of them, Dante Servin, appeared in court last week on charges related to the shooting death of Rekia Boyd, a 22-year-old unarmed black woman.
While Kalven and Futterman acknowledge they have no formal legal standing to go beyond what they are calling their "public intervention" in the police shooting, they are hopeful others will heed their call for justice for the teen, who was reportedly a ward of the state with little, if any, family involvement in his upbringing.
"This is someone who was just utterly abandoned," Futterman told HuffPost. "There is no one to speak out for Laquan."
They are also cautiously optimistic the city and CPD could proceed more transparently with their investigation of the police shooting, given the city's "historic" step to make previously-veiled police misconduct files in response to an appellate court ruling earlier this year. Futterman was involved in that case.
Chicago police shot 34 people in 2013, according to the Chicago Tribune. A CPD spokesman told HuffPost last month the department is "on pace" for a reduced number of police-involved shootings for the third consecutive year.