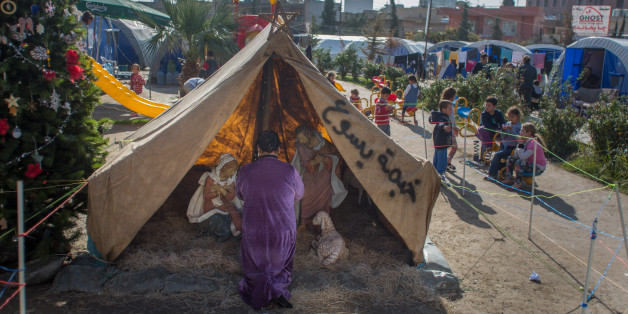 ERBIL, IRAQ — Each December 8 in Lyon, France, up to three million people flood the streets as houses display candles in the windows to mark the feast of the Immaculate Conception. It's one of the largest annual festivals in the world, alongside Rio de Janeiro's Carnival and Munich's Oktoberfest, and a deeply cherished French tradition.
This year, Lyon's famed Festival of Lights traveled to Erbil, Iraq, to offer what organizers called "a strong sign of friendship and fraternity" to a Christian minority reeling from threats posed by the rise of the radical Islamic State.
On Friday, Cardinal Philippe Barbarin, archbishop of Lyon, took off in a chartered plane with other Catholics from Lyon, bound for Erbil. Among other things, the delegation is visiting the Ankawa refugee camp, home to more than 3,000 Iraqis, most of them Christians and many living in desperate conditions, who have fled the advance of ISIS forces.
A procession and mini-version of the festival of light was staged Saturday, ahead of the celebration of an early Mass of the Immaculate Conception on Sunday.
BEFORE YOU GO
PHOTO GALLERY
Yazidi And Other Minorities Flee ISIS