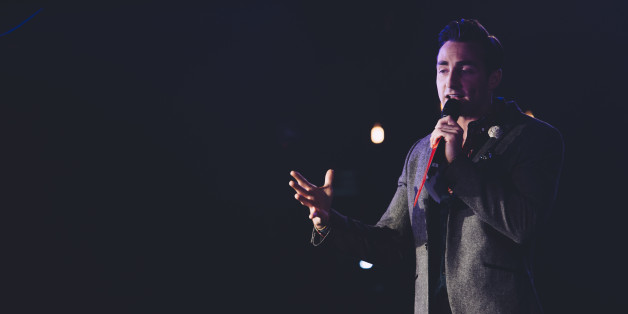 In what's become a yuletide tradition, "People's Couch" hunk Scott Nevins rang in the holidays Dec. 7 amidst of bevy of stage and screen talents at New York nightspot 42West.
Broadway performers Tony Yazbeck, Bobby Steggert and Anthony Rapp were among the many stars to take the stage for a spirited set of carols at "Sparkle: An All-Star Holiday Concert," which also featured Erich Bergen of the "Jersey Boys" film and celebrity blogger and entrepreneur Perez Hilton.
Yazbeck, who is currently starring in "On The Town," had the distinction of crooning "Have Yourself a Merry Little Christmas," which was introduced by Judy Garland in 1944's "Meet Me In St. Louis" and is a longtime favorite of Nevins.' Meanwhile, singer Kelly King brought the crowd to its feet with flawless renditions of "Oh Holy Night" and Mariah Carey's "All I Want For Christmas Is You."
"I'm such a holiday fanatic and I love all of the buildup to Christmas," Nevins, who was born and raised in Queens, told The Huffington Post earlier this month. The show itself, he added, is his way of "getting together with loved ones and friends for a great holiday celebration. I want this to feel home-spun and like a real love fest between friends, performers and fans."
The West Coast installment of "Sparkle: An All-Star Holiday Concert" plays Los Angeles' Rockwell: Table & Stage on Thursday, Dec. 11 and will feature performances by Steve Kazee, Laura Bell Bundy and Eli Lieb, among others. Head here for more information.
Proceeds from both the New York and Los Angeles performances will benefit The Actors Fund.
Check out photos from the Dec. 7 performance of "Sparkle" below:
PHOTO GALLERY
Sparkle NYC 2014