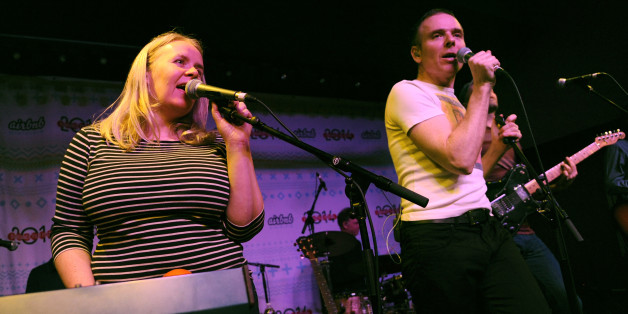 The following article is provided by Rolling Stone.
By NICK MURRAY
When Stuart Murdoch was performing alone at Glasgow open mics in the mid-Nineties, the young singer-songwriter barely considered longevity. "I always imagined that me as a person might be able to cobble together one LP," he says, recalling the period before he formed Belle and Sebastian. "Once we reached about record four or five, I thought, 'Damn, this is a real journey – this is interesting, and the possibilities are much greater than I ever thought they would be.'"
Eighteen years after releasing "Tigermilk," their debut LP, Belle and Sebastian are still best known for acoustic indie pop, but Murdoch and his bandmates continue their search for new possibilities. "Even up until record seven or eight, we were still looking for a sound," he says, describing the progression toward 2006's fuller, louder "The Life Pursuit." "We were really happy with the sound of that record, so we relaxed and wrote Write About Love, and that's a more introverted record."
Stuart Murdoch on 'God Help the Girl,' Belle and Sebastian's Next LP
After releasing "Write About Love," Murdoch turned his attention to film, writing and directing coming-of-age musical "God Help the Girl." The project took up most of his time, and Belle and Sebastian seemed as if it might be drifting apart. When shooting wrapped, he saw what was happening and called together a quick tour. "I realized that if I didn't get back to my band, they were all going to get snapped up by different bands," says Murdoch. "I just had this feeling that I couldn't take them for granted anymore, so we rushed back together and played some gigs."
On the road, they began writing the songs that would form "Girls in Peacetime Want to Dance," a 12-song collection (record nine) that backs Murdoch's stories with more synthesizers, drum machines and disco flourishes than ever before. This studio experimentation was borne partly from the demands of touring. "I've been running the live show off the laptop," says Chris Geddes, who has been with Belle since "Tigermilk," "just because it's the only practical way to get all the signs that we need. It felt like a natural thing to carry that forward when we were in the practice room."
Rolling Stone's 50 Best Albums of 2014
With his laptop running Ableton Live, Geddes generated a variety of melodies and effects but ran them all through a spring reverb unit, searching for a warmer, more welcoming sound. Murdoch, meanwhile, drew from his longstanding love for Mute Records post-punk and Eighties synth-pop. "I love those groups like Bronski Beat and Pet Shop Boys that seem to be able to write amazing, big-sounding electro-pop but also write it from the perspective of real people in real time doing real things," the singer explains, picking "West End Girls" and "Left to My Own Devices" as his favorite Neil Tennant compositions.
In the studio, the band chose "Little Concepts in Rock & Roll" as a working title and attempted to follow as many ideas as possible, taking pleasure in the collective experience of making music. "We had everything that we needed at our fingertips and in our brains," says Murdoch, "and we just got into the room and we wanted to push it. We wanted to push every track in a different direction."
Rolling Stone's 50 Best Songs of 2014
Lyrically, Murdoch wrote much of the album from the perspective of Allie, a character whose voice and story would allow him to engage with current events without seeming didactic or "uninteresting." "I imagined her just sitting in her house and thinking about politics and thinking about her situation and how she felt as a young person or as an ordinary person," he says. "She escaped it because it never meant anything to her – she couldn't get anything done."
One of Peacetime's most opulent tracks, "Enter Sylvia Plath," narrates a different kind of escape, its main character setting "The Bell Jar" to synth-pop the way the Pet Shop Boys once heard Che Guevara and Debussy to a disco beat. "I wanted to write a song about a person who was liberated by literature as a teen and wanted to escape from their small town and follow the ghost of Sylvia Plath," says Murdoch. "It just came along and got swept up in this electronic landscape."
Rolling Stone's 500 Greatest Albums of All Time
Even though these electronic landscapes push the band's sound forward, they also call back as far as Belle's mostly acoustic record one, which also contains digital curiosity "Electronic Renaissance." "It just shows that I've always had it in me," says Murdoch, discussing the track. "When Tigermilk came out, people were like, 'Yeah, this is a nice album, but that song's like a wart!'"
Despite the band's open attitude and well-documented evolution, the songwriter doesn't esent those who peg Belle and Sebastian as a bunch of sensitive folkies. Naturally, he understands. "I would be the same way," he admits. "You get an idea about a group, and it's not like you have the time or the inclination to really explore and try to understand the artist."
Rolling Stone's 100 Greatest Artists of All Time
Besides, he and his bandmates are focused on bigger targets: "The group is obsessed with making pop music and being part of the history of great pop music – whatever you like to call it, pop, rock, commercial music. People can call us whatever they want, but the reason that we're still around is because we have the power of great pop music coming through our veins."
BEFORE YOU GO
PHOTO GALLERY
Celebrity News & Photos