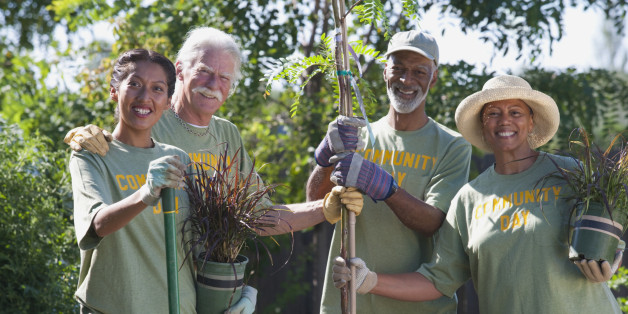 Gap years truly are, with apologies to that old Coca-Cola ad, the "pause that refreshes." But until recently, they -- like youth -- were wasted on the young. While plenty of students take a gap year before starting college, there are several gap year programs that are geared for the retired or about-to-be retired.
The idea of taking some time off pre-retirement to figure out what you want to do with your post-work life is catching on. Already a cottage industry has sprouted a wide range of volunteer tourism opportunities for middle-age workers. It, of course, requires an understanding boss and enough money to pay your bills during a break in your income. For many, those two obstacles will be insurmountable. But for the sake of fueling some day-dreams, here are a few Gap Year for Grownups ideas:
1. Only the old(er) may apply.
Encore.org taps into the experience and skills of those in midlife or beyond to do help communities around the globe. Encore's Purpose Prize, now in its ninth year, is the nation's pre-eminent large-scale investment in people over 60 who want to use their experience for social good. It awards at least $100,000 annually to individuals to create new ways to solve tough social problems. In 2014, $300,000 was given to six individuals. There are also paid Encore fellowships, that match skilled professionals with social-purpose organizations in high-impact assignments.
2. Join the Peace Corps (for just a little while).
The Peace Corps Response program specifically wants folks with at least 10 years of work experience. While the regular Peace Corps stint is 27 months, the Response program requires a much shorter commitment of between three months and a year. Strong applicants have the necessary language, technical, and cross-cultural skills needed for the position. No formal training is provided.
3. Voluntourism.
Talk about a growth industry! There are plenty of opportunities to volunteer your time and skills depending on what your interests are. You can do marine research with the Wild Dolphin Foundation in Hawaii, teach English in Italy, or work with orphans in India. You can even volunteer to work on an Israeli military base through the Volunteers for Israel program. You can assist archeologists in Peru or join one of the medical teams with Projects Abroad. Global Volunteers says that boomers comprise 30 percent of its volunteer force.
Yes, you pay to participate in these programs and it can be pricey when you add in international airfares and program costs. But it's a great way to see a place, do some good and make some lifelong new friends. Plus there is some tax deductibility. The Global Volunteers website says service program fees, air fare, visa, and related travel expenses are tax deductible if participants adhere to the program itinerary. "When combining federal and state income tax savings, the average volunteer will save about 33 percent of the total cost of the service program," it says.
4. Road Scholar program.
While there is nothing stopping you from enrolling in courses at your local university or college -- and many places will allow those post-65 to to audit classes for free -- the Road Scholar program puts an educational spin on group travel. Tours are led by experts in the field. There also are suggested reading lists and most days include lectures and discussion groups. Subjects include just about anything and are based around interests and, of course, travel.
5. Europe on $5 a day, circa 2014-15.
So what you really most want to do is relive that summer you spent backpacking through Europe, but maybe without the backpack. Retirement, though, has you living on a fixed income. One way to afford the adventure is to lease out your house. Eliminating your housing expenses may free up enough cash to move freely around the globe. Or if what you really want is a nice base in say, Paris, you might even get lucky and do a house swap. Academics have been doing this for years. Try sites like SabbaticalHomes.com.
In many cases, cars can also be included in the exchange. House exchangers often wind up exchanging local living tips as well. It's a chance for you to really live for a few months in London or Spain or Cape Town. Your pension and Social Security checks will continue to roll in and you won't have the additional travel expense of lodging.
6. Getting the time off work.
Here's where having a compassionate boss is a factor. While paid sabbaticals may be more common on college campuses, they are only offered at 5 percent of U.S. companies, said the Society of Human Resource Management. Interestingly, almost 25 percent of the companies on Fortune's 100 Best Companies to Work For in 2012 offer paid sabbaticals. So what this really means is what employees -- of all ages -- value most is time off, notes Inc.com.
One approach to your company is to simply ask for an unpaid leave. You may be asked to pay for your health coverage during this period and they may suspend your vacation time accrual. You are basically dipping your toe in the retirement waters, trying to figure out what kind of work or contributions you can make after you leave the paid work force.

BEFORE YOU GO
PHOTO GALLERY
7 Easy Ways To Make Extra Money--Without Working