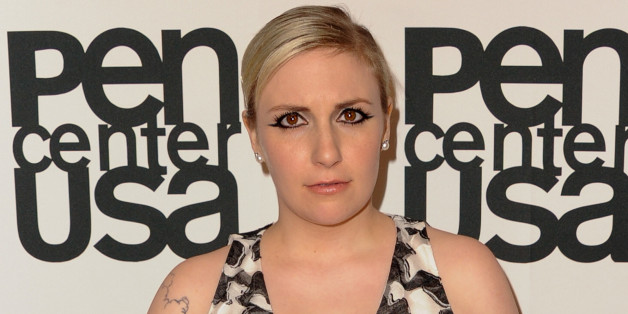 In her new book Not That Kind Of Girl, Lena Dunham bravely wrote about a time in college when she was allegedly sexually assaulted by a former classmate. After receiving some harsh backlash from conservative media and readers -- which contributed to her publisher's decision to alter certain parts of the account in future editions of the book -- she's responded with a heartfelt essay.
On Dec. 9 Dunham's publisher Random House issued a statement that they will be changing the pseudonym used to describe her alleged rapist in the book because the name and description closely resemble a real man who attended college with Dunham. A few hours after the news broke, Dunham published an essay on Buzzfeed responding to her critics and speaking out about her experience coming forward as a sexual assault survivor.
"To be very clear, 'Barry' is a pseudonym, not the name of the man who assaulted me, and any resemblance to a person with this name is an unfortunate and surreal coincidence," Dunham wrote on Buzzfeed.
She admitted that she didn't think her story would be met with open arms since the discussion of sexual assault "is far more inflammatory and divisive than it should be," but Dunham hoped that readers would at least honor her privacy and not "attempt to reopen these wounds or deepen my trauma." Sadly, this was not the case.
"I have had my character and credibility questioned at every turn. I have been attacked online with violent and misogynistic language," Dunham wrote. "My work has been torn apart in an attempt to prove I am a liar, or worse, a deviant myself.. I have been made to feel, on multiple occasions, as though I am to blame for what happened."
Dunham described the reasons she didn't report the assault,
writing
, "I was afraid that no one would believe me." Similar to
other sexual assault survivors
, Dunham says was afraid to ask for help from a system and culture that so rarely supports victims of sexual violence:
I was afraid other potential partners would consider me damaged goods. I was afraid I was overreacting. I was afraid it was my fault. I was afraid he would be angry. Eight years later, I know just how classic these fears are. They are the reason that the majority of college women who are assaulted will never report it.
She
reflected
on her experience as a survivor and what she's learned about how our culture deals with the topic of sexual assault:
Since coming out as a survivor I have gone from an intellectual sense of the ways in which victims are doubted and debased to a bone-deep understanding of this reality. I hope to apply that understanding to art and advocacy. I am deeply grateful for the support I have received. I am deeply grateful that this dialogue is taking place. I am angry but I am not alone... Survivors have the right to tell their stories, to take back control after the ultimate loss of control. There is no right way to survive rape and there is no right way to be a victim.
Dunham closed the essay by explaining the simple way people can support survivors of sexual assault through their healing process. "You can help by never defining a survivor by what has been taken from her," she wrote. "You can help by saying I believe you."
Head over to Buzzfeed to read Dunham's full essay.
BEFORE YOU GO
PHOTO GALLERY
18 Books Every Young Woman Should Read