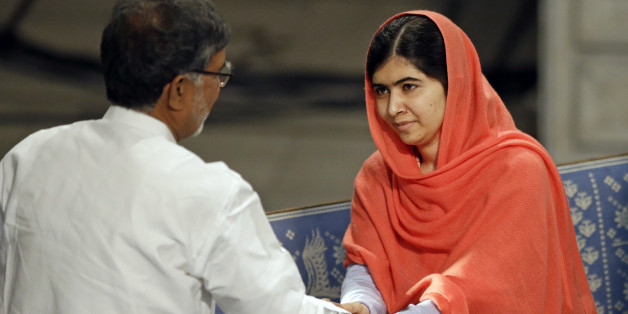 Malala Yousafzai wants to raise the bar in 2015.
The Pakistani children's rights activist -- who gained global prominence after surviving gunshot wounds to the head at the hands of the Taliban a little more than two years ago -- wrote an open letter demanding more from world leaders when it comes to human rights and combating climate change.
The letter was issued on Wednesday, before the 17-year-old received the Nobel Peace Prize for her advocacy efforts in Oslo, Norway.
"Too many girls have their education cut short and are forced into marriages they do not want," the letter reads, as noted by Mail & Guardian. "Too many children grow up without enough food to eat or water to drink and too many of them live in communities whose very existence is threatened by changes to the climate."
Yousafzai writes that 2015 can be a "pivotal point for the world" if global leaders act in the best interests of boys and girls. She did, however, point out that "tremendous progress has been made" in allowing more girls access to education and ending preventable diseases devastating the developing world.
Yousafzai highlighted two United Nations summits next year as unique opportunities "think bigger and to do better." In September, the U.N. will agree upon new development goals tracking human progress, and in December, new climate change targets will be decided upon.
Click here to read Yousafzai's letter in its entirety.
BEFORE YOU GO
PHOTO GALLERY
Why Malala Yousafzai Is An Inspiration