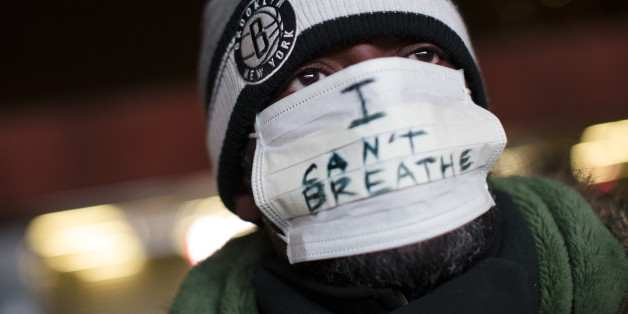 NYPD investigators have formally interviewed Daniel Pantaleo, the officer who was caught on film placing Eric Garner in a chokehold that medical examiners said contributed to Garner's subsequent death.
A grand jury voted not to indict Pantaleo in Garner's death on Dec. 3. The next day, the NYPD launched an internal investigation into the incident, according to ABC News.
Pantaleo himself was interviewed by NYPD Internal Affairs bureau investigators Monday. Investigators, who reportedly questioned the 29-year-old for more than two hours, told DNA Info that Pantaleo "pretty much told the same story" as he did before the grand jury.
Garner, 43, died July 17 while being arrested for selling untaxed cigarettes on the sidewalk. Video footage of the arrest shows Pantaleo placing the unarmed Garner in a chokehold — a move prohibited by the NYPD — as Garner shouts "I can't breathe!" before seeming to lose consciousness.
Medical examiners ruled the death a homicide, stating that Garner died as a result of neck compressions, "the compression of his chest and prone positioning during physical restraint by police." They noted that asthma, heart disease and obesity also contributed to Garner's death.
The grand jury's decision not to bring charges against Pantaleo, which came on the heels of another grand jury's decision not to indict a Ferguson, Missouri officer in the killing of an unarmed black teen, incited mass protests nationwide.
In addition to the NYPD investigation, the Department of Justice is conducting a civil rights investigation into Garner's death. Garner's family has also filed a wrongful death lawsuit against New York City.
Like Us On Facebook |

Follow Us On Twitter |

Contact The Author
BEFORE YOU GO
PHOTO GALLERY
Eric Garner