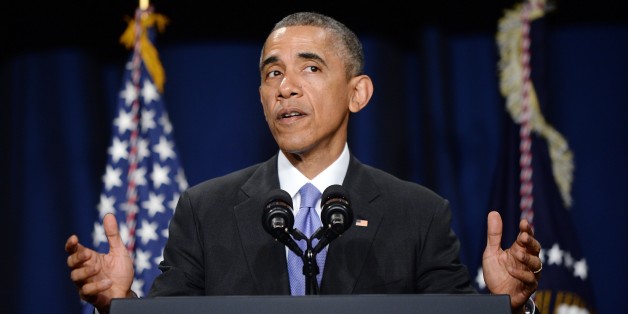 President Barack Obama acknowledged the many contentious findings of the Senate's torture report in a Tuesday interview with Univision's Jorge Ramos. But he said one thing that isn't controversial -- or shouldn't be -- is the understanding that the CIA's tactics "violated who we are as people."
Ramos asked Obama about the grisly findings of the Senate Intelligence Committee's investigation into the CIA's post-9/11 torture practices, which were revealed in a report released on Tuesday. The CIA argued that, while harsh, their tactics were instrumental in collecting valuable information, but the report outlines multiple misrepresentations of the program's efficacy.
The president told Ramos the one thing that couldn't be disputed is the immorality of the program.
"I recognize that there's controversies in terms of some of the details, but what's not controversial is the fact that we did some things that violated who we are as a people," he said.
Obama reiterated the sentiments he shared in a Tuesday statement immediately following the release of the report, saying he had worked to ensure the CIA's torture program ended.
"I can categorically say that anybody who engaged in any behavior like this would be directly violating my executive orders and my policies as President of the United States, and would be held into account and would be breaking the law," Obama told Ramos.
Obama said in the interview that the U.S. has "taken precautionary measures" in its embassies, responding to concerns that the report's release could jeopardize Americans' safety.
"There's never a perfect time to release a report like this, but it was important for us, I think, to recognize that part of what sets us apart is when we do something wrong, we acknowledge it," he said.
BEFORE YOU GO
PHOTO GALLERY
Politicians React To CIA Torture Report