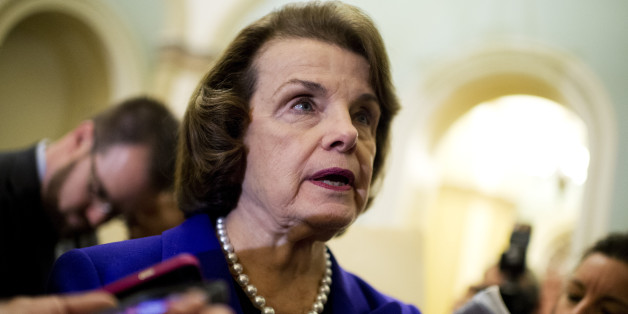 NEW YORK -- Three news organizations, including The Huffington Post, are protesting the "apparently deliberate exclusion" from the Senate Intelligence Committee's Tuesday morning background briefing held prior to the release of its long-awaited report on CIA torture.
"We all requested information on the briefing and how to attend, and were ignored, even while the Committee was intent on finding ways to get non-credentialed reporters, whom it apparently looked upon more favorably, into its briefing, which occurred before normal business hours," read a letter sent Wednesday to the Standing Committee of Correspondents of the U.S. Senate Daily Press Gallery and Radio Television Correspondents Association.
The letter is signed by Huffington Post Washington bureau chief Ryan Grim, senior congressional correspondent Michael McAuliff, BuzzFeed Washington bureau chief John Stanton and Al Jazeera English executive producer Alan Fisher.
The White House and congressional committees routinely hold background briefings in which reporters get the opportunity to question senior officials and lawmakers prior to the unveiling of new policies, legislation or major reports.
Representatives from the three news outlets said they "do not find it credible, as the Committee spokesman claimed, that he simply overlooked our requests" for a background briefing attended by reporters from approximately 30 news outlets. The letter points out that Ali Watkins, who was not invited, has reported extensively on the CIA torture report for The Huffington Post and previously for the McClatchy newspaper chain's Washington bureau.
"The report in question cost taxpayers some $40 million, took six years to complete, and has profound implications for our democracy and U.S. standing in the world," the authors wrote. "This was not some little pet project where elected officials are allowed to play who's in and who's out."
"We feel the Intelligence Committee, in selectively briefing a report that is supposed to be about showing American ideals and transparency after an episode of darkness and secrecy, has failed significantly in carrying out its own responsibility to be transparent and even-handed with the American people and the press, and has raised questions about its own credibility," they added.
The letter's authors asked the Standing Committee of Correspondents to "formally make our complaints known to the Intelligence Committee" and "extract a pledge that the Intelligence Committee will not in the future seek to exclude select reporters from significant briefings"
Read the full letter below:
Dec. 10, 2014

To: The Standing Committee of Correspondents
U.S. Senate Daily Press Gallery

We are writing to protest our apparently deliberate exclusion from the Senate Intelligence Committee background briefing about the release of its CIA torture on Dec. 9, 2014.

We all requested information on the briefing and how to attend, and were ignored, even while the Committee was intent on finding ways to get non-credentialed reporters, whom it apparently looked upon more favorably, into its briefing, which occurred before normal business hours.

We do not find it credible, as the Committee spokesman claimed, that he simply overlooked our requests. In the case of The Huffington Post, reporter Ali Watkins reached out repeatedly, and is well-known to the Intelligence Committee staff as The Huffington Post reporter who was taking the lead on this report. Ms. Watkins, who broke the news that the CIA had spied upon the Intelligence Committee, did not receive a proactive invitation, either, while other reporters did.

We understand that sometimes senators conduct smaller events for limited numbers of reporters, and would not protest that. However, this is on a vastly different scale, involving reporters from approximately 30 news outlets. The report in question cost taxpayers some $40 million, took six years to complete, and has profound implications for our democracy and U.S. standing in the world. This was not some little pet project where elected officials are allowed to play who's in and who's out.

Our outlets serve an audience of millions both in the United States and internationally, and the Intelligence Committee staff deprived our reporters of the opportunity to ask important questions about the report on behalf of those very large audiences.

We feel the Intelligence Committee, in selectively briefing a report that is supposed to be about showing American ideals and transparency after an episode of darkness and secrecy, has failed significantly in carrying out its own responsibility to be transparent and even-handed with the American people and the press, and has raised questions about its own credibility.

We would like the Standing Committee of Correspondents to formally make our complaints known to the Intelligence Committee, and endeavor to extract a pledge that the Intelligence Committee will not in the future seek to exclude select reporters from significant briefings. To do otherwise allows elected officials or their staff to selectively punish reporters or outlets based on their own whims, and would set another chilling precedent in an already too-secretive government. Indeed, there is ample legal precedent (see Sherrill v. Knight; Getty Images News Servs.; Corp. v. Dep't of Defense, Westinghouse Broad. Co., Inc. v. Dukakis) that says while press rights are not absolute, the First and Fifth Amendments "require, at a minimum, that before determining which media organizations receive the limited access available, [a government office] must not only have some criteria to guide its determinations but must have a reasonable way of assessing whether the criteria are met."

An apology would be nice, too.

We sincerely appreciate your attention to this matter.

Ryan Grim
Washington Bureau Chief, Huffington Post

Michael McAuliff
Senior Congressional Correspondent, Huffington Post

John Stanton
Washington Bureau Chief, BuzzFeed.com

Alan Fisher
Executive Producer, Al Jazeera English, Washington, D.C.

cc: Senate Intelligence Committee