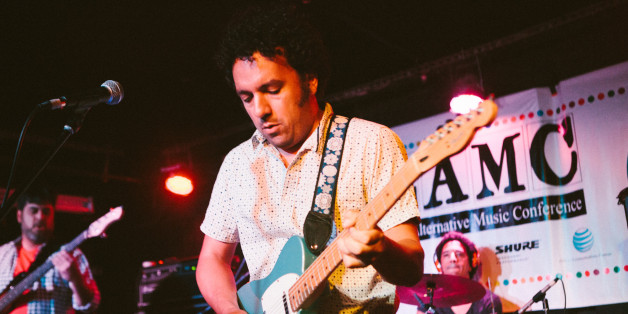 Classic Latin pop songs get a funky new twist on "Musica Moderna," the new album by Orquesta Discotheque, an ambitious musical project spearheaded by the Venezuelan guitarist José Luis Pardo.
Pardo felt that a lot of well-known Latin songs, from Shakira's "Buscando Un Poco De Amor" to Raffaella Carra's "Hay Que Venir Al Sur," needed an update. By working with orchestras and various talented singers and musicians, Pardo put together "Música Moderna," which came out on Tuesday. The album, a collection of covers, adds new sounds to various songs in Spanish that are considered modern classics, but that have started to feel slightly outdated or overplayed.
"It's trying to get these popular songs that have been somewhat discredited, and add a touch of elegance and try to prove the fact that in the end, they are good songs," Pardo told The Huffington Post. "That's why they're so popular."
Pardo, a former member of the Grammy-winning group Los Amigos Invisibles, said the idea came to him while working as a disc jockey under the name DJ Afro. He would typically play funky, disco-oriented records, but he noticed that when he mixed in these older pop hits, people really enjoyed them.
"It's not only about them being popular songs that we've heard on the radio thousands of times," said Pardo. "It's about recognizing that they're good songs."
Pardo became fascinated by peoples' reactions when he talked about creating new versions of songs by Maná and Luis Miguel. Initially, he said, people would recoil from the idea. But as they heard more about the project, it would grow on them.
"After doing Maná's 'De Pies a Cabeza,' we then started brainstorming songs that had that guilty-pleasure feel to them, and came up with a list," he said.
The album includes versions of "Como Es Posible Que A Mi Lado" by Luis Miguel and "Tú" by Juan Luis Guerra.
"Finding singers who could live up to the standards of these songs was difficult," said Pardo. "Not everyone can sing Luis Miguel." But, he added, Pedro Castillo of the Venezuelan pop band Aditus turned out to be a good fit for the part.
Pardo recalled that Madame Periné, who sings Shakira's "Buscando Un Poco De Amor," was reluctant at first to cover the song because of Shakira's popularity in Colombia, where both singers hail from.
"In the beginning, she was like, 'Oh no, Shakira is serious business here in Colombia. Messing with her is like messing with the flag,'" Pardo said. But Periné agreed to participate when she realized the project was meant to be a tribute.
Pardo said that everyone who participated in the project did so on a volunteer basis, because they believed in it.
"I got to work with a lot of people who I personally admire," he said.
Check out some of the songs from "Música Moderna" below.