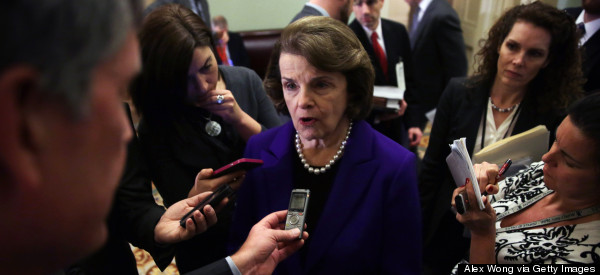 TOP STORIES
TORTURE REPORT REVEALS SCOPE OF CIA'S SECRET INTERROGATION PROGRAMS The Senate Intelligence Committee's report, which you can read in its entirety, rejects the narrative that Osama Bin Laden was found through the use of torture. Ultimately, more than a quarter of the world's countries helped the CIA run their torture program. In response to the release, three ex-CIA directors penned an op-ed detailing how interrogations save lives and the CIA issued a 136-page report rebutting the Senate report's claims that torture did not work. [HuffPost]

CONGRESSIONAL LEADERS REACH SPENDING AGREEMENT, LIKELY AVOIDING SHUTDOWN The $1.1 trillion dollar spending bill will fund the government through September 2015. [WSJ]
OBAMA TO UNVEIL EARLY EDUCATION PLAN The $1 billion allocated for early education falls well short of the $75 billion he called for two years ago. [WSJ]
CNN: LAX STANDARDS FOR HIRED ARMED SECURITY GUARDS "They carry a gun, often wear a badge and might look like police officers. But armed security guards, on patrol at all hours throughout the United States, have lax training standards and haphazard oversight. While a manicurist in California must complete 400 hours of training to be licensed, an armed guard gets authorized after 54 hours, including just 14 hours of firearms training. In 15 states, no firearms training is required at all." [CNN]
BERKELEY PROTESTS CONTINUE FOR FOURTH NIGHT Hundreds of people protesting the Eric Garner and Michael Brown verdicts peacefully assembled until close to midnight, when groups started vandalizing storefronts. [USA Today]
UN: REFUGEES ESCAPING VIA SEA "A surge of people, many of them fleeing war, are risking their lives to find sanctuary by sea, the United Nations refugee agency said Tuesday, rebuking governments that sought to keep out foreigners looking for asylum. Since the beginning of this year, at least 348,000 people have crossed seas — or died trying — the agency said in a report, with data compiled from coastal authorities around the world. Nearly two-thirds of the refugees sailed across the Mediterranean en route to Europe, which the agency said was a marked increase from previous years." [NYT]
UBER FACING SCRUTINY NATIONWIDE As police investigate claims that a woman was raped by her Uber driver in Chicago, the ride-calling company is facing international scrutiny for its lax background checks. [Reuters]
WHAT'S BREWING
PANTHERS QB CAM NEWTON FLIPS HIS TRUCK, FRACTURES BACK He has suffered two transverse back fractures, the same injury that befell Tony Romo earlier this season. [ESPN]
STREAMING SERVICES UP THEIR GAME Netflix has announced its plans to launch 20 original shows next year, and HBO Go's standalone streaming service will launch in April. [HuffPost]
KATE MIDDLETON SHINES AT NYC BALL A true princess in blue. [Daily Mail]
BUY YOUR EARTHQUAKE EMERGENCY KIT NOW Based on the terrifying trailer for "San Andreas," we'll all be in a load of trouble when that faultline goes. [HuffPost]
SUNDANCE'S 2015 LINEUP Featuring Viola Davis, Jennifer Lopez, James Franco, Ewan McGregor, Greta Gerwig, Jesse Eisenberg, and Ryan Reynolds. [Variety]
YOUTUBE: CROWDSOURCING POPULAR ENTERTAINMENT "Because people can watch whatever they want whenever they want on their phones, digital platforms reveal what tweens and teens really like. Thematically, the rebellion is pretty traditional: they like hearing that their feelings rule and that the adult world is an epic fail. It's the formats that are new; instead of finding reassurance in scripted soaps like "Dawson's Creek," they find it in unscripted homilies from charismatic kids and curated images of idiocy." [The New Yorker]
WHAT PEOPLE DON'T SAY ABOUT WEIGHT LOSS "While it's true that losing a few extra pounds has a whole host of health benefits (stronger bones, lower diabetes and stroke risk and a longer life, to name a few), there are also often some challenges along the way that we don't always hear much about." [HuffPost]
THE DEATH OF THE PASSWORD Tech giants Microsoft, Google, VISA, MasterCard, PayPal, and others proposed a two-step verification system or a password-less login that would ask for an iris, fingerprint, or spoken phrase. [Popular Science]
ON THE BLOG
SANDY HOOK PRINCIPAL'S DAUGHTER: TAKE A MOMENT TO CALL YOUR LEGISLATOR "As December 14 approaches, I choose to cherish the memories like this. I choose to remember the good times, the smiles and the laughter. I choose to honor my mother every second of every day. I can only hope that she is looking down, smiling and loving me. I strive every day to make her proud of the little girl that she poured her heart and soul into raising. This year, I ask you all to honor my mother's life with action. I ask you all to take one small step to honor her, and all of the others whose lives were taken far too soon by gun violence. Make a phone call to your legislators, sign a petition, contribute to a gun violence prevention organization, go to a rally, host a house party -- help me fight the epidemic of gun violence that kills 86 Americans every day. Help me prevent other families from feeling the constant pain that I feel every second of every day." [HuffPost]
BEFORE YOU GO
~ Facebook and YouTube's look back at 2014.
~ See pictures of Jimmy Fallon's daughter, Frances.
~ MoMa has the first kinematics dress.
~ A linguist explains the syntax of the F-word.
~ Sam Smith recorded a pretty darn sad cover of "Have Yourself a Merry Little Christmas."
~ Your Saturday night just got easier: wine ice cream exists.
~ 15 of the best photographs from the Sony World Photography Awards.
~ Facebook and your one-night stands.
Send tips/quips/quotes/stories/photos/events/scoops to Lauren Weber at lauren.weber@huffingtonpost.com. Follow us on Twitter @LaurenWeberHP. And like what you're reading? Sign up here to get The Morning Email delivered to you.