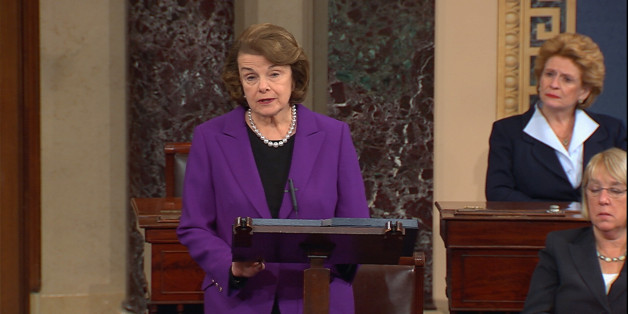 Views of torture as justifiable have increased during the Obama years. Almost two thirds of Hispanics back the president's immigration actions. And the 'Cromnibus' puts the Census ramp-up on the chopping block. This is HuffPollster for Wednesday, December 10, 2014.
MORE FIND TORTURE ACCEPTABLE IN OBAMA ERA - Bruce Drake: "The use of practices like waterboarding began to surface publicly in press reports not long after 9/11, and when the Pew Research Center first surveyed on the subject in July 2004, a narrow majority (53%) said the use of torture to gain important information from suspected terrorists could be only rarely or never justified. Opinion has shifted since then, with more Americans finding torture acceptable. In August 2011, a narrow majority (53%) of Americans said the use of torture could be often or sometimes justified, while 42% said it could only rarely be justified or not be justified at all." [Pew Research]
Will the report change any minds? Brittany Lyte: "'Overall, I doubt it will change many minds, one way or another, as this issue is completely and intractably polarized,' said Charlie Dunlap Jr., a warfare strategy expert and Duke University School of Law professor. He added: 'Don't be surprised if the next poll shows that a sizable percentage of the American public would still support harsh interrogation techniques short of anything causing permanent physical injury in an extreme situation or especially in the aftermath of a serious terrorist attack by ISIL [Islamic State] or al-Qaida.'...There are stark differences in opinion on torture along party lines. A large majority of Republicans (71 percent) said torture could be at least sometimes justified, compared with 51 percent of independents and 45 percent of Democrats, according to Pew research. A more recent poll, conducted by the Associated Press in 2013, confirmed Pew's findings. AP found that a little more than half of Americans said they favor the U.S. government's use of harsh interrogation techniques against suspected terrorists to seek information about terrorist activities: 28 percent said they strongly favor them, and 23 percent moderately favored them. The same survey found that 22 percent of Americans strongly opposed harsh interrogation techniques and 16 percent moderately opposed them, with 11 percent reporting that they are either neutral or undecided." [538]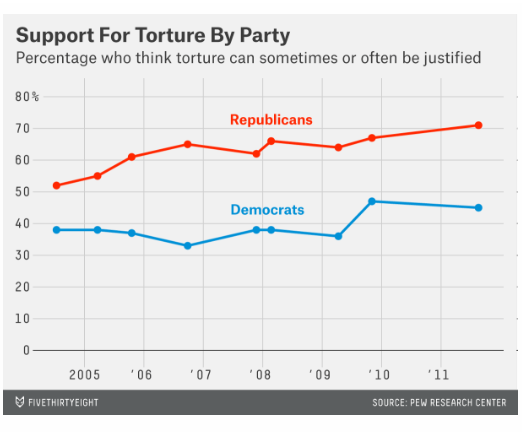 'CROMINBUS' CUTS CENSUS RAMP-UP - Terri Ann Lowenthal of the Census Project, a collaboration of pro-Census interest groups: "Lawmakers are trying to wrap up a broad spending bill for fiscal year 2015, which started on Oct. 1, before a short-term funding measure runs out Thursday night. The draft bill, unveiled Tuesday, allocates $840 million for the account covering the 2020 Census, $123 million less than the budget request. Congress essentially is cutting the proposed ramp-up for decennial census planning by almost half. The Obama Administration's proposed 28 percent funding boost might sound like a lot, but as Arloc Sherman of the Center for Budget and Policy Priorities noted in a recent Huffington Post blog, mid-decade ramp-ups for the 2000 and 2010 Censuses were 30 percent or more. Most of the increase the bureau requested relates to 2020 Census planning. 2015 is a pivotal year: the Census Bureau will conduct three major field tests to inform its selection of the 2020 Census design by next fall. A fourth test, scheduled for late summer, will evaluate revised questions on race, ethnicity and household relationship, as well as strategies for boosting Internet response and for helping language minorities participate....These initiatives aren't incremental improvements on traditional census methods. They are significant departures from the tried-and-true mail and door-knocking design. They might work. They might not. But the Census Bureau can't wait another two or three years to figure that out. It has one year to decide which methods hold enough promise for saving money without sacrificing the accuracy of the count and the quality of the data, in order to move ahead with IT systems and operational development. The decision is already a year overdue, thanks to previous budget cuts and sequestration." [Census Project]
HISPANICS BACK OBAMA ON IMMIGRATION - Jeffrey Jones: "Americans overall say they disapprove (51%) rather than approve of (41%) the executive actions President Barack Obama plans to take to deal with undocumented immigrants living in the U.S. However, Hispanics, U.S. immigrants and blacks approve of the actions by wide margins, whereas whites are oppose them. These results are based on Gallup Daily tracking interviews conducted between Nov. 24 and Dec. 8, including interviews with more than 6,000 U.S. adults and more than 500 Hispanics, blacks and U.S. immigrants -- those who report they were born outside the U.S....Obama's actions on immigration will likely help him politically with the growing Hispanic population in the U.S. because Hispanics favor the proposal by a better than 2-to-1 margin. Notably, support is higher among Hispanics who migrated to the U.S. (75%) than among Hispanics who were born in this country (51%), but both groups show greater approval than disapproval. More generally, those of all racial and ethnic backgrounds who were born outside the U.S. are far more supportive of Obama's proposed actions than those born in this country." [Gallup]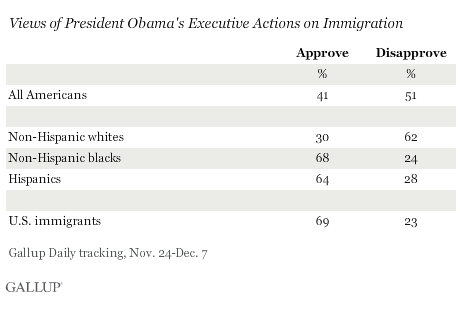 ANOTHER POLL FINDS DISAPPROVAL OF ERIC GARNER GRAND JURY DECISION - HuffPollster: "Most Americans disapprove of a Staten Island grand jury's decision not to charge NYPD officer Daniel Pantaleo in the death of Eric Garner, a black man who died after Pantaleo placed him a chokehold, new polling finds. The polling also suggests that opinions about the case are less divided along racial lines than those inspired by the case in Ferguson, Missouri. In a new HuffPost/YouGov poll, just 27 percent support the decision not to indict Pantaleo, while 56 percent oppose it, and another 16 percent are unsure. By a 15-point margin, Americans say it should be illegal for police officers to use chokeholds...Two-thirds of Americans said they'd followed the Garner case at least somewhat closely, and nearly as many -- 64 percent -- said they'd seen the cellphone video footage that showed Garner gasping 'I can't breathe' while in a chokehold. Perhaps partially because of that video's widespread circulation, reactions to the Eric Garner case look very different than the reactions after a grand jury decided not to indict former police officer Darren Wilson in the shooting death of Michael Brown in Ferguson, Missouri. A slim majority of Americans supported that decision, but opinions on the lack of charges, and many of the issues surrounding the case, were divided sharply along racial lines." [HuffPost
OBAMA MISPERCEPTION ALERT - Albert Hunt: "When it comes to informing Americans about the accomplishments of his own administration, however, [President Obama is] not exactly the persuader-in-chief. A Bloomberg Politics poll shows that on two controversial issues, the budget deficit and deporting illegal immigrants, the public believes Obama's critics–even though reality favors the president. By 73 percent to 21 percent, the public says the federal budget deficit has gotten bigger during the Obama presidency....[but in reality] The deficit has been cut by two-thirds during Obama's six years. By 53 percent to 29 percent, Americans believe that Obama has sent fewer undocumented immigrants home than were deported a decade earlier. That's a constant refrain of Obama's immigration critics. It also isn't true. Immigration agents removed 315,943 people in the last fiscal year. That's down from 438,421 the year before but up 31 percent from the 240,665 deported in fiscal 2004." [Bloomberg]
But a caution - Political scientist Brendan Nyhan, whose research often focuses on misperception, sends the following reaction via email: "The poll is interesting. I'm glad to see more research on misperceptions! I'm not sure, though, if these questions capture widespread myths or just top-of-the-head guesses based on the slow economic recovery (people tend to associate bad economies with deficits) and Obama's position on immigration reform (he's for it so he must be deporting people less than Bush)." Via Twitter, Nyhan also notes an "important, subtle correction," stemming for the distinction between "removals" of undocumented immigrants and "returns," as reported by The New Republic earlier this year. While formal deportations increased during the Obama years, "returns" or the number that U.S. authorities put on buses and sent back across the border, decreased significantly. [@BrendanNyhan, New Republic]
Why doesn't better economic news boost Obama's approval rating? - Mark Mellman (D): "[T]he country has created more than 200,000 jobs each month for the last 10 months, and unemployment has dropped to a level that is lower than it was before the president was first elected in 2008. Yet the president's approval rating seems stuck in the low 40s, which caused his party grievous damage in the midterm elections....[W]hy wasn't that approval rating higher, given the economic news? First, voters look at different, less positive data...Voters do look at their lives. How much money are they bringing in, and what can it buy? The economic statistic that most closely reflects that reality is change in real per capita disposable income — how much money people have to spend after taxes and what they can afford to buy with it, given the cost of living. On that indicator, we have not been faring so well. In nine of the last 13 midterms, the change in real disposable income was greater than it was this last year. While people are cheering presidents for growth, voters have experienced improvements in real disposable income three and four times greater than what they saw this year." [The Hill]
HUFFPOLLSTER VIA EMAIL! - You can receive this daily update every weekday morning via email! Just click here, enter your email address, and and click "sign up." That's all there is to it (and you can unsubscribe anytime).
WEDNESDAY'S 'OUTLIERS' - Links to the best of news at the intersection of polling, politics and political data:
-Whites are more confident than ever in the fairness of the police. [WashPost]
-Chris Christie's approval rating remains "tepid" in New Jersey. [Quinnipiac]
-Most Americans weren't paying attention to "Grubergate." [WSJ]
-Harry Enten says Democrats shouldn't give up on the South. [538]
-Daniel Kreiss explains his paper on how the Obama and Romney campaigns used Twitter. [WashPost]
-Andrew Gelman hasn't received a reply from AAPOR. [AndrewGelman.com]
-Nathan Yau recommends a list of "data-ish physical gift things" for the holidays. [Flowing Data]
BEFORE YOU GO
PHOTO GALLERY
9/11 Timeline