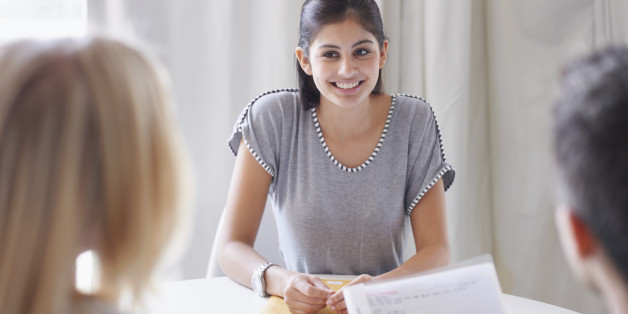 This article was written by teen reporters from The Mash, a weekly publication distributed to Chicagoland high schools.
By Lissette Bustamante, Chicago High School for the Arts and Sara Miranda, Benet
College, part-time jobs and the idea of a future career are just a few of the things that keep high school kids up at night. And with all of these exciting prospects comes a first step: the interview.
Sitting down with someone who can accept or reject you can be nerve-racking to say the least. It's natural to feel anxious or confused when preparing for your first interview. But with insight from local professionals, you'll feel cool and confident in no time.
ARRIVE EARLY
First impressions go a long way. Whether you're doing a phone or in-person interview, it's important to be punctual. Richard Valdez, store manager at Plainfield's Top Cut Gaming, said an applicant's timing reveals a lot about their work ethic.
"If they can't be there on time, that's a hint to their dependability. If they're not there on time, it's a big issue," Valdez said. "(They) usually won't get the job. If they're there early, it's a huge plus."
Give yourself plenty of time to get to an interview—you should arrive at least 10 minutes prior to the scheduled time. It shows that you're responsible and eager for the opportunity.
KNOW WHERE YOU'RE GOING
In order to arrive early, you'll need to know where you're going. Scoping out the exact location can help ease nerves before your interview.
When college students interview for jobs and internships, they're often asked to meet recruiters on campus, said Julie Bartimus, vice president of the alumni career center at the University of Illinois.
"Interviews that are part of a college recruiting program where a company is looking to hire college students for internships or college graduating seniors for entry-level positions will typically first happen in designated interview rooms on the campus," she explained.
Although you may know the building or area where the interview is taking place, make sure you're familiar with the exact location or room too.
DRESS FOR THE JOB
Everyone has heard the phrase "dress to impress," but it's easy to overlook your wardrobe when you're focused on preparing for quick-fire questions.
"A candidate typically wants to dress at the same level or better than the interviewer," Bartimus said as a rule of thumb.
For full-time jobs and professional internships, candidates might want to consider taking it one step further.
"Unless the recruiter states that the interview is business casual, the candidate should plan to wear a business suit," Bartimus explained.
DO YOUR RESEARCH
One of the most vital parts of an interview is preparing what to say about your work experience, academic interests and personality. Of course, it's also important to talk about why the job, internship or school is the right fit for you.
College hopefuls should be able to discuss specific details about their dream school with an interviewer, said Allen Lentino, senior associate director of admission and financial aid at Northwestern University.
"It's helpful if the student has done some research becoming knowledgeable about the college or university at which they are interviewing," he explained. "Beyond that, it's best that they just be themselves."
PREPARE TO BE STUMPED
No matter how hard you prepare for an interview, there may be questions that throw you off. Stay calm and answer to the best of your ability. No matter what you do, don't lie or embellish the truth.
"When you're asking for instances in which they go above and beyond, (interviewees) tend to stutter and pause a lot, and you can tell that they're kind of lying," Valdez said. "If the story flows from their mouth and they're engaged and making eye contact the whole time, usually it's a dependable story and you can run with that."
Most interviewers won't fault you for taking a moment to collect your thoughts—especially when considering a tough question.
BE THE INTERVIEWER
No interview is complete without the most underrated prompt: Do you have any questions for me?
Is the interviewer genuinely asking, or is this a way to end the interview? Is it a trick question? And most importantly, what kind of response are they hoping for?
"I look for responses pertaining to the job very specifically—what the pay is like, what the benefits are like. Certain specific questions that you may not get day to day," Valdez said. "That just really makes a point of showing that the interviewee cares about the job they're trying to get."
Instead of looking at it as a trick question, take advantage of the opportunity. Prepare several questions in advance and follow up on specific things you were asked throughout the interview.
Follow HuffPost Teen on
Twitter |
Instagram |
Tumblr |
Pheed |
BEFORE YOU GO
PHOTO GALLERY
Best Teen TED Talks