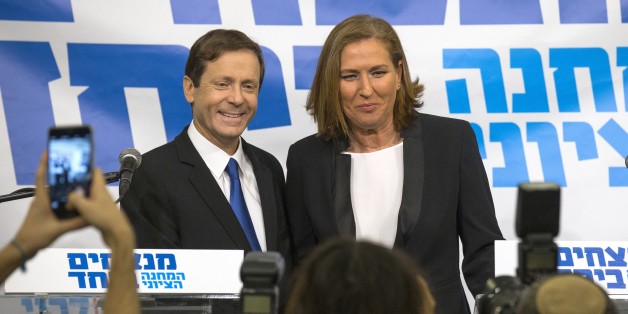 WASHINGTON -- Three-term Israeli Prime Minister Benjamin Netanyahu has the power of incumbency as Israel heads to the polls in mid-March. But political observers inside and outside the Knesset are cautioning that the parties to Netanyahu's left can't be counted out yet.
In a sit-down interview with The Huffington Post on Dec. 6, Merav Michaeli, a first-term Knesset member from the Labor Party, expressed confidence in her party's ability to win in March.
"In Israel's crazy politics, it ain't over until the fat lady sings," said Michaeli, a former journalist and activist.
Isaac Herzog, the Labor leader, and Tzipi Livni, who heads the Hatnuah party, announced Wednesday that they will run on a joint center-left ticket in the next election. Under their agreement, the two would take turns serving as prime minister.
Early polling suggests that the Livni-Herzog alliance could garner more seats in the Knesset than Likud, Netanyahu's center-right party. Israelis are tired of Netanyahu, and the nation's electorate is famously volatile. Likud members are fighting back, deriding the Livni-Herzog partnership as one that would likely offer dangerous concessions to the Palestinian Authority.
Michaeli, who introduced herself to the Knesset last year with a rousing speech about how she believed the government needed to become more inclusive, told HuffPost that a center-left configuration could offer a fresh approach to voters thirsting for change.
"Labor needs to be able to create a block with other center-left parties so this is the first message, the message of going together and having an address for all of those who want a sane government, who want to have people who will work for their benefits, for their interests," she said.
In an especially fraught period for Israeli-Palestinian relations, Israeli voters may decide that someone other than Netanyahu, who opposes the creation of a sovereign Palestinian state, would be better equipped to calm the mounting tension. A Palestinian Authority minister died after a confrontation with Israeli police forces during a protest this week, leading the Palestinian government to announce that it would cease cooperating with Israeli security forces in the West Bank.
Also in the last month, an arsonist set fire to a Jewish-Arab bilingual school, Palestinian militants killed five people praying in a synagogue and two in other stabbing attacks, Israeli police clashed with Palestinians over access to the Temple Mount, a mosque was torched by Israeli right-wing activists, and Israel gave the go-ahead to new settler homes in east Jerusalem.
Michaeli said that a center-left coalition could surmount the despair and alienation that has sunk in after multiple failed attempts to build trust between Israelis and Palestinians. A Wednesday poll found that although 63 percent of Israelis favor peace talks with the Palestinian Authority, 70 percent don't think negotiations will result in peace.
"Netanyahu's government is all about what you can't do: There's no [Palestinian] partner, there's no choice, there's no future," Michaeli said. "I think what the Labor block should do is make it clear that we're going to make a future, that we're going to work for the people, that we're going to make every effort to actually give people hope."
Despite the current tensions, Israeli-Palestinian issues may not be as decisive in this election as economic issues, with many Israeli voters worried about the high cost of living. But Michaeli said it's impossible to divorce the two spheres.
"You can't separate the two," she said. "The Israeli economy has everything to do with the investment we make in security -- not only the financial investment but no less the emotional investment, in terms of energy, attention, time spent on public discussion, the inability to deal with economic or social issues."
Another caveat: Under Israel's parliamentary system, the ticket or party that earns the greatest number of seats doesn't necessarily get to name the prime minister. Historically, new governing coalitions are formed by two or more of the political parties that win seats in the Knesset. In 2009, for instance, even though Livni's then-party Kadima won the most seats, Netanyahu became prime minister because he was able to put together a majority coalition.
In the Knesset, Michaeli has built a reputation as someone who challenges the status quo, introducing legislation that would set term limits for prime ministers, prevent settlement construction and loosen the rabbinical control of divorce. She understands but rejects cynicism about the chances for Middle East peace.
"The problem is that everything you say about peace or negotiation is perceived as naive," she said. "The level of trust in what can be achieved is so low, and I can't blame the public for that. If you think of the number of attempts that took place, the plans that were on the table, all the failed negotiations, it's difficult to not understand why people are cynical about it ... but we need to find a way to not be naive about it and make people realize that we have to figure out a solution."
Asked whether the Livni-Herzog alliance could deliver the majority to the left, Israeli historian and journalist Gershom Gorenberg declined to be drawn into that speculation in an email conversation with HuffPost.
"No one sensible forecasts an Israeli election result," he said. "What's true now is that a significant number of Israelis, even on the right, are simply tired of Netanyahu."
But he did suggest, as other observers have, that the rotation deal could hurt Herzog.
"Herzog is trying to overcome a personal image of wimpishness and his party's image as being obsolete," Gorenberg said. "The conventional wisdom is that by joining forces with Livni, Herzog gains momentum and gravitas. The rotation deal, however, may make Herzog look weak and unable to lead. I repeat: It's way too early to tell."
BEFORE YOU GO
PHOTO GALLERY
Secretaries Of State