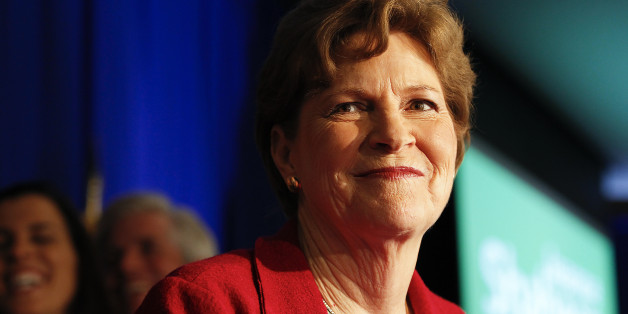 WASHINGTON -- A bipartisan pair of senators is making a last-ditch effort to pass a scaled-back version of their energy efficiency bill before the end of this Congress. But it doesn't look like it's going to happen.
Sens. Jeanne Shaheen (D-N.H.) and Rob Portman (R-Ohio) have been trying to pass their energy efficiency legislation since they first introduced it in 2011. They reintroduced it in 2013 and it passed in the Energy and Natural Resources Committee in May of that year with bipartisan support. But then it got bogged down repeatedly in Senate fights over unrelated measures like the Keystone XL pipeline and Obamacare.
Last week, Shaheen and Portman introduced a pared-down bill. The new version mirrors a bipartisan energy efficiency bill that passed in the House in March, from Reps. Peter Welch (D-Vt.) and David McKinley (R-W.Va.) that creates a voluntary system for rating the energy efficiency of commercial buildings. The proposal is much like the government's Energy Star program for consumer products, and the lawmakers call it "Tenant Star."
But Democratic aides on the Hill say that Sen. David Vitter (R-La.) has said he won't allow for a unanimous consent agreement for the bill, because he wants a vote on an Obamacare-related measure. Vitter's office did not respond to a request for comment.
House co-sponsor Welch described the bill in an interview with The Huffington Post as a "a modest, but constructive step," and a rare bright spot of bipartisanship in the House. "In this contentious Congress, finding common ground on energy efficiency has a lot of promise and potential," said Welch.
There's a fairly strong consensus in the Senate, too, that if the bill did finally come up for a vote, it would pass easily.
"The House passed this bill with 375 bipartisan votes because it's a smart, non-controversial bill that will save taxpayers money and reduce pollution," said Shripal Shah, a spokesman for Shaheen. "Senator Shaheen is hoping people can put partisanship aside to get this legislation through the Senate and to the president for his signature."
The Alliance to Save Energy, which advocates for efficiency policies, estimates that the bill would lead to approximately $640 million in annual energy savings by 2030. Passing the bill, said Alliance President Kateri Callahan in a statement, "would end 2014 on a high note and set the stage for increased action on energy efficiency in the New Year."
Portman has said he thinks there's a "good chance" that Republican leadership will bring the bill up for a vote next year.
CORRECTION: This article has been edited to note that Shaheen represents New Hampshire, not Vermont.
BEFORE YOU GO
PHOTO GALLERY
What Climate Change Just Might Ruin