We're all about sweater weather here at HuffPost Style, so it's no surprise that we champion knit dresses of all silhouettes.
But when it comes to wearing them out and about, it seems like we all often rely on the same ol' look -- maybe cinching the waist with a belt, or immediately throwing on a pair of tights. The sweater dress is so much more versatile and can be styled many different ways, whether you add layers, statement jewelry or edgy boots. Check out some inspirational looks below that are bound to get you wearing your dress over and over again.
Add some edge with knee-high socks and lace-up boots.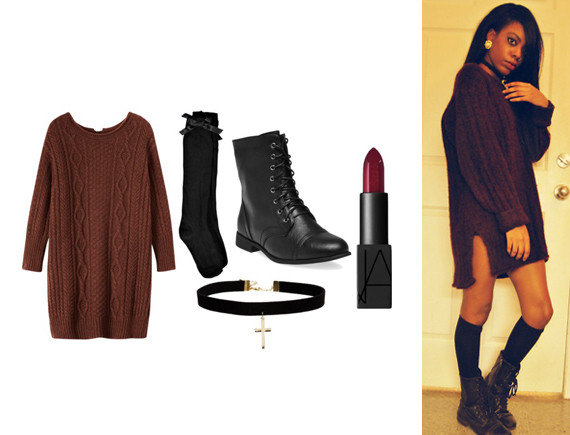 Toast Cabled Tunic, Boohoo Poppy Knee High Socks With Bow, Wet Seal Lace-Up Combat Boots, ASOS Cross Choker Necklace, NARS Audacious Lipstick In Charlotte; Photos courtesy: Polyvore and Lookbook.nu/taylordane
Get extra cozy with a long, long turtleneck and high boots.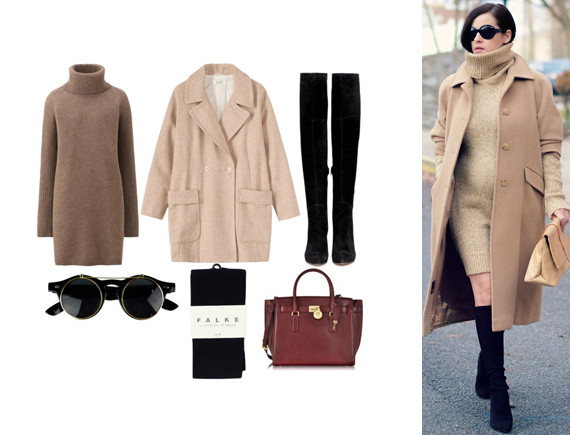 Uniqlo Women Lambswool Blend Turtle Neck Dress, Toast Liska Pea Coat, Sam Edelman Kayla Suede Thigh High Boots, Vintage Double-Layered Keyhold Sunglasses, Falke Black Cotton Touch Tights, Michael Kors Hamilton Traveler Leather Satchel; Photos courtesy: Polyvore and Lookbook.nu/VeronicaP
Let a different fabric, like lace or denim, peek out from underneath.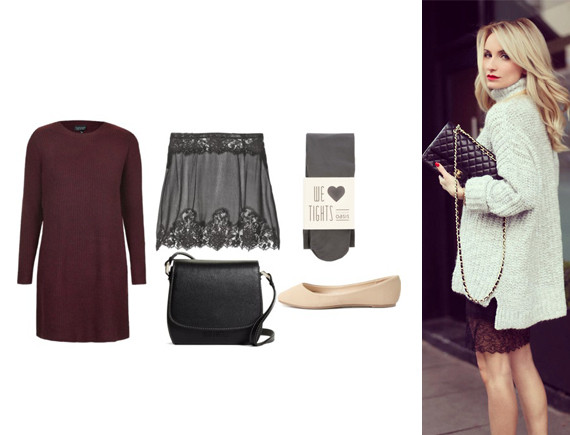 Topshop Rib Knit Sweater Dress, Le Reve Lace-Trimmed Silk-Chiffon half Slip, Brooks Brothers Leather Crossbody Bag, Oasis 120 Denier Tights, Charlotte Russe Bamboo Almond Toe Ballet Flats; Photos courtesy: Polyvore and Lookbook.nu/SilviaP
Opt for a sleeveless gem like this one for some unexpected flair.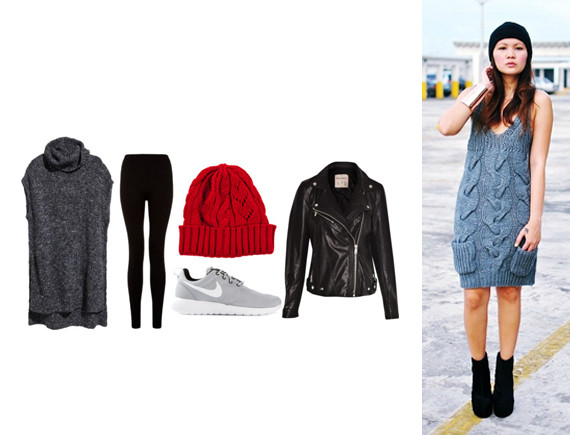 H&M Sleeveless Turtleneck Sweater, Black Fleece Leggings, Cozy Knitted Beanie, Nike Roshe Run Sneakers, Pull & Bear Faux Leather Biker Jacket; Photos courtesy: Polyvore and Lookbook.nu/deathbyplatforms
Pair your dress with the one item that makes everything look sophisticated: the trench.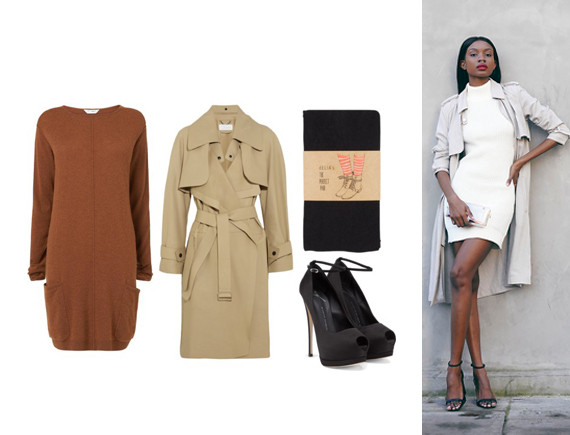 L.K. Bennett Sultan Wool Knit Dress, Chloé Convertible Leather Trench Coat, Delia's Solid Tights, Giuseppe Zanotti Design Pumps; Photos courtesy: Polyvore and Lookbook.nu/bisousnatasha
Transform your look with statement jewelry.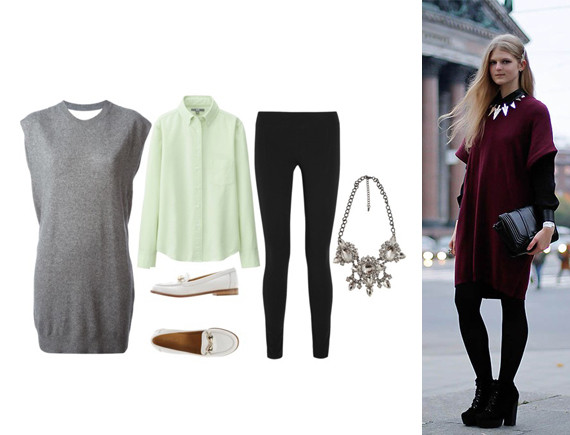 Alexander Wang Cut Out Sweater Dress, Uniqlo Women Oxford Long Sleeve Shirt, Helmut Lang Stretch-Twill Leggings, A. Bogetta Moccasins (shop similar), Target Statement Necklace With Stones Hematite; Photos courtesy: Polyvore and Lookbook.nu/margarita_miu
Pair a maxi sweater dress with your favorite top or vest to play with proportions.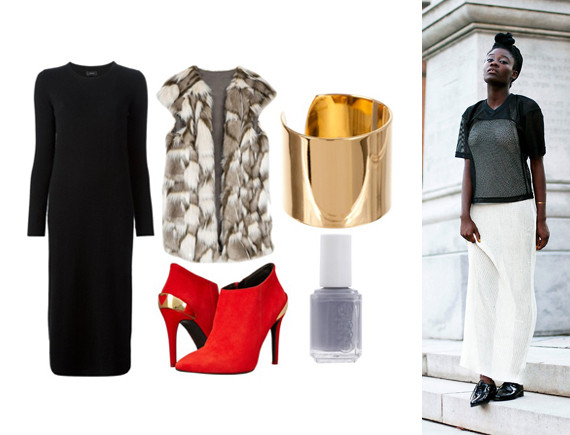 Joseph Bonnie Long Sweater Dress, Colorblock Faux Fur Vest, LOVE Moschino Ankle Boot With Plated Heart, Amber Sceats Cuff Ring, Essie Grey Nail Polish; Photos courtesy: Polyvore and Lookbook.nu/abamfraseewur
For those living in warmer weather, ditch the tights.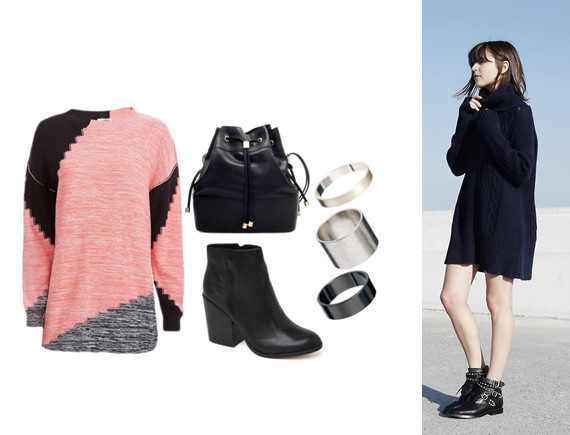 Sonia By Sonia Rykiel Marled Sweater Tunic, DV by Dolce Vita Marilyn Boots, Zara Bucket Bag With Metal Detailing (shop similar), Just Acces Grad Ring Set (shop similar); Photos courtesy: Polyvore and Lookbook.nu/rimarama
BEFORE YOU GO
PHOTO GALLERY
Fashion Week Street Style