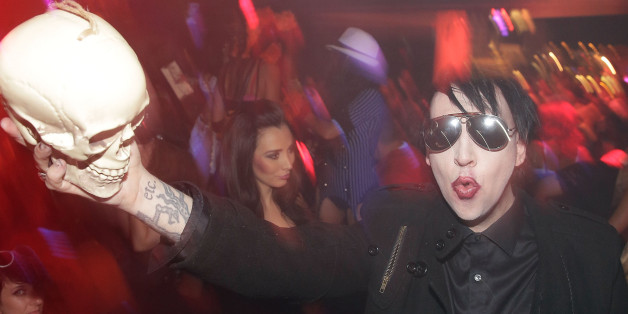 Last month, a disturbing clip featuring Lana Del Rey leaked online, and at the time, it was uncertain who was behind the video. Eli Roth ("Hostel") had told Larry King that he had worked on a project with Marilyn Manson and Del Rey, calling it "so sick it has been locked in a vault for over a year." Manson's reps denied that the video was connected to his music and Del Rey stayed mum on the subject.
In a new interview with NME, Manson further explains his non-involvement with the clip, which showed Del Rey being violently sexually assaulted.
"It wasn't a Marilyn Manson video. The editor of the company that put it out was somebody who's edited my videos, that video was something that was done with a camera that Eli, who's my friend, and I both wanted to test out, so I let him test it out [...] what they filmed was put in context seemingly as if it were a Marilyn Manson video, and that was in no way the intention."
He also denied that he was present while they filmed Del Rey's violent scene, though he said, at one point he and Roth did want to collaborate with her. "Eli and I wanted to do a music video with her but she was being such a problem," he said. "Although I still respect her, I'm friends with her. I just left, I was tired, I was not willing to make that part of the video. Eli and I originally had intentions of making a video with her, but that is not the intention that is represented in that film clip because that is not what I filmed, not for my video."
Del Rey's rep has yet to respond for comment. Head over to NME for more.
BEFORE YOU GO
PHOTO GALLERY
Best Of The Worst: Terrible Music Videos