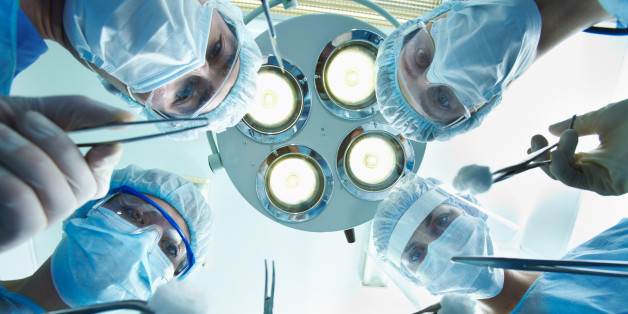 When you're going into surgery, the type of music that your doctors will be listening to is probably the last thing on your mind. But your surgeon's playlist could actually have some effect on how the procedure goes.
Music, which is generally chosen by the lead surgeon, is played roughly 62-72 percent of the time in the operating room, according to a new report published in The BMJ. The genre most often chosen is classical music.
Roughly 80 percent of operating room staff say that music benefits cooperation between team members, reduces anxiety levels and improves efficiency. Research has also suggested that music may improve surgeons' task focus.
The tradition of playing music during medical procedures dates back to ancient times, when the Greeks had identified Apollo as the God of both healing and music. In the early 1900s, Pennsylvania surgeon Evan Kane came out as a proponent of the "phonograph in the operating room," which provided a means of "calming and distracting the patient from the horror of the situation," according to the BMJ report.
While some medical experts argue that music might be distracting and hinder communication in the operating room, the Wales surgeons maintain that if noise levels are controlled, the benefits may outweigh the risks.
"Surgeons will inevitably continue to use music as a calming and familiar adjunct to their daily practice," David Bosanquet, James Glasbey and Raphael Chavez write in the paper. "We... embrace music in the operating theater whenever the situation allows it."
Relaxing music in the operating room may benefit not just doctors, but also patients. A 2009 study of 372 patients found that playing relaxing melodies that mimicked the resting heart rate was more effective than standard pharmaceutical interventions in reducing anxiety before patients went under anesthesia. This study and other research suggests that this positive effect may be maintained after surgery, the Wales surgeons note.
A growing body of research has also suggested that music's healing properties extend to pain relief. A 2012 study from the Pain Research Center at the University of Utah found that participants who actively focused on various melodies while receiving mildly painful electric shocks reduced pain levels by 17 percent. Research conducted in Singapore also found that palliative care patients who participated in live music therapy reported relief from persistent pain.
"Active music engagement allowed the patients to reconnect with the healthy parts of themselves, even in the face of a debilitating condition or disease-related suffering," the study's co-author, music therapist Melanie Kwan of the Association for Music Therapy, Singapore, told the American Psychological Association. "When their acute pain symptoms were relieved, patients were finally able to rest."
BEFORE YOU GO
PHOTO GALLERY
11 Health Benefits Of Music