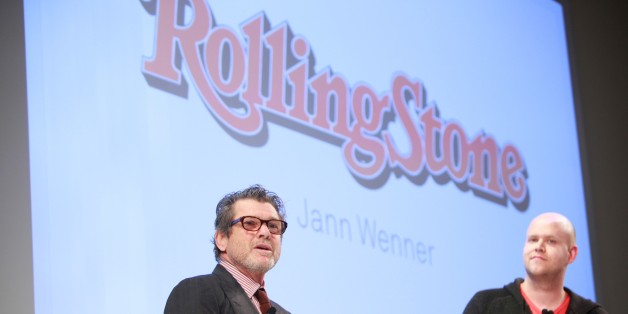 NEW YORK –- The Washington Post revealed additional inconsistencies Wednesday night in Rolling Stone's controversial story of an alleged 2012 gang rape at the University of Virginia.
The Post's T. Rees Shapiro, whose previous reporting prompted Rolling Stone to issue an editor's note Friday acknowledging some discrepancies, has now interviewed three students mentioned in the story as friends of Jackie, the alleged victim.
The three students -- identified by Rolling Stone and the Post as "Randall," "Andy," and "Cindy" –- gave an account to the Post for Wednesday's story that differed significantly from the one described by contributing editor Sabrina Rubin Erdely in her explosive 9,000-word article about Jackie's ordeal published online Nov. 19.
The three students recall Jackie, in tears, telling them on the night of Sept. 28, 2012, that she had been forced to perform oral sex on five men. In the Rolling Stone article, Jackie recalled seven men brutally raping her on top of broken glass at the Phi Kappa Psi fraternity house that night. The students told the Post they urged Jackie to call the police. In the Rolling Stone story, they are depicted as advising her not to report the crime.
All three students told the Post that Erdely never contacted them for her Rolling Stone article. Erdely wrote in the article that "Randall" declined an interview about the rape because of "loyalty to his own frat."
Rolling Stone acknowledged Friday that Erdely did not try contacting the alleged attackers for comment because of an agreement with Jackie, who had expressed fears of reprisal.
Such an agreement is unusual because journalists are expected to approach the other side for comment, especially when preparing to publish allegations as damaging as a horrific gang rape. Both Erdely and Rolling Stone deputy managing editor Sean Woods, who edited the UVA story, had suggested in interviews before Friday that Erdely had actually tried, but failed, to reach the alleged perpetrators.
Rolling Stone didn't comment for the Post's article on Wednesday evening. Earlier in the day, a spokeswoman told The Huffington Post that none of the magazine's editorial leadership was commenting while an internal review is underway.
While news organizations routinely advocate for transparency in government or business, they too often go silent when faced with serious questions about their own work. Last year, CBS's "60 Minutes" initially sidestepped questions about the newsmagazine's primary source for an investigation into the 2012 Benghazi attacks, only to later retract the story as it unraveled.
Rolling Stone managing editor Will Dana spoke Friday to The New York Times, but has not given any other interviews. He also hasn't tweeted since Friday.
Erdely stopped giving interviews even before Friday's revelations in the Post, as her Nov. 19 article had already faced scrutiny from a number of outlets, including Slate, The Washington Post, The New Republic, Reason and Worth editor-at-large Richard Bradley's blog. Erdely hasn't tweeted since Nov. 30.
Neither Dana nor Erdely responded to requests from The Huffington Post.
Woods, Erdely's editor, has given no interviews over the past week. He last tweeted Saturday that he was "obviously mistaken in a few comments" made about Erdely's reporting process. When The Huffington Post reached Woods by phone earlier this week, he declined to discuss the story -- or his tweet.
Rolling Stone founder and publisher Jann Wenner has stayed quiet throughout the controversy. Wenner uttered two words -- "not true" -- in a New York Observer story Tuesday. He was rebutting sources who told the Observer that Woods offered his resignation, but it wasn't accepted. Wenner did not respond to a request from The Huffington Post.
It's unclear if the magazine's internal review will be made public as an article, similar to how The New York Times responded a decade ago in re-reporting the work of plagiarist staffer Jayson Blair. Times public editor Margaret Sullivan suggested in a column Monday that Rolling Stone "thoroughly investigate what happened, publish that investigation and tell its readers how, precisely, editors will make sure it never happens again."
On a Nov. 27 Slate podcast, Erdely said that she tried contacting the alleged perpetrators "in multiple ways," but they "were kind of hard to get in touch with because [the fraternity's] contact page was pretty outdated."
Erdely said she spoke with the fraternity's local president and a national representative.
The Washington Post reported on Nov. 28 that Erdely wouldn't say "whether she knows the names of Jackie's alleged attackers or whether in her reporting she approached 'Drew,' the alleged ringleader, for comment." The Post's Paul Farhi wrote that she's "bound to silence about those details" because of an agreement with Jackie.
On Dec. 1, Woods told Farhi that Erdely didn't talk to the alleged attackers, but suggested she made an effort to do so. "We did not talk to them," Woods said. "We could not reach them."
Woods also said that Rolling Stone "verified their existence" through interviews with Jackie's friends, and he's "satisfied that these guys exist and are real."
In the same Post article, Erdely declined to say if she knew the names of the alleged rapists and ringleader "Drew." Erdely also said she had "corroborated every aspect of the story that I could."
On Dec. 2, Slate's Allison Benedikt and Hanna Rosin raised more questions about the Rolling Stone story based on their own reporting. However, Erdely, who appeared on Slate's podcast the previous week, would no longer answer questions. And Woods told Slate he was "done talking about the story."
Three days later, Shapiro's article in The Washington Post blew open the story, revealing significant holes in the Rolling Stone account and prompting the magazine to publish an editor's note.
Rolling Stone said the magazine's trust in Jackie was "misplaced," a response that was seen by many as blaming the alleged victim for a problematic article rather than the magazine for not adequately vetting the source's account.
Dana clarified on Twitter that the "failure is on us -- not on her." Rolling Stone later quietly updated the editor's note to remove the offending line.
In the editor's note, Dana wrote that "because of the sensitive nature of Jackie's story, we decided to honor her request not to contact the man who she claimed orchestrated the attack on her nor any of the men who she claimed participated in the attack for fear of retaliation against her."
Dana's statement seems to contradict the earlier claims of Erdely and Woods that the writer tried vainly to reach the alleged attackers.
A Rolling Stone spokeswoman told Washington Post media critic Erik Wemple on Tuesday she believes Woods "misspoke on that specific point."
The Post's Wednesday night report raised several new questions about Erdely's reporting process and how a magazine, renowned for strong editing and fact-checking failed to adequately vet key details in its primary source's account.
It's unclear why Erdely didn't try contacting the three friends of Jackie who are depicted in the story, their quotes coming only through Jackie. Was Erdely abiding by an agreement with Jackie to not corroborate what happened after the alleged attack with the three students, or was she simply not doing her diligence as a reporter?
And what steps, if any, did Rolling Stone take to identify the alleged attackers?
The Post also reported Wednesday that the name of the man Jackie provided to her friends as the ringleader -- identified as "Drew" in the story -- does not match any records at the university.
In addition, the Post reported that photographs Jackie had texted "to one of the friends showing her date that night were actually pictures depicting one of Jackie's high school classmates in Northern Virginia," a man who said he hadn't been to Charlottesville, Virginia, where the university campus is located, in more than six years.
BEFORE YOU GO
PHOTO GALLERY
The Washington Post