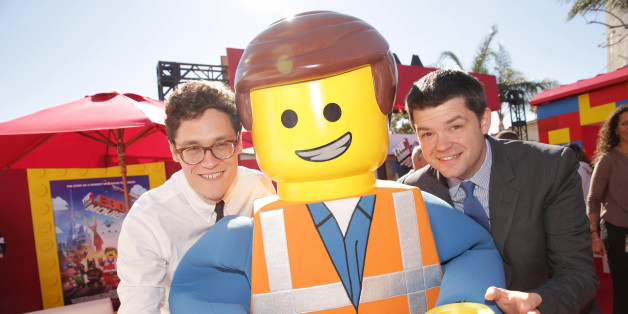 Phil Lord and Chris Miller had a pretty great 2014. The duo directed "The LEGO Movie," which was tied for the third-highest Rotten Tomatoes rating of any movie released this year, "22 Jump Street" and "Moonquake Lake." If you haven't heard of that third film, it's because "Moonquake Lake" doesn't actually exist. Newly minted Golden Globe nominee Quvenzhané Wallis watches the fake movie, which has Lord and Miller credited as directors, in Sony's forthcoming "Annie" remake. ("Moonquake Lake" is a play on "Twilight" that even has a theme song.) To celebrate Lord and Miller's very real Golden Globes nomination for Best Animated Feature Film for "The LEGO Movie," the directors spoke to HuffPost Entertainment about awards season and the egregious lack of recognition for "Moonquake."
The old cliché is that people are woken up by awards nominations. How did you find out?
Phil Lord: We were woken up by the anticipation of being woken up. I always wake up about five minutes before my alarm. Today, I woke up 20 minutes before. I sat there, twiddling my thumbs on Twitter.
Chris Miller: I was in my pajamas, but I really wanted to have an old-timey stocking cap, like you'd see in old movies. But I couldn't find one so I was in regular pajamas. It was a good way to be woken up. One of the top ways.
"The LEGO Movie" was one of the best-reviewed movies of the year. Did you expect this kind of awards recognition?
CM: We are anxious people generally, but also this has been a great year for animation. There are many, many great films. More films that are worthy than there are spots for nominations. We weren't taking anything for granted, that's for sure. Being included in the group was really special.
What are you looking forward to about the Globes?
CM: I'm excited to see Tina Fey and Amy Poehler hosting in person. The Golden Globes are one of the more fun ones, because there's television and movies together and there's a bar. So people get a little crazy. It feels a little looser than the other ones.
PL: It feels more like the Hollywood of the '60s and '70s. People would drink in the middle of the day a lot more. Chris and I are also going to really mix it up this year with the dress code and wear tuxedoes.
CM: What a wild choice.
PL: This is a scoop!
CM: He's a merry prankster, always shaking up the system.
Have you enjoyed taking this movie around to awards events during the last month?
PL: It's weird that there's an awards campaign for something called "The LEGO Movie." That's just wonderful. But it's really fun to talk about the movie with people. It's fun to make something that makes people want to discuss. It's nice to be able to accompany a film with a commentary. So, for us, we like talking directly to people who have seen the movie and are thinking about it.
Who is the most surprising person you've found that loves the film?
CM: We just read that Tilda Swinton was a big fan of "The LEGO Movie," and that tickled us. We're big fans of hers, and that was somewhat unexpected. That was a real delight.
PL: We haven't met her, but we did stalk her at the Governors Awards.
As happy as you must be about the Golden Globes nomination, how do you feel about "Moonquake Lake" being ignored?
PL: We're really disappointed, but we made it for the fans. I know that we'll win the award in their heart.
PL: We'll get them the next time.
CM: "Moonquake Lake," we're envisioning as a four-part series. Although we might split the fourth movie into three movies. So, as many as seven films.
PL: The "Moonquake" fans, or "Quakers," are a very powerful lobbying group. So, I will see you at the People's Choice Awards.
BEFORE YOU GO
PHOTO GALLERY
Golden Globes 2014