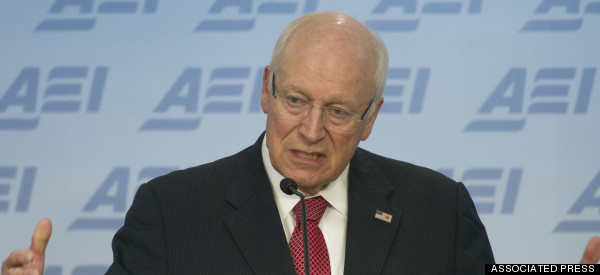 TOP STORIES
TORTURE DEFENDERS STAND GROUND ON REPORT Former Vice President Dick Cheney called the document a "load of crap," while former CIA officials touted the intelligence gained from such interrogation methods. Russia condemned the U.S.'s use of torture, while 2016 hopefuls have mostly kept silent about the report's revelations. [HuffPost]

POLICE DISPERSE HONG KONG PROTESTS "Hong Kong police arrested dozens of pro-democracy protesters Thursday as teams with sledgehammers and chainsaws demolished camps and tore down tents and supply stations established by activists as part of a mass civil disobedience movement that lasted over ten weeks. The police clearance marked the end of the pro-democracy occupation that has paralyzed parts of the south China city." [USA Today]
ROLLING STONE'S UVA STORY CONTINUES TO UNRAVEL Rolling Stone remained silent following the revelation by the three friends mentioned by "Jackie" that the series of events recounted in the article did not match their recollection of events. Check out the timeline of the story's collapse. [HuffPost]
KOHRASAN BOMBMAKER THOUGHT TO BE ALIVE French jihadist David Drugeon, who intelligence officials believe is one of the most dangerous terrorists alive, is thought to have survived American air strikes last month. [CNN]
ISIS ATTEMPTING TO SELL REMAINS OF BEHEADED AMERICAN HOSTAGE The terrorist group wants $1 million for the body of James Foley. [Buzzfeed]
270,000 TONS OF PLASTIC LITTERS THE OCEAN "A new study estimates nearly 270,000 tons of plastic is floating in the world's oceans. That's enough to fill more than 38,500 garbage trucks. The plastic is broken up into more than 5 trillion pieces, said the study published Wednesday in the scientific journal PLOS ONE." [AP]
DROUGHT-STRICKEN CALIFORNIA HIT WITH TORRENTIAL DOWNPOUR, BLIZZARDS Because you're always going to get a weather extreme out in the land of surf and shine. [CNN]
WHAT'S BREWING
PREDICT AND AVOID FLU HOT SPOTS "Using real-time data [researchers at Columbia University] created a website that shows an interactive map of the United States that displays the severity of flu cases in cities across the country. It also lists incidence numbers and gives a prediction number for each city in the coming weeks. They also have a forecast graphic that will tell you when the flu will be at its peak for a particular city." And that flu shot you got? The CDC warns it's not as effective as previous year's shots, as the virus has mutated. [CNN]
FINAL LETTERMAN SHOW IN MAY Start thinking of your top ten reasons of why you'll miss him… [HuffPost]
SAG AWARD NOMINEES ANNOUNCED The nominees are expected to be Oscar frontrunners -- check out the biggest surprises. [Vanity Fair]
PIXAR'S 'INSIDE OUT' TRAILER DISSECTS THE PRETEEN ATTITUDE So many emotions. [HuffPost]
HE PERSUADED THE SUPREME COURT, AND THEN WENT MISSING "Bobby Chen achieved the rarest of legal feats last month: Even though he had no lawyer, he persuaded the Supreme Court to hear his case, a battle with the city of Baltimore over a torn-down row house. Now, the court can't find him. Lawyers seeking to help Mr. Chen also don't know how to reach him. Baltimore officials haven't heard from him either. It is a high-court mystery seemingly without modern precedent, and it has court officials scratching their heads." [WSJ]
FORMER 'SCANDAL' STAR SPEAKS OUT ABOUT ADDICTION Columbus Short talks about his spiral into drugs that ultimately led to his firing from the show. [HuffPost]
GET OFF FACEBOOK For more reasons than you're tired of seeing all the engagements. [HuffPost]
ON THE BLOG
HOWARD FINEMAN: MCCAIN AND OUR 'STAINED AMERICAN HONOR' "Fourteen years ago, Sen. John McCain took his wife and son with him back to Hanoi, Vietnam, where he had spent six years as a suffering and tortured prisoner of war. The family stood together in the small concrete cell in which he had lived -- barely -- with broken bones yet unbroken will. Surrounded by TV cameras and reporters (I was one of the latter), the family gazed solemnly at the scene. The wife and son had tears in their eyes; McCain seemed at times to be fighting back a welling memory of fear, bitterness and fury." [HuffPost]
BEFORE YOU GO
~ It's a boy AND a girl for Princess Charlene of Monaco!
~ Glassdoor's best places to work in 2015.
~ Keira Knightley is expecting her first child with husband James Righton!
~ Order a craft brew on your next Delta flight.
~ Pour one out for the demise of Pirate Bay.
~ Holiday tipping etiquette -- yes, you need to.
~ Freido Pinto and Dev Patel called it quits after six years.
~ And yes, Instagram is really, really popular.
Send tips/quips/quotes/stories/photos/events/scoops to Lauren Weber at lauren.weber@huffingtonpost.com. Follow us on Twitter @LaurenWeberHP. And like what you're reading? Sign up here to get The Morning Email delivered to you.