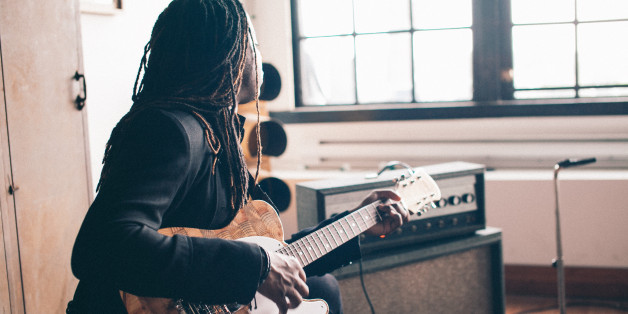 Some people look at the thousands of abandoned, crumbling homes in Detroit and see ruin and despair. Others see an opportunity.
Most Detroiters are creative by necessity, finding ways to spark big ideas with little fuel. The artisans below have taken Detroit's plentiful but theoretically worthless resources -- like abandoned tires, or responsibly salvaged wood from blighted houses -- and turned them into objects worth coveting.
For Woodward Throwbacks co-founder Kyle Dubay, using objects he finds illegally dumped on vacant lots was a choice of necessity that turned into his signature style. "When I got here, I didn't have any money, so I was taking stuff off the streets to work with," he told The Huffington Post.
These products do some good, promoting sustainability and alternatives to mass production. And, in true Detroit fashion, many of the small companies and nonprofits who make the items below are giving back to their communities, donating profits to education programs, providing job training or just trying to make the city a little cleaner.
Here are 11 gift ideas perfect for people who love Detroit, or anyone who sees treasure where others see trash.
Note: Many of these items are handmade by small companies. Some are made to order and won't be ready by the end of the holiday season. Check with sellers to verify shipping info, or for brick-and-mortar locations where items can be picked up.
Scraps of peeling graffiti paint get a second chance as wearable art.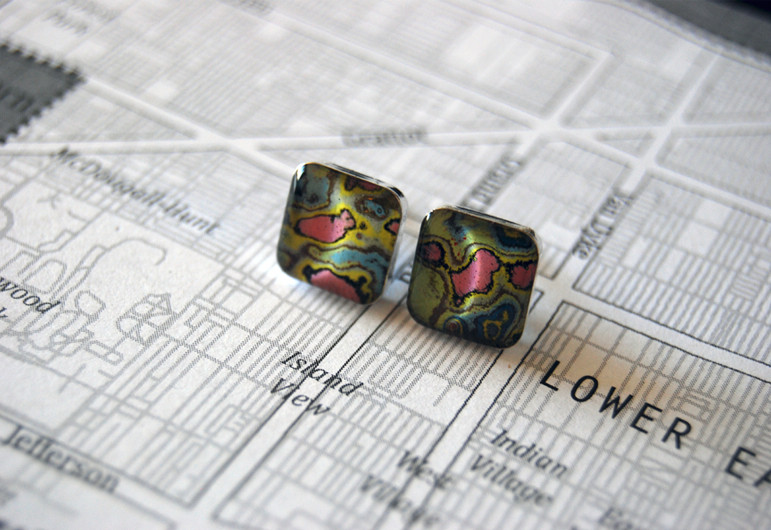 There's more to Rebel Nell's earrings, cufflinks, pendants and rings than you can see at first glance. Amy Peterson and Diana Russell make their designs from shards of paint that have fallen off Detroit's bountiful street art and graffiti works, and they scratch through the surface of the paint chips to reveal the colorful layers underneath. Youth arts group The Alley Project provides some of the chips from their outdoor mural gallery, and Rebel Nell donates some proceeds from a portion of its works back to them.
But Rebel Nell's mission is less about making jewelry than, on a small scale, empowering and employing Detroit women. The company partners with local shelter COTS to find workers. It currently employs 4 women, paying well above minimum wage and providing classes on financial management, business and other life skills.
Rebel Nell jewelry and cufflinks, $65 to $165.
Old tires make sturdy sandals and combat a citywide problem.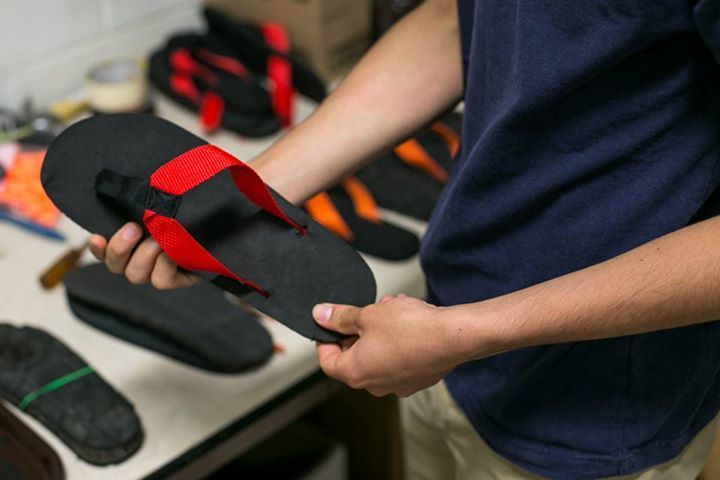 Buying a pair of sandals can't solve Detroit's illegal tire-dumping problem, but it can make a real impact. Since 2007, Cass Community Social Services has collected 40,000 tires, which would otherwise be sitting in Detroit's vacant lots, to make their Detroit Treads sandals and mud mats. CCSS employs 85 homeless or formerly homeless individuals in its Green Industries initiative, which creates jobs with a focus on sustainability. Due to high demand, the shoes need to be ordered two months in advance, but mud mats are still available for Christmas orders.
Cass Community Social Services Detroit Tread sandals, $25; mud mats, $35 to $45.
Guitars made from reclaimed wood let you hear history.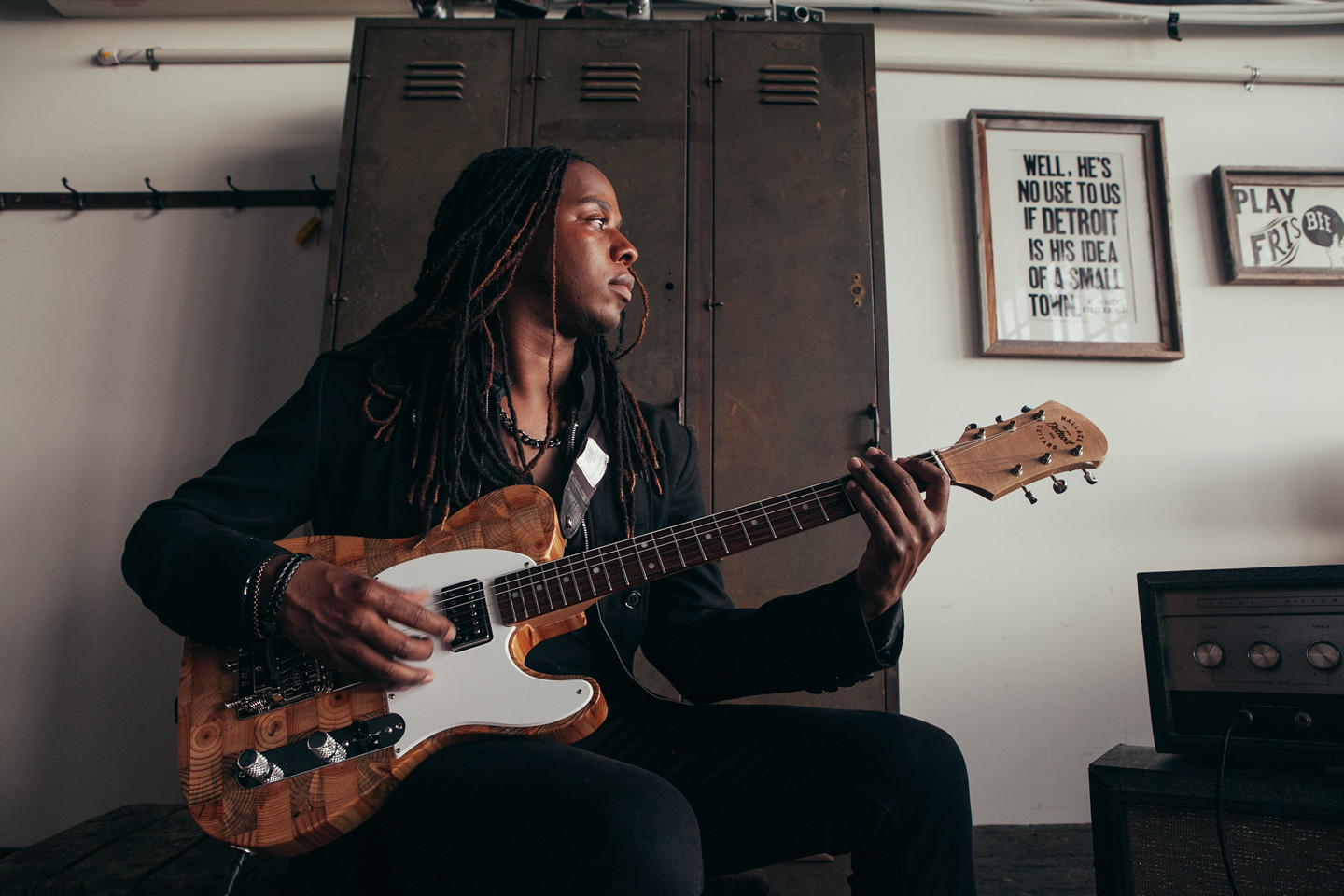 Wallace Detroit Guitars uses wood from deconstructed local homes. The company sources its materials from Architectural Salvage Warehouse to make the bodies of its guitars. The wood, often a century old, gives the instruments a distinctive sound you won't hear in contemporary guitars, founder (and musician) Mark Wallace says. (A similar idea is being used by longtime custom instrument craftsman Gary Zimnicki, who has started using reclaimed wood from around Detroit to make ukuleles and mandolins.)
As of Dec. 12, Wallace Detroit Guitars is taking pre-orders for February 2015, but will send gift buyers a T-shirt and guitar strap (made from old seat belts) in advance, so there's something to open on Christmas day.
Wallace Detroit Guitars, $1,995 and up. Contact the company directly for orders.
Reused materials make a sturdy six-pack holder worthy of the best microbrew.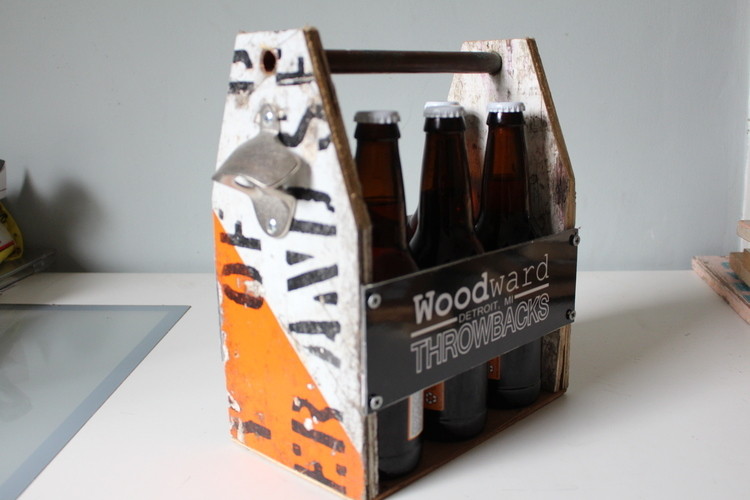 Woodward Throwbacks founders Kyle Dubay and Bo Shepherd bike around Detroit to scout wood left at illegal dumping sites. Cleaning up Detroit, one discarded bookshelf and a two-by-four at a time, they use the materials to create beer holders that come with openers attached, as well as other clever novelty products.
Woodward Throwbacks beer holders, $45 to $60.
Old windows give a historic touch to ornate terrariums.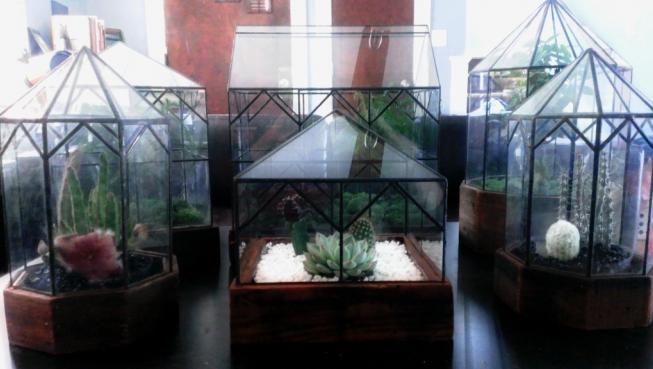 Lead Head Glass terrariums are made with windows and wood salvaged from deconstructed Detroit homes. These materials, company founders Chad Ackley and Derek Smiertka say, could not otherwise be recycled. They also say that the Victorian-style pieces are inspired by Wardian cases, used in the 19th century to transport exotic plants overseas. Their designs even have the approval of a legend in the home decor arena: They were finalists in the Martha Stewart American Made contest this year.
Lead Head Glass terrariums, $80 to $190; air plant holders, $42.
Cast-off materials from an abandoned home can furnish another.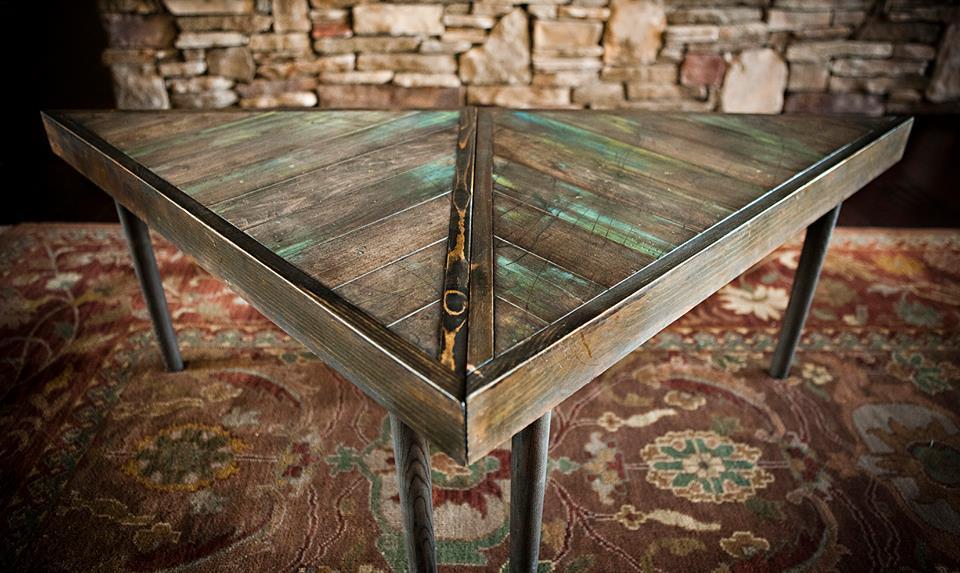 Mutual Adoration was started by artist couple Clare Fox and Wayne Maki. It's easy to see that their relationship has inspired their work -- not just in their company's name, but in their furniture pieces, too. The Union Table (above) is made of two triangle end tables that can be used separately; but they also come together seamlessly to serve as a larger triangle or square table. Fox and Maki use reclaimed wood from Detroit and elsewhere in Michigan to make their uniquely stained furniture. (Also worth a look are the stylish tables at Workshop, another company that uses reclaimed Detroit lumber.)
Mutual Adoration Union Table, $380 to $460.
Picture frames made with salvaged wood can have as many stories as the pictures they hold.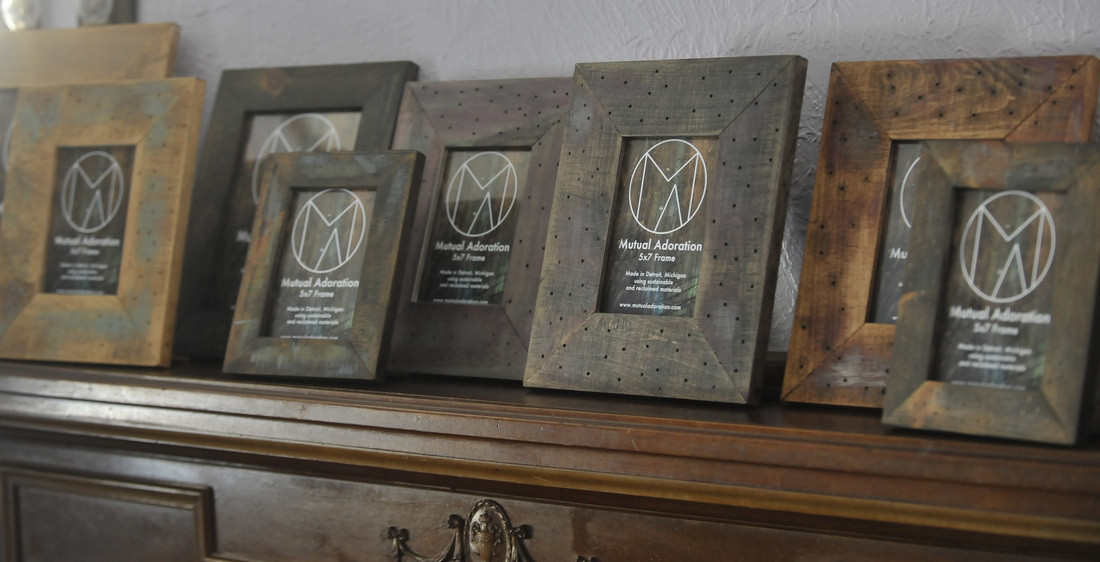 Mutual Adoration's picture frames have the same sense of style, but without the commitment or cost of a piece of furniture. Fox, a printmaker, and Maki, a photographer, have been constructing frames for their own artwork for years. Each frame comes with a note explaining where its wood comes from. "Reclaimed cedar fencing from a home in Detroit," for example.
Mutual Adoration frames, $30 to $78.
Old liquor bottles get new life as luxury home accents.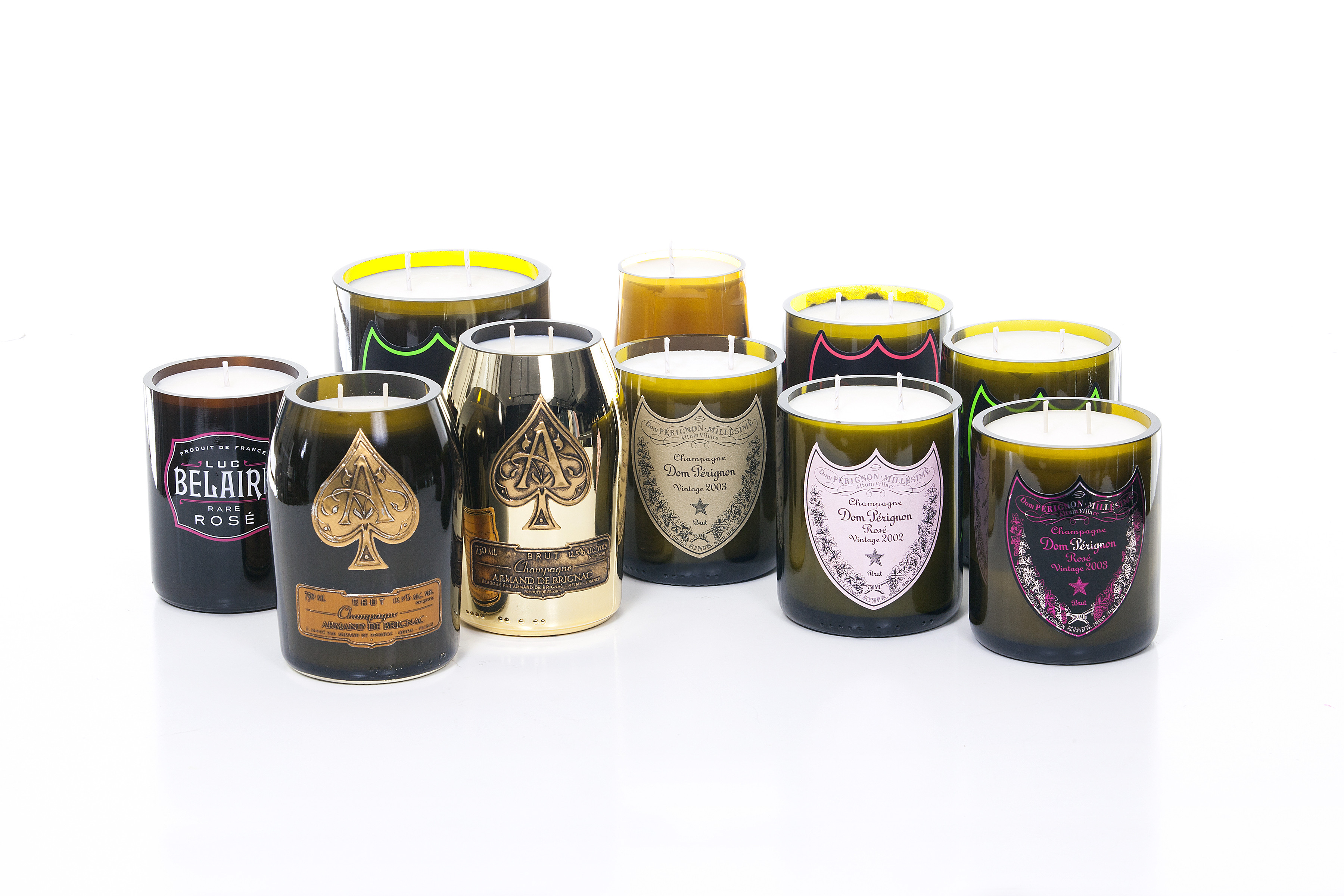 After Doug Schwartz started selling his soy candles made with liquor bottles he collected at bars around Detroit and elsewhere in Michigan, people began showing up to give him their empties or sending them from around the country. His company, DetroitWick, donates a portion of its proceeds to the nonprofit Green Living Science, which partners with Detroit Public Schools to teach kids about recycling and the environment.
DetroitWick candles, $45 to $200.
Reusable objects are cooler when they're constructed from recycled materials.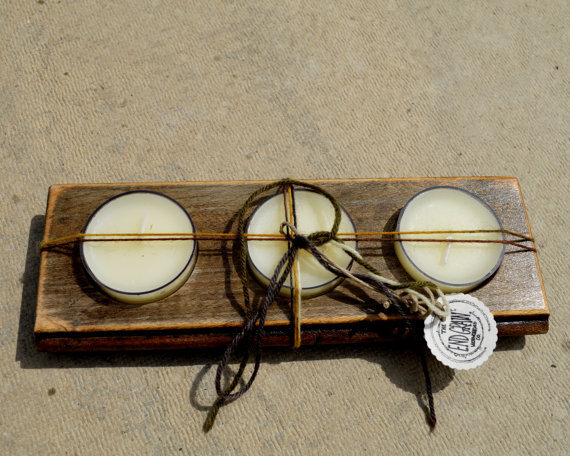 For an affordable candle holder that can be used repeatedly, The End Grain Wood Working Co. makes a reclaimed wood base that displays tea lights. The artisans behind the company, Chris Behm and Sam Constantine, also offer intricately crafted frames, coat hooks and planters.
End Grain Wood Working Co. tea light holder, $15.
Manufacturing mixed with hand craftsmanship turns old materials into modern eyewear.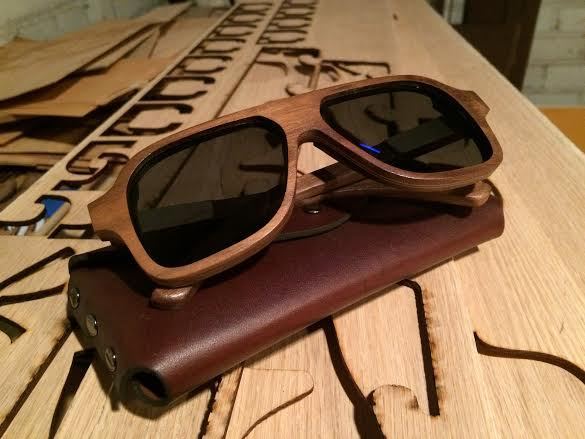 It's a 60-step process to make Homes Eyewear sunglasses, but they end up looking simple and sleek. Achille Bianchi came up with the idea and works on that long list of steps in the hackerspace OmniCorpDetroit. His glasses, which are all named after Detroit streets, were not available for purchase, as of Dec. 12, as the shop is being updated. But they should be available again by late December.
Homes Eyewear sunglasses, $188 - $248.
A gift made from reclaimed materials guarantees a one-of-a-kind item you can feel good about giving.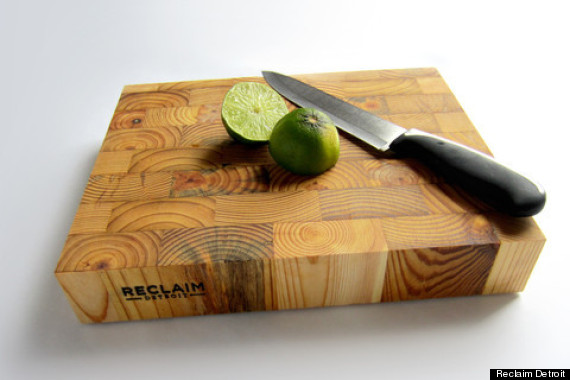 Many of the other items here that use wood owe a lot to Reclaim Detroit. Founded in 2011, it's the city's destination for artists, entrepreneurs and contractors who want to purchase reclaimed wood. The organization gets materials by deconstructing -- rather than demolishing -- some of the city's thousands and thousands of blighted homes. The process is more expensive and takes longer, but Reclaim Detroit say it's saving a good deal of materials that would otherwise go to landfills. The organization has saved 50,000 pounds of materials from being trashed, according to its website.
Part of Reclaim Detroit's mission is creating and training people for green jobs. And, it makes some beautiful reclaimed wood products, including butcher blocks, flower bud vases and candle holders. The organization's tagline pretty much says it all: "Using Detroit's history for a brighter future."
Reclaim Detroit End Grain butcher block, $109.
H/T Model D and UIX Detroit for ongoing coverage of some of these and other entrepreneurs and sustainable businesses in Detroit.
BEFORE YOU GO
PHOTO GALLERY
Cool Christmas Gifts