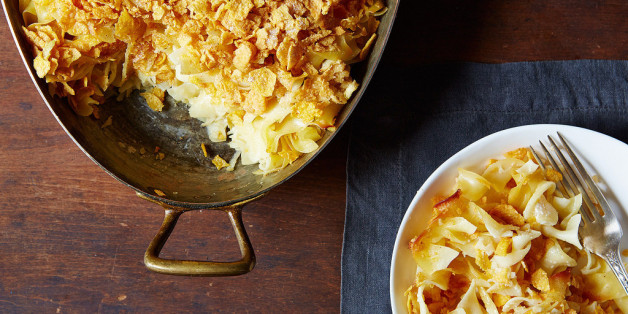 Kugel, for the uninitiated, is a traditional Jewish casserole, typically made of egg noodles or potatoes. Sometimes called noodle pudding, it's a dish that was brought about by the Ashkenazi Jews of Eastern Europe, somewhere around 800 years ago. Almost a century later, it's still one of the most eagerly anticipated dishes on the Jewish table. Whatever your background, however, kugel is a dish everyone can -- and should -- embrace. Depending on how it's made, it can be like a light and sweet mac and cheese, a potato gratin or a vegetable casserole. It's perfect for the holidays, no matter what you're celebrating, because it's easy to make and feeds a crowd.
With Hanukkah coming up, now is the time to equip yourself with a great kugel recipe, or even to come up with your own. Kugel is to Hanukkah what stuffing is to Thanksgiving. It's that dish that we look forward to all year because we don't eat often enough, and everyone's bubby has her own recipe. Innovation is welcome, but simple and traditional is almost always the more rewarding route. While kugel is served year-round -- potato kugel especially popular at passover and kugels of all kinds pop up on Rosh Hashanah tables as well as on Shabbat -- but somehow it maintains the mystique of something special.
The beauty of kugel, to which stuffing can't lay claim, is that it's a versatile dish that can be eaten as a side, an entrée or a dessert. If you've never had sweet kugel before, your potential trepidation is understandable. That comparison to a "sweet mac and cheese" we mentioned earlier? We can see why that might not sound super appealing. You have to try it to find out its glory. The traditional noodle pudding recipe of egg noodles, cottage cheese, sugar, eggs and raisins is an epic dish. Here are eight takes on kugel that any family will love:
PHOTO GALLERY
Kugel Recipes
Want to read more from HuffPost Taste? Follow us on Twitter, Facebook, Pinterest and Tumblr.
BEFORE YOU GO
PHOTO GALLERY
A Modern Hanukkah Feast