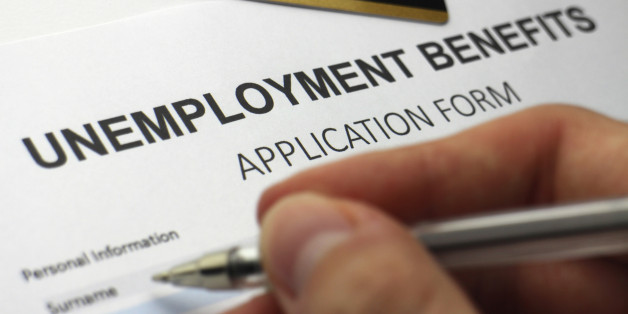 A new national survey examines the increase on non-employment among working age men. Pessimism about Washington gridlock is as high as ever. And support for some environmental initiatives crosses party lines. This is HuffPollster for Friday, December 12, 2014.
TAKING A CLOSER LOOK AT NON-EMPLOYED AMERICANS - Binyamin Appelbaum: "Working, in America, is in decline. The share of prime-age men — those 25 to 54 years old — who are not working has more than tripled since the late 1960s, to 16 percent. More recently, since the turn of the century, the share of women without paying jobs has been rising, too. The United States, which had one of the highest employment rates among developed nations as recently as 2000, has fallen toward the bottom of the list. As the economy slowly recovers from the Great Recession, many of those men and women are eager to find work and willing to make large sacrifices to do so. Many others, however, are choosing not to work, according to a New York Times/CBS News/Kaiser Family Foundation poll that provides a detailed look at the lives of the 30 million Americans 25 to 54 who are without jobs. Many men, in particular, have decided that low-wage work will not improve their lives, in part because deep changes in American society have made it easier for them to live without working. These changes include the availability of federal disability benefits; the decline of marriage, which means fewer men provide for children; and the rise of the Internet, which has reduced the isolation of unemployment." [NYT parts 1, 2, 3]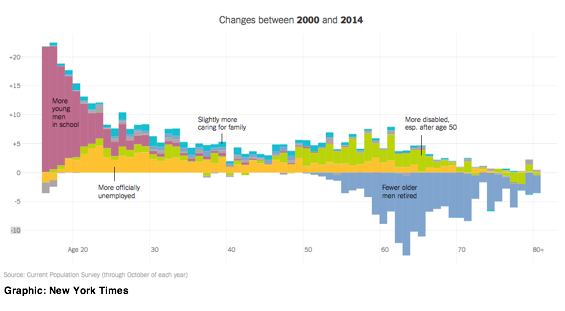 Who are the non-employed? - Jennifer De Pinto, Sarah Dutton, Anthony Salvanto and Fred Backus: "Most non-employed Americans want to be working (57 percent), particularly those who consider themselves temporarily unemployed (82 percent). However, about a third say they don't want a job right now. A majority are unhappy about not having a job and many say their employment situation is a source of stress. Among the temporarily unemployed, 46 percent say not working is a major source of stress for them….Those who have been actively looking for a job will make sacrifices in order to find a new job. Majorities would work in a different field (86 percent), work nights or weekends (75 percent), or take a job that pays minimum wage (61 percent)." [CBS]
Losing a job can be difficult or life-changing, but many remain optimistic - Kaiser Family Foundation: "Among those who used to work full-time (who make up 87 percent of the prime-age non-employed), roughly equal shares say being out of work has been a hardship and caused major life changes (30 percent), that it's been difficult but not caused major life changes (35 percent), and that it hasn't had much of an impact one way or another (34 percent)...Most commonly, about half of those who call themselves unemployed (50 percent) and disabled (54 percent) say they've borrowed money from family and friends as a result of being out of work. At least four in ten in each of these groups say they have put off health care they thought they needed because of the cost (47 percent and 41 percent, respectively) or taken money out of savings or retirement accounts to make ends meet (43 percent and 40 percent)....Among those who consider themselves unemployed and able to work, most are at least somewhat optimistic about their future job prospects….. Half (50 percent) of this group says it's very likely that they'll be working 6 months from now, and another 35 percent think it somewhat likely." [KFF]
DEMS' IMAGE TAKES A HIT, WHILE FEW EXPECT END TO GRIDLOCK - Pew Research: "As 2014 draws to a close, the public is deeply pessimistic about the prospects for healing the nation's deep political divisions. And most Americans think continued partisan gridlock would wreak significant damage on the country….The survey finds there has been virtually no change in Obama's job ratings over the past year. Currently, 42% approve of the way he is handling his job as president, while 51% disapprove. Obama's job ratings have not varied by more than two points since January….Following the Democratic Party's losses in the 2014 elections, views of the Democratic Party have taken a hit: Just 41% of Americans have a favorable impression of the party, down from 47% in October—and among the lowest ratings ever for the Democrats. Though views of the Democratic Party have grown more negative, there is no sign that views of the GOP have improved: Only 37% say they have a favorable view of the Republican Party, a rating that is unchanged over the course of the last year." [Pew]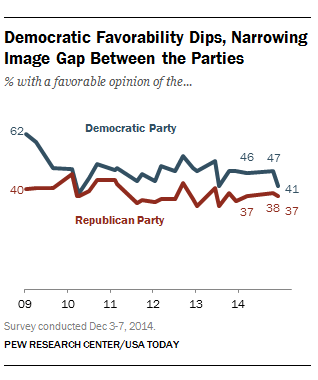 Pew also sees Obama gaining with Hispanics - "The public is divided over President Obama's recent executive action that expands the number of undocumented immigrants permitted to stay and work in the U.S. At the same time, Americans continue to broadly support a pathway to legal status for people in this country illegally….A majority of the public continues to give poor marks to Obama on how he is handling the nation's immigration policy (56% disapprove vs. 38% approve). But his immigration approval rating is six points higher than it was in November 2013 — and is up 24 points among Hispanics since then (67% approval, up from 43%)....In general, about two-thirds of the public say they are "very sympathetic" (23%) or "somewhat sympathetic" (42%) toward immigrants who are in the U.S. illegally." [Pew]
CARBON LIMITS HAVE SIGNIFICANT GOP SUPPORT - Dina Cappiello: "When Republicans take control of Congress next month, top on their agenda will be undoing environmental regulations they claim will harm the economy, chief among them President Barack Obama's plans to limit heat-trapping carbon pollution from coal-fired power plants. The results of a new poll from the Associated Press-NORC Center for Public Affairs Research and Yale University show their priorities may be misplaced. Six in 10 Americans, including half of all Republicans, said they support regulation of carbon dioxide pollution, although they weren't asked how. Nearly half of Republicans said the U.S. should lead the global fight to curb climate change, even if it means taking action when other countries do not. And majorities across party lines said environmental protections 'improve economic growth and provide new jobs' in the long run, a popular Obama administration talking point….Still, climate change itself ranked near the bottom of environmental problems tested in the poll." [AP]
HUFFPOLLSTER VIA EMAIL! - You can receive this daily update every weekday morning via email! Just click here, enter your email address, and click "sign up." That's all there is to it (and you can unsubscribe anytime).
FRIDAY'S 'OUTLIERS' - Links to the best of news at the intersection of polling, politics and political data:
-Barack Obama's job approval rating is unlikely to change, says Harry Enten. [538]
-Don't write off Obama just yet, says Andrew Kohut. [Politico]
-Hans Hansell examines how political parties can clear the primary field. [WashPost]
-A new national poll has grim findings for football [Bloomberg]
-SurveyMonkey finds mixed opinions on office holiday parties. [SurveyMonkey]
-Walt Hickey looks at the data behind Christmas music. [538]
BEFORE YOU GO
PHOTO GALLERY
Barack Obama Style Evolution