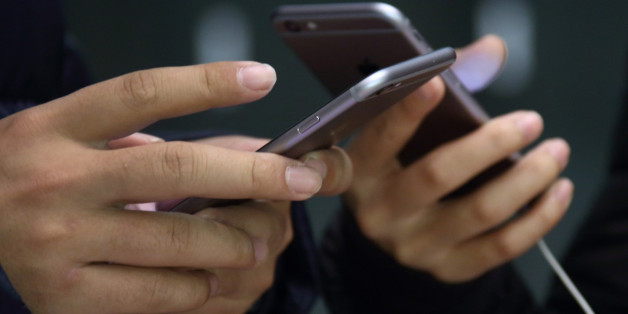 Walmart has slashed the prices on several models of the new iPhone.
The largest retailer in the world is offering the new iPhone 6 for just $129, a $50 discount from the usual Walmart price, Bloomberg reported on Thursday. The offer applies to the 16-gigabyte iPhone 6, but the store has also discounted the bigger-screened iPhone 6 Plus, cutting the price of the 16-gigabyte model to $229 from $279.
Walmart also said it's knocking $50 off the 64-gigabyte versions of the iPhone 6 and 6 Plus, offering the phones at $229 and $329.
Walmart's prices are significantly discounted from the retail prices on Apple's website. Apple lists the on-contract of the 16 gigabyte iPhone 6 at $199 and the 16-gigabyte 6 Plus at $299, while the prices for the 64-gigabyte models of the iPhone 6 and 6 Plus are $299 and $399.
To take advantage of the offers, customers will have to sign a new two-year contract with AT&T, Verizon or Sprint. The deal is only available in stores and will run through February, Walmart said.
Walmart is also discounting the older iPhone 5S, offering the 16-gigabyte iPhone 5S for $49, down from $79, as well as the 16-gigabyte model of Samsung Galaxy S5, Samsung's flagship phone, for $79, down from $139.
Fortune's Phil Wahba noted earlier this week that Walmart has been offering heavy discounts this season and trying to get more people into its stores "to reverse chronic declining store traffic trends." The latest discounts -- and there are more at Walmart than just iPhones -- also come as retailers have been stretching what have traditionally been Black Friday and Cyber Monday deals over weeks and weeks.
Scott McCall, Walmart's senior vice president of toys and seasonal merchandising, acknowledged as much in a statement. "Gift buying no longer happens on just one day or in just one way," he said. "We're seeing more customers shopping across the season while visiting both our store and online aisles."
The iPhone 6 is on track to be Apple's best selling iPhone yet. The company said it sold more than 10 million new iPhones the first three days they were on sale, and Neil Cybart, an Apple analyst, estimated last month that Apple will sell 68 million iPhones this quarter, up 33.3 percent over the same period last year.