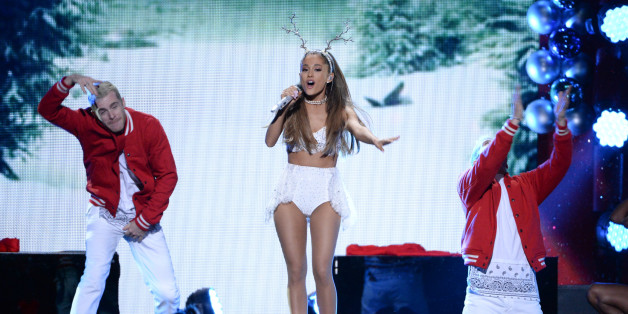 As the classic song goes, it's "Christmas time in the city" and the lyrics couldn't have been more true last night, as your favorite stars officially welcomed the holidays during the iHeart Radio Jingle Ball in New York City.
The concert included epic performances by Pharrell, Charli XCX and of course, new(ish) New Yorker Taylor Swift, who also rang in her 25th birthday while on stage at Madison Square Garden. But in case you missed it, we've rounded up the most *~mAgIcAl~* six-seconds-or-less moments that took place.
1. When this girl showed off her sick dance moves while rocking out with Pharrell:
2. Four words: "SCREAMING, CRYING, PERFECT STORMS"
3. That time when everyone was losing their shizz to "Shake It Off" -- and that one dude in the back was just not feeling it:
4. When Charli XCX boomed and clapped like a goddess:
5. When Ariana Grande danced in reindeer antlers:
6. When Shawn Mendes adorably serenaded the crowd, making everyone ~swoon~:
7. When T-Swift glittered in a plaid crop top while singing "We Are Never Ever, Ever Getting Back Together":
8. When Ari blew the crowd a kiss:
9. When Jessie J looked like she was having the best night of her life dancing to "Bang Bang":
10. When Rita Ora couldn't hear herself because there was so much noise:
11. When Gwen Stefani and Pharrell sparked the fire together on stage:
12. When the boys of 5 Seconds of Summer casually hung out in a snow globe:
13. When Ansel Elgort giggled while biting a heart-shaped lollipop:
14. When Nick Jonas paused to take a Very Important phone call:
15. When Ariana rapped Nicki Minaj's part like a pro in "Bang Bang":
Slay, Ari, slay.
Follow HuffPost Teen on
Twitter |
Instagram |
Tumblr |
Pheed |
BEFORE YOU GO
PHOTO GALLERY
Miley Cyrus At The Jingle Ball