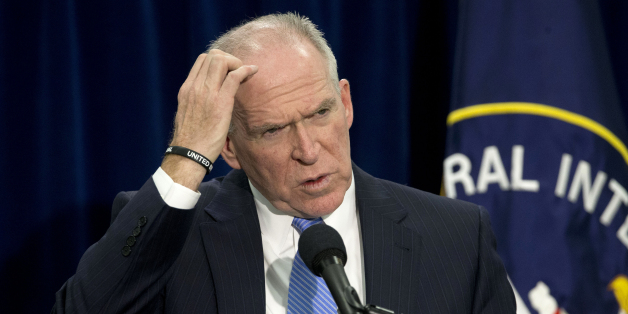 So, that happened: This week, a summary of the Senate's report on CIA torture was released into the wild, and while the redactions were thick, it nevertheless read as a thoroughgoing chronicle of depravity and incompetence that will, at the very least, ruin hummus forever. National security reporter Ali Watkins is here to walk us through the report.
Listen to this week's "So That Happened" below:
* * *
Some highlights from this week:
"It plays into every stereotype you think of with the CIA. Something's going okay and then like a bull in a china shop, they bust in there."-- Ali Watkins
Not to mention that ...
"You put all this together and you remember that this was supposed to be about protecting America. To me, it seems to represent a huge opportunity cost to protecting America. All this wasted time, all this wasted effort and what do we have to show for it?"-- Jason Linkins
Meanwhile, last week we introduced you to the cromnibus -- the lame-duck budget bill that needed to be passed to keep the government working. This week, legislators got lathered up about a Wall Street poison pill that came along with the bill, leading to new fractures and strange alliances that may come to define the legislative fights ahead.
"Obama ended up getting his policy and Wall Street got their policy. But Obama looks terrible. He looks like the guy who is in bed with Jamie Dimon and John Boehner. Elizabeth Warren looks like the populist folk hero who stood up and tried to keep this from hitting mainstream consumers." -- Zach Carter
And speaking of the cromnibus, the bill also contained language that may scuttle the efforts of the District of Columbia to decriminalize weed. It's another blow to a group of Americans who have never had fair representation in Congress.
"If D.C. officials fight this as aggressively as it seems like they're willing to do, it will put Republican leaders in the House in the position of having to affirmatively thwart the local law." -- Arthur Delaney
* * *
We're very happy to let you know that "So, That Happened" is now available on iTunes. We've been working to create an eclectic and informative panel show that's constantly evolving and as in touch with the top stories of the week as it is with important stories that go underreported. We'll be here on a weekly basis, bringing you the goods.
Never miss an episode by subscribing to "So, That Happened" on iTunes, and if you like what you hear, please leave a review. We'd also encourage you to check out other HuffPost Podcasts: HuffPost Comedy's "Too Long; Didn't Listen," HuffPost Weird News Podcast, HuffPost Politics' "Drinking and Talking," HuffPost Live's "Fine Print," and HuffPost Entertainment's Podcast.
This podcast was edited by Ibrahim Balkhy and sound engineered by Brad Shannon, with assistance from Christine Conetta, Chris Gentilviso and Adriana Usero.
Have a story you'd like to hear discussed on the "So That Happened" podcast? Email us at your convenience!
BEFORE YOU GO
PHOTO GALLERY
Politicians React To CIA Torture Report