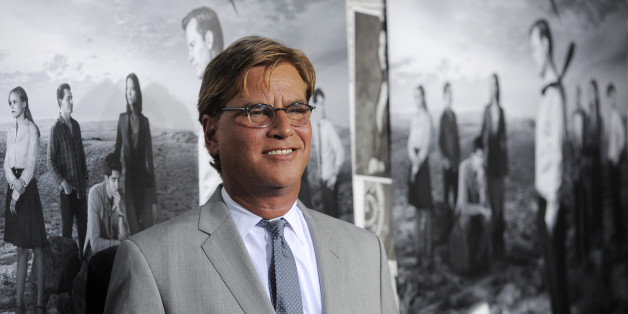 In an op-ed published by the New York Times on Sunday, Oscar-winning writer Aaron Sorkin slammed news outlets for covering information leaked online in the wake of a massive cyber attack against Sony Pictures.
"As a screenwriter in Hollywood who's only two generations removed from probably being blacklisted, I'm not crazy about Americans calling other Americans un-American, so let's just say that every news outlet that did the bidding of the Guardians of Peace [the group claiming responsibility for the hack] is morally treasonous and spectacularly dishonorable," Sorkin wrote.
Multiple news outlets, including The Huffington Post, The New York Post, The Daily Beast and The New York Times have written stories about the hacked emails. The leaked correspondences have ranged from mundane to troubling. Sony co-chair Amy Pascal and producer Scott Rudin apologized after a thread in which they joked about the kind of movies President Barack Obama likes was published by BuzzFeed. ("I bet he likes Kevin Hart," Rudin wrote.)
"The content of my emails were insensitive and inappropriate but are not an accurate reflection of who I am," Pascal said in a statement provided to The Huffington Post. "Although this was a private communication that was stolen, I accept full responsibility for what I wrote and apologize to everyone who was offended."
Sorkin himself was at the center of a leaked thread about his Steve Jobs movie. "And because I and two movies of mine get a little dinged up, I feel I have the credibility to say this: I don't care," he wrote. "Because the minor insults that were revealed are such small potatoes compared to the fact that they were revealed. Not by the hackers, but by American journalists helping them."
Sorkin, whose show "The Newsroom" had its series finale on Sunday night, isn't the only celebrity to weigh in on the Sony hack. Director Judd Apatow has been vocal in his critique of the media and how it has handled the information dump as well.
Releasing private Sony e mails to hurt people is the same as releasing nude photos of Jennifer Lawrence. Why are they ok to print?

— Judd Apatow (@JuddApatow) December 11, 2014
On Sunday, attorney David Boies reportedly sent a letter to news outlets demanding that the "stolen information" found in the hacked emails remain unpublished.
In response, New York Times spokeswoman Eileen Murphy told Reuters, "Any decisions about whether or how to use any of the information will take into account both the significance of the news and the questions of how the information emerged and who has access to it."
To read Sorkin's full critique of the news media, head to the New York Times.
BEFORE YOU GO
PHOTO GALLERY
Celebrity News & Photos