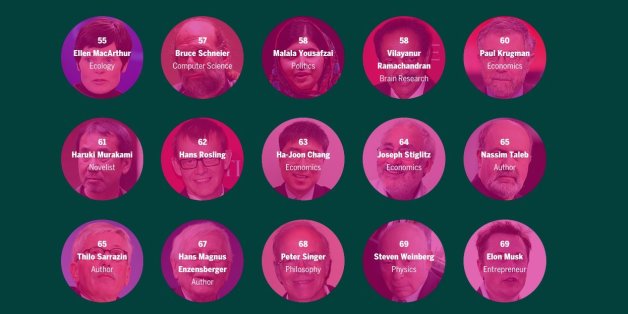 If you were to do a systematic analysis of the English-speaking infosphere –- the blogosphere, the Twittersphere and Wikipedia pages -- to determine which 100 thinkers have the most influence in the world as a result of citations, searches and links, what would be the results?
That is what the Zurich-based Gottlieb Duttweiler Institute for Economic and Social Studies and MIT Sloan School researcher Peter Gloor have done for their "Global Thought Leaders 2014" ranking.
By focusing on a "high betweeness" rating (people talking with and/or about a person) and including some different language versions in Wikipedia, the GDI has developed a prototype for ranking the influence of ideas on a world scale.
In 2015, The WorldPost and GDI will collaborate in this endeavor to create the first truly global thought leaders ranking by incorporating Chinese and other infospheres.
In this process, we will first ask experts to nominate thought leaders and then have WorldPost viewers vote for their favorite thinkers. Social network analysis will identify and calculate the most influential persons. Then the different ratings will be compared, discussed and ordered.
Click here to see the 2014 rankings as presented (in English) by the GDI's Swiss newspaper partner, Tages-Anzeiger.