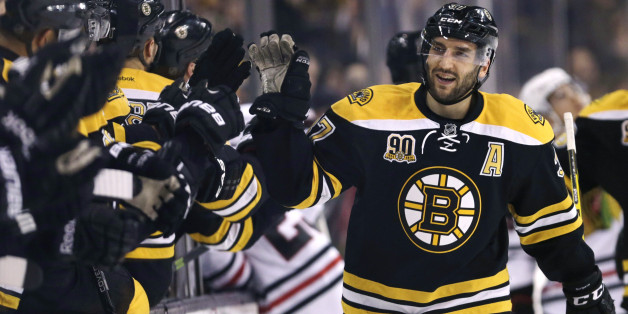 Patrice Bergeron, who is widely considered one of the best defensive forwards in the NHL, was chosen recently to be featured on the cover of the EA Sports NHL 15 video game. The 29-year-old Quebec native talked with The Huffington Post about the honor, "Mighty Ducks" and how winning a Stanley Cup as part of the Boston Bruins compared with winning two Olympic gold medals for Team Canada.
This interview has been edited and condensed for clarity.
What was your first reaction when you found out you would be on the NHL 15 video game cover?
Definitely surprising at first -- wasn't expecting this -- but I was very grateful. The reaction from the fans, to be voted in and to actually win the cover vote. I played the game a lot growing up as a kid and never imagined I would be on the cover of the same game as I used to play.
How funny is it for you to think about kids out there playing the game with you on the cover?
Definitely special. I've had a lot of great memories playing that game with my friends and my brother.
What was your favorite year growing up? Like, I played NHL 95. That was a sweet year.
'93 and '94 are my best. One memory that's stuck in my mind is the fact that I was using the [Quebec] Nordiques back then and using Joe Sakic -- he was one of my favorite players -- and trying to make him score as much as possible.
I'm just trying to imagine a young Patrice playing NHL 94. Was it like, you're playing in the basement, you're playing with your friends? Were you sneaking downstairs to play the game?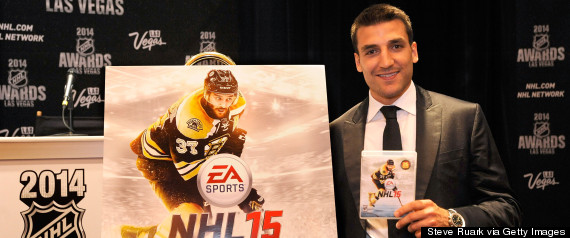 Lots of times when our mom was telling us to turn off the TV it's time to go to bed, and lots of times coming back down and putting the game on. Our parents would come back from work and see us playing and ask us if we'd done our homework, and obviously we weren't done, right? We just wanted to keep playing the game. We never really opened our books -- stuff like that. Memories -- good memories -- of playing with my brother, never really in the middle of the night. We would never do that, but it was more like coming back from school or earlier at night when it was time to go to bed but you wanted to finish the game. I have memories of that.
From the perspective of your career and where you're at now, what else is left for you to accomplish?
When you get a taste of winning, you always want more. You want to relive the same emotions and the same kind of feelings. What's on my mind is to do it again.
How did winning Olympic gold medals for Canada in 2010 and 2014 compare to winning the Stanley Cup in 2011?
As a kid growing up here, the dream is to win the Stanley Cup. Growing up in Canada, it's what's on any kid's mind that plays hockey. You don't hear as much about the Olympics, so it's a little different. Definitely just different experiences. I gotta go with the Stanley Cup if I have to choose, but it's hard. You can't really compare the two.
What was the reaction from people you grew up with when you did win the gold, compared with when you won the Stanley Cup? Were people more infatuated with the cup or the gold medal?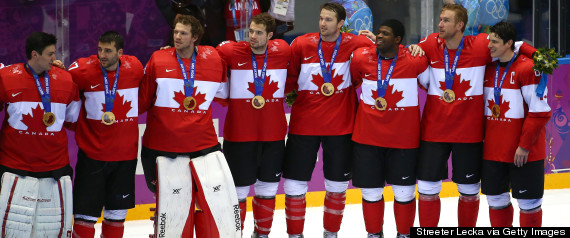 It's different. Honestly, winning the Stanley Cup with the same team -- it's such a grind, it's four rounds. I don't think anything compares to that.
Do you ever have time to look back and realize what you've accomplished? Or for you, are you somebody that is always pressing toward the next thing?
I think right now I'm focusing on this year coming up and trying to take it a year at a time. Once I'm done playing, maybe I'll look back and try to remember and relive some of the memories I've experienced, but for now it's time to focus on the job ahead of me.
Hockey, like football, is such a physical sport. Do you feel like the league has done everything it can to make sure its players are safe?
I think so. There's only so much they can do. The speed of the game has improved so much over the years. It is a fast game; it is a physical game. It's hard to really manage everything and really patrol everything on the ice. I think they're doing their best to keep us safe. But also as players we have to use common sense and be accountable for one another on the ice and make sure we do the right thing.
You mentioned the speed. I'm so glad you brought it up because there's no question about it. Do you notice that the speed has changed even since you came into the league?
Oh yeah, for sure. My first year was before the first lockout in '03-'04. That was the year of crushing, grabbing and basically lots of pushing that you don't see anymore. The speed of the game has grown a lot by taking out the red line as well, so it really evolved. It really is a faster game.
Do you have a favorite hockey movie? I just watched "Goon" again, and that wasn't bad.
I gotta go with "The Mighty Ducks." I was a young kid and hockey was definitely my sport and my passion, and I thought that was a great movie for kids.
The first one or the second one?
I've got to go with the first one, because it was the first one. And you know, first movies are always the best in a series like that.
Email me at jordan.schultz@huffingtonpost.com or ask me questions about anything sports-related at @Schultz_Report and follow me on Instagram @Schultz_Report. Also, be sure and catch my NBC Sports Radio show, "Kup and Schultz," which airs 9 a.m. to noon ET on Sundays and "Countdown to Kickoff with Jordan Schultz" 12-1 p.m. right here.