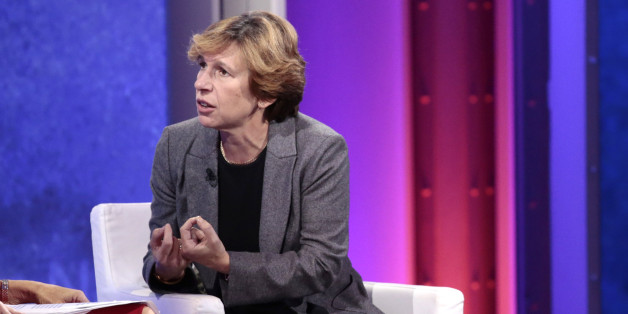 Randi Weingarten, president of the American Federation of Teachers, opened up this week about her experience with sexual assault and spoke about what teachers can do to support survivors and prevent such incidents.
In a first-person account that appeared on Jezebel Monday, Weingarten wrote about her time interning in Warren, Ohio, after her junior year of college. A "nice Jewish guy" invited her to dinner, she wrote. When she went to the man's apartment, he tried to rape her. Weingarten "managed to get out after a struggle, but the emotional scarring was deep."
"I didn't report it. I thought it was my fault. I thought I should have known better. I should have been smarter," Weingarten wrote, adding that she carried shame and fear with her for years.
It wasn't until she began reading about young women and men sharing their own stories of sexual assault that Weingarten understood she'd been blaming herself for her experience -- and that, as head of one of the largest teachers' unions in the U.S., she could play a role in changing the culture that surrounds sexual assault at schools, and the policies that do or don't address it.
Weingarten expressed similar sentiments during a panel discussion on Monday moderated by MSNBC reporter Irin Carmon at the Fashion Institute of Technology in New York City. Weingarten appeared alongside Sen. Kirsten Gillibrand (D-N.Y.), as well as Tricia Bent-Goodley, director of Howard University's Interpersonal Violence Prevention Program, and Annie E. Clark and Andrea Pino, co-founders of the advocacy group End Rape on Campus.
"We all have a responsibility, including to tell our stories," Weingarten said during the discussion. "This is incredible courage these women have shown, and we need to support them."
While administrators create policies, teachers are typically the ones interacting with students on a daily basis. Some teachers wear purple rubber bands to show that students can talk to them about bullying, Weingarten explained. If there were something like this for sexual assault, students might feel comfortable coming to teachers. But for this to be effective, teachers would need to be trained in responding to survivors.
"We can actually start, in junior high school, helping in a real way," Weingarten said. With physical education and health classes, there could be age-appropriate conversations on assault, consent and stereotypes to help change the culture while children are younger.
Gillibrand noted that when institutions like schools and the military mishandle cases of sexual assault, they can do real damage. She recalled what she's heard from people who felt let down by their school's response in such cases.
"'I could've survived the rape,'" Gillibrand said survivors have told her. "'What I couldn't survive was when the college that I love, the institution that I devoted myself to, turned its back on me.'"
"Too many rapes are happening on college campuses today, and not enough justice is being delivered," Gillibrand added. "That is a true fact."
Weingarten said that progress on the issue is often thwarted by the political culture among teachers and administrators, where any discussion of sex is contentious and often criticized. She ended the panel by thanking the young activists who have come forward with their stories, including Clark and Pino.
"We owe the activists a tremendous debt of gratitude, because you don't have a movement unless you have incredibly brave and courageous activists," said Weingarten. "I just wanted to say thank you, because they've inspired me to move our union to do a lot more than we've been doing thus far."

BEFORE YOU GO
PHOTO GALLERY
Images From 'Surviving In Numbers' -- A Project Highlighting Sexual Assault Survivors' Experiences