On the night of Dec. 15, 2013, gunshots rang out from the barracks of the presidential guard in Juba, the capital of the new nation of South Sudan. Soldiers from rival tribes had turned their guns on each other.
How the fighting started is under dispute. President Salva Kiir accused a former deputy, Riek Machar, of attempting to stage a coup. Machar claimed the president had framed him.
But the gunfight sparked a spree of ethnically motivated killings. In a matter of days, violence had engulfed the whole country. In the 12 months since, soldiers and militia loyal to Machar and Kiir have been accused of mass killings, disappearances, torture and rape. Humanitarian agencies have described the world's newest country as a "living hell."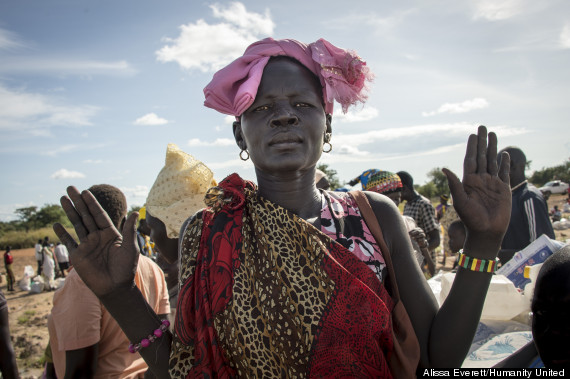 Amel, 45, throws her hands up indicating she has not received food at a distribution center for displaced families, Mingkaman, South Sudan, Oct. 16, 2014. (Alissa Everett/Humanity United)
Hopes had been sky high when, after decades of war, South Sudan won independence from Sudan in 2011. The birth of the world's newest nation was the "most jubilant scene of African progress since the end of apartheid in South Africa," James Verini wrote in National Geographic. International observers hoped South Sudan would use its vast untapped resources to emerge from the ravages of war. "South Sudan has a huge but largely unrealized agricultural potential," a 2012 World Bank report said, noting that 70 percent of the country is well-suited for agriculture. The new nation also has vast oil reserves, and oil initially made up 98 percent of the post-independence government's revenues.
The dream has unravelled with dramatic speed. "A battle of political egos has degenerated into an ethnic conflict," The Guardian reported in January. Last week, Human Rights Watch warned that the violence has created a "frighteningly deep divide between South Sudan's two largest ethnic groups ... which threatens to upend the country for decades to come."
One year on, the International Red Cross is warning that South Sudan risks becoming "yet another forgotten state." Here's why the violence deserves more attention.
At least five failed ceasefires
Machar and Kiir signed a ceasefire deal in January, then again in May, in June, in August, and yet again last month. They all unraveled within hours. Clearly, something is not working.
The peace talks are brokered by a group of African countries called IGAD, but some of the member states have taken sides in the conflict and refuse to pressure the South Sudanese leaders with economic sanctions, according to human rights advocate and Vice President for Policy and Government Relations at Humanity United, David Abramowitz. The U.S. has imposed some sanctions on both sides, but has resisted European pleas for a U.N. arms embargo, fearing it would "disproportionately hurt the government," Reuters reported last week. "We recognize that risk but believe that the amount of killing that's going on, the fact it's been going on for a year now, there's too many weapons there," an unnamed senior diplomat told the outlet.
"All agree that the peace process so far has been difficult, on a path wavering between hope and disappointment, between encouragement and skepticism," U.N. envoy Haile Menkerios told reporters earlier this year. Even after the latest ceasefire collapsed in recent weeks, Sudan's foreign minister insisted that peace is "imminent" at meetings in Washington, D.C.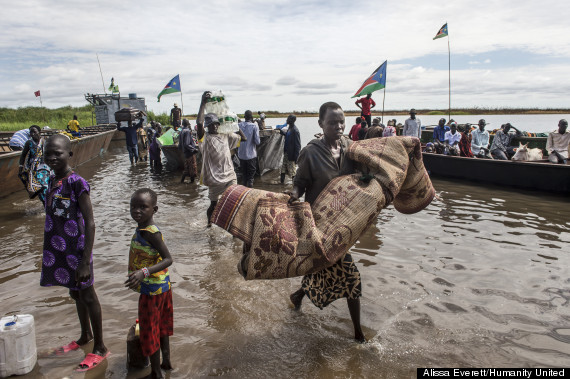 South Sudan 2014. (Alissa Everett/Humanity United)
At least 50,000 people have been killed
The International Crisis Group estimated last month that at least 50,000 people have been killed, but that with a lack of reliable information, the death toll could be as high as 100,000.
The scale of the killing has been horrific, and atrocities have been committed by both sides. The targeting of civilians, including the elderly, disabled and children, has been a hallmark of the fighting, particularly in the conflict's first months, Human Rights Watch said.
"Without any apparent fear of the consequences, armed groups have shot and gang raped patients in their hospital beds, massacred civilians in churches, machine-gunned fleeing civilians in swamps," Agence France Presse reported. Human Rights Watch says both sides have committed war crimes, and possibly crimes against humanity.
The African Union launched its first-ever Commission of Inquiry to investigate crimes committed in South Sudan, but has been criticized by human rights activists for not releasing its report to the public.
1.9 million have been displaced
The U.N. says nearly 2 million have fled their homes due to the ongoing violence. They are sheltering in schools, camps and U.N. bases around the country, and more than 450,000 have fled to neighboring countries.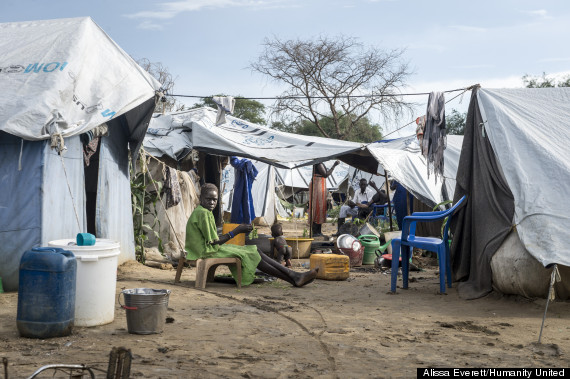 Bor, South Sudan, Oct. 14, 2014. (Alissa Everett/Humanity United)
100,000 people living under U.N. protection
When fighting first erupted, many fleeing South Sudan sought refuge on the bases of the U.N.'s peacekeeping force. Now, some 100,000 people are still living under U.N. protection in makeshift camps there.
The U.N.'s considerable role in the conflict -- arguably unprecedented in the agency's history -- has fueled tensions with the South Sudanese government and led to violence against U.N. staff. The U.N. recently had to quash rumors that it plans to set up an official protectorate in the country.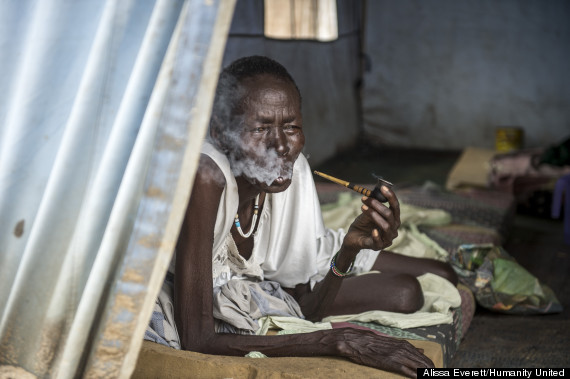 Living conditions are brutal for internally displaced persons, and many while away the hours smoking. Bor, South Sudan, Oct. 14, 2014. (Alissa Everett/Humanity United)
2.5 million people could face starvation next year
The conflict has brought food production to a halt, and aid agency Oxfam is warning that famine is on the horizon. One-third of the country's population needs food aid. A recent report by humanitarian groups working in South Sudan cautioned that malnutrition and starvation could get much worse in 2015. "Many communities have only survived 2014 by using up their resources by selling their assets, or relying on wild fruits and plants, and, as a last resort, killing their livestock," Oxfam reports. "This will make 2015 much more difficult."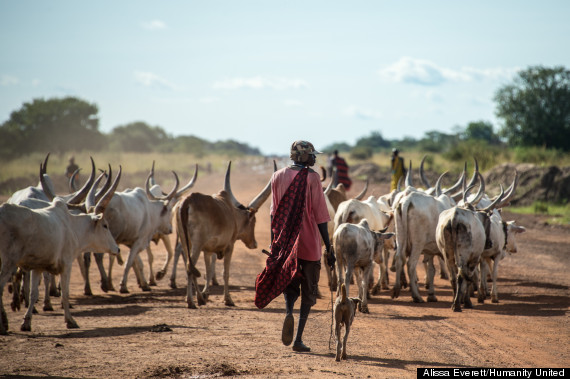 Nomadic cattle-herders often set up camp on the outskirts of larger population centers. Mingkaman, South Sudan, Oct. 16, 2014. (Alissa Everett/Humanity United)
35 aid workers killed
Aid agencies have marshaled efforts to avert mass starvation. "The scale of humanitarian operations in South Sudan has reached the point that it now constitutes the biggest aid operation inside any single country," U.N. deputy peacekeeping chief Edmond Mulet said this summer.
Yet aid groups face overwhelming obstacles. Much of the country is difficult to reach, and aid groups have accused the government of impeding their work. Funds are running low. And South Sudan was the third-most deadly country for aid workers in 2014, after Syria and Afghanistan.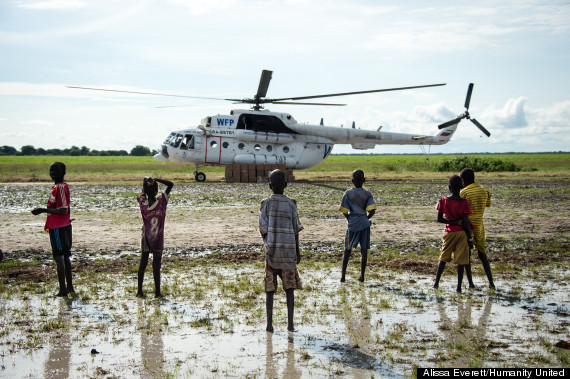 Vast flooding during the rainy season, conflict and treacherous terrain make it hard to get humanitarian aid to people in need. Most food aid is air dropped, while fragile items such as oil and supplements for severely malnourished children, must be helicoptered. Mingkaman, South Sudan, Oct. 17, 2014. (Alissa Everett/Humanity United)
Some 12,000 children are being used by armed groups
The conflict has taken a disproportionate toll on children. The United Nations Children's Fund has said that 750,000 children have been internally displaced, and more than 320,000 are living as refugees. Some 12,000 have been recruited into armed groups, the U.N. agency said.
"Children are living in fear of more violence," Jessica Bousquette, author of a recent report on displaced children in South Sudan for aid group World Vision, told The World Post. "This is their second Christmas away from home and there is a sadness about not knowing where they'll be next year."
See ways to help at UNHCR and World Vision.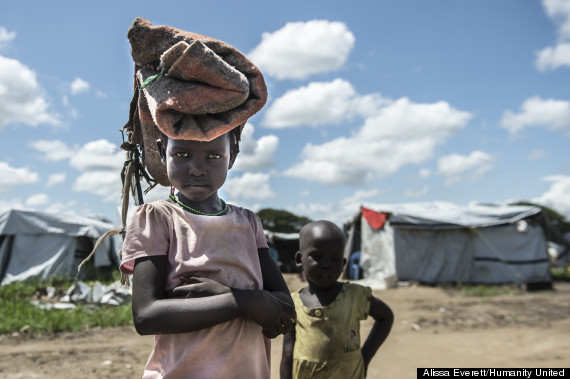 A girl helps her family move their belongings to a new site in the Bor refugee camp, South Sudan, Oct. 14, 2014. (Alissa Everett/Humanity United)
UPDATE: This article has been updated with David Abramowitz's title at Humanity United.
BEFORE YOU GO