Artist Zhu Tian crafts high heels. Only instead of creating footwear from leather, plastic or suede, she uses a far more unconventional medium: human flesh.
Actually, it's rubber, but the China-born, London-based artist yields such a realistic looking specimen we'd surely believe the grotesque pumps were made of the same stuff as the feet squeezed inside them. The wiry human hairs on top -- which, to be clear, are actually human -- finish off the fleshy fashion statement.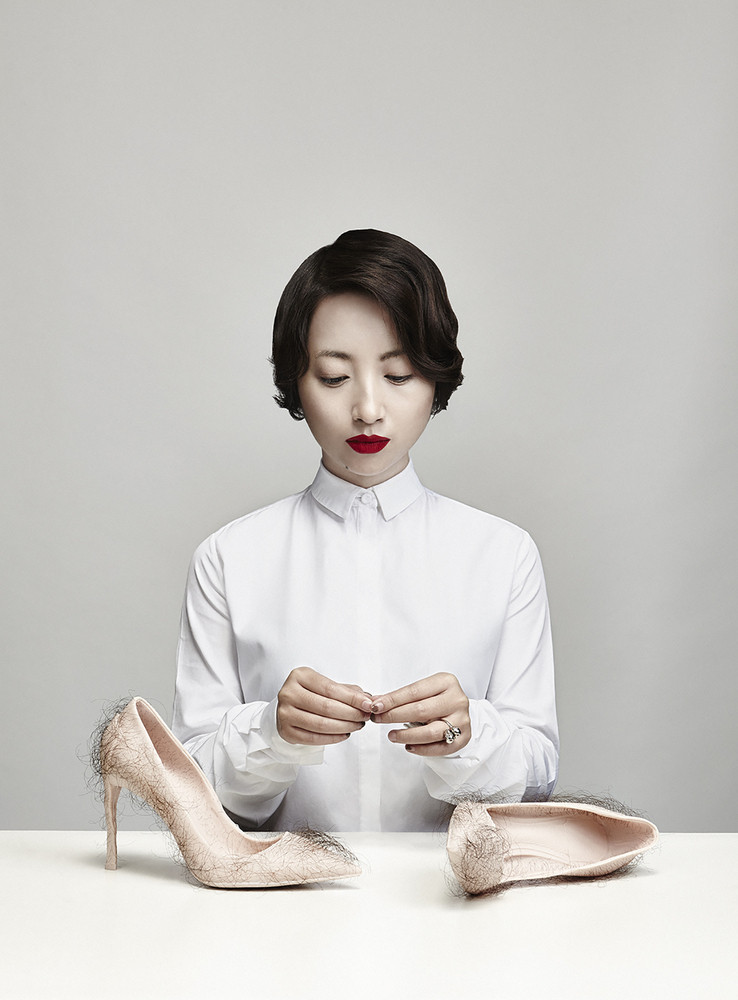 "This work was a special project commissioned by ELLE China for their 25th anniversary," the artist explained to HuffPost. "ELLE invited me to create a work using a pair of Dior's stilettos. I was trying to question and challenge the 'sexy' image of high heels in contemporary culture. Are they inherently sexy? Or are we 'told' they are sexy?"
To question our immediate associations between stilettos and sex, Zhu constructs forms at once viscerally attractive and repulsive, pinning our contradictory learned reactions against each other. "By creating this stiletto-shaped sculpture from an ambiguous combination of flesh-like texture and human hair, the intention was to deconstruct the stereotype of the femininity of high heels," she continued. "Hopefully, the new possibility of a more individual and objective reading is revealed as a result."
To top off the jumble of flesh and fashion, Zhu hangs some of her sculptures from string and chains, associating them both with BDSM and the binds of consumer desire. "Zhu's work makes the sexual connotations of high heels explicit, both as 'lust-worthy' commodities and as accessories that mechanically increase sexual attractiveness by lengthening legs and raising buttocks," Sam Gaskin wrote in ArtInfo. "The inclusion of bondage gear problematizes high heels' sexiness, implying the potential for both erotic play and exploitation."
Zhu Tian has been included in The Catlin Guide 2015 | New Artists in the UK, a limited edition book featuring images and interviews with 40 of the most exciting new artists to graduate from UK art schools in the last year. Zhu Tian will also be exhibiting in the Young Gods Exhibition next month in London, from January 8, 2015 until February 6, 2015.
BEFORE YOU GO
PHOTO GALLERY
Rina Banerjee