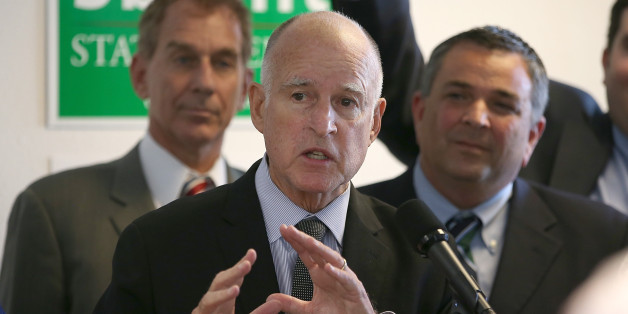 Just hours after protesters chained themselves to Oakland Police Headquarters in one of the demonstrations that have dominated the San Francisco Bay Area since Nov. 24, California Gov. Jerry Brown insisted on having a different conversation.
"I'm here to talk about climate change," Brown repeatedly told reporters Monday outside of an environmental forum where he was speaking in Oakland, dodging questions about the region's massive response to the killings of unarmed black men at the hands of police and to the grand jury decisions not to indict officers in the deaths of Michael Brown in Ferguson, Missouri, and Eric Garner in New York City, according to footage from the Sacramento Bee.
"Our office is, of course, keeping a close eye on these events and we'll keep you posted," Evan Westrup, Brown's communications director, told HuffPost.
The fourth-term governor and former Oakland mayor has yet to comment publicly on the protests in Oakland and Berkeley, which have developed into an epicenter of the #BlackLivesMatter movement. Hundreds of protesters have been arrested, and demonstrations have shut down major freeways and blocked trains. Police have fired tear gas at crowds and have reportedly assaulted journalists. Protesters and police officers have been injured.
Barbara O'Connor, director of the Institute for the Study of Politics and Media at California State University, Sacramento, told The Huffington Post that she thinks Brown's aversion is "a conscious choice" he probably would not have made two years ago, when he was less focused on specific goals.
"I just don't think it's on his radar, and part of that is that he has bigger fish to fry at the moment," O'Connor said. "He already announced he has four big issues he wants to get resolved that will require partisan support, and I don't think he's into wasting that capital […] No matter what you do, when you take a stand, you will annoy some of your allies, and he is much more disciplined now."
But silence from Oakland's hometown hero stands out, as other public figures acknowledge the protests.
Berkeley Mayor Tom Bates, Oakland Mayor Jean Quan and San Francisco Mayor Ed Leehave spoken out against the handful of violent protesters for obscuring an important, peaceful message, while Bates has questioned the Berkeley Police Department's use of tear gas.
The shootings, grand jury decisions and public outcry in Ferguson and New York also have provoked responses from President Barack Obama, New York Gov. Andrew Cuomo and Missouri Gov. Jay Nixon.
O'Connor told HuffPost she doesn't expect Brown to speak out unless the protests escalate.
"If it gets worse and he has to call out the National Guard and federal intervention, he may change his mind," she said.
Protests have dominated Berkeley and Oakland, cities with a rich history of civil rights protests, since a grand jury decided on Nov. 24 not to indict the officer responsible for fatally shooting Michael Brown and grew when a grand jury came to the same decision for the officer who killed Eric Garner using an illegal chokehold. Michael Brown's father, Michael Brown Sr., traveled to the Bay Area this week to address students at San Francisco's Mission High School and Third Baptist Church.
This article has been updated to include a comment from Brown's spokesman.
BEFORE YOU GO
PHOTO GALLERY
Ferguson Protests