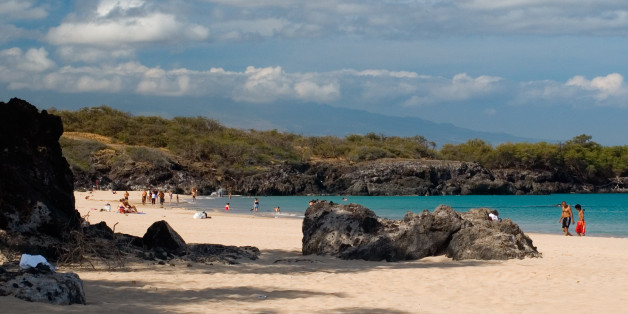 UPDATE: Rescue crews found a body believed to be that of the missing teen early Wednesday afternoon, West Hawaii Today reports.
Hawaii County Fire Department crews are searching for a teen who went missing after cliff jumping at a popular beach on Sunday, the Star-Advertiser reports.
After 10 a.m., the 13 year old and a friend jumped off the 15-foot cliff together at Hapuna Beach Park on the Big Island. The friend called for help after the boy didn't resurface.
The Hawaii County Fire Department has deployed divers and organized for ocean surface and air searches. The Coast Guard conducted air searches with an MH-65 Dolphin helicopter crew and a 110-foot patrol boat across 219 square miles and continues to provide interagency support to the fire department, but they suspended active search on Monday night, according to a statement.
Officials won't identify the boy because he's a minor.
Darin McCracken, a civilian search and rescue controller with the Honolulu Coast Guard sector, told the Huffington Post that many variables go into deciding how long to continue a search.
"We'll use information we had about the specific conditions of the child at the time, what the initial friends or witnesses saw, what the conditions are. It's different with every case," he said.
Hapuna beach, which is on the island's west side, is known for cliff jumping, body surfing and snorkeling, but the winter months can bring more treacherous conditions. On Sunday, there was a high-surf warning issued for the area, with six to 10 foot waves and strong currents expected.
The teen was still missing around midday on Tuesday.
BEFORE YOU GO
PHOTO GALLERY
Dangerous Days