So many clothes, so little time. That could be my mantra for 2014.
As HuffPost's fashion editor, it's my job to be hyper-aware of all the amazing clothes and accessories on the market. That said, I sadly can't purchase everything I see, even though I wish I could. So when I heard about Rent the Runway's unlimited accessories program, which, as Fortune described, is basically like Netflix for your closet, I was overjoyed. I decided to test it out during the busy holiday season to see what it was all about.
How It Works: For a monthly fee, customers receive access to an unlimited amount of designer accessories from Rent the Runway and can choose from a selection of statement pieces, including handbags, leather jackets, jewelry and more -- think Loeffler Randall bags, Lulu Frost bracelets and Balenciaga sunglasses. Subscribers keep up to three items at a time, for as long as they want. All they have to do is log on to RenttheRunway.com, create a queue of items, and Rent The Runway will send the listed items to customers as they become available. Once a subscriber is finished with an item, they can send it back to Rent The Runway and another item will be sent in its place. If a customer happened to fall in love with something, the item is almost always available for purchase at almost 30 percent off the retail price.
Cost: $49 per month.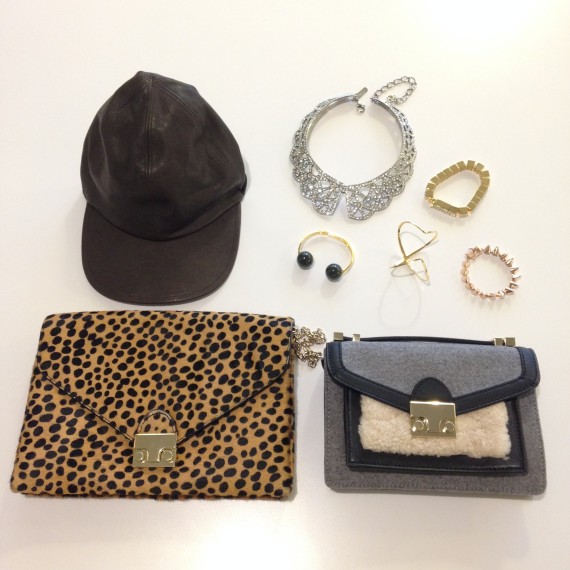 A selection of the items I received.
Why I Liked It: Unlimited accessories for a month -- that is a total closet game-changer. Not only could I carry a new bag every week, but I could send it back as soon as I got sick of it. Return shipping is free and Rent The Runway even supplies the pre-labeled envelopes and bags, so the entire process is so easy. It was also a fun way to experiment with my style, as I added items to my queue that I would never actually buy, then tried to make them work in my closet. I also never knew which items in my queue were coming next, which was kind of exciting -- it was like getting a present every time I opened a package.
Why I Didn't Like It: Currently, there doesn't seem to be a huge selection. Though Rent The Runway is adding more items all the time, there weren't dozens of accessories I wanted to try. Of the items I added to my queue, not all of them were available, so a few times I just got sent random filler pieces that I didn't love. The program didn't allow me to specify when I wanted specific items in my queue, so I couldn't plan an outfit around an accessory from the unlimited program, which was frustrating at times.
Overall rating: 3 out of 5. I think once Rent The Runways' accessories selection expands, this subscriber program will be the perfect service. But for picky customers, I suggest holding off for now. That said, this is a cheap and easy way to change up your look without breaking the bank.
Rent the Runway provided this service for review purposes.
BEFORE YOU GO
PHOTO GALLERY
Our Favorite Online Shopping Sites