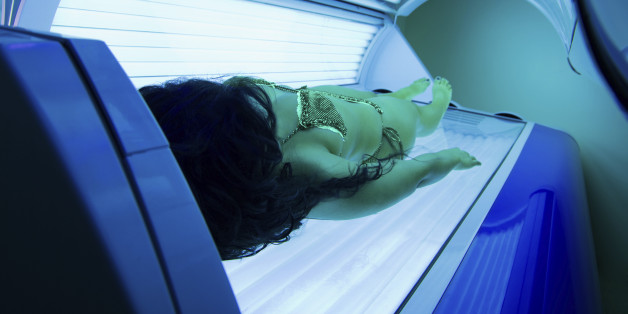 When people think of indoor tanning, skin cancer usually comes to mind. And while there's certainly a correlation -- more skin cancer cases can be attributed to indoor tanning than lung cancer cases can be attributed to smoking -- research shows there are also more immediate consequences to getting bronzed indoors: Injuries, such as skin burns, are landing people in the emergency room.
Researchers -- led by Gery P. Guy Jr., Ph.D., M.P.H., of the U.S. Centers For Disease Control and Prevention -- found that hospitals treat about 3,234 indoor tanning-related injuries per year. The findings were published online Monday in JAMA Internal Medicine, an international peer-reviewed journal.
Those injured "tended to be female (82.2 percent), non-Hispanic white (77.8 percent) and between the ages 18 to 24 years (35.5 percent)," a press release notes. The most common injuries were skin burns, passing out and eye injuries.
Guy says spending time in tanning beds can also lead to allergic reactions, rashes, itching and dry skin.
"If the tanning bed isn't clean, you can also get a serious skin infection with symptoms like genital warts, skin rashes, skin warts, and flaky, discolored patches on your skin, UV exposure from indoor tanning accelerates skin aging," he told The Huffington Post through a spokeswoman. "The gradual loss of the skin's elasticity results in wrinkles, skin sagging, and dry, coarse skin."
He also noted that exposure to UV radiation from indoor tanning is much more intense than anything that could come from the sun. Additionally, sensitive areas of the skin -- that wouldn't usually be exposed in outdoor tanning -- are often left unprotected during indoor sessions.
In January, a review published in the journal JAMA Dermatology noted that more than one-third of adults in 16 Western countries have tanned indoors once or more. It also stated that more than half of college students and one in five teens in Western countries has tanned indoors.
Although tanning beds aren't going anywhere just yet, they aren't quite as prevalent as they once were.
"We are starting to see a reduction in the use of indoor tanning in recent years," Guy said. "This may be due, in part, to an increasing number of state laws prohibiting indoor tanning among minors. Currently 11 states prohibit indoor tanning among kids younger than 18. Such laws have been shown to be associated with lower rates of indoor tanning."

BEFORE YOU GO
PHOTO GALLERY
No Fuss Self Tanning