President Barack Obama's move to normalize U.S.-Cuba diplomatic relations for the first time since 1961 would have been unthinkable for most other presidents. A Florida International University poll of Cuban-American attitudes in South Florida released in June shows why Obama can afford to take a decision that previous presidents avoided, even well after the Cold War ended.
When asked whether they favored reestablishing diplomatic relations with Cuba, a strong majority, 68 percent, said they supported the move. But digging a little deeper into the numbers reveals that the issue is entirely uncontroversial among younger Cubans. A whopping 88 percent favored restoring U.S.-Cuban diplomatic relations, the poll showed.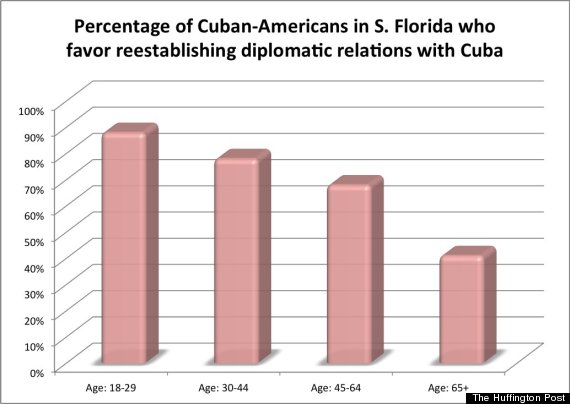 Source: Florida International University.
These figures mark a major change from 1993, when FIU first started polling the Cuban-American community. In that survey, 80 percent of Cuban-Americans said they were happy with the policy of severed diplomatic relations. Some 85 percent wanted to tighten the embargo still further.
Florida is a key swing state and generations of Cuban-American voters have worked to make sure that politicians from both parties pledge to keep up the pressure on the Castro government to abandon communism. Obama bucked the trend, winning the state in 2008 while promising to ease U.S.-Cuba relations. After he loosened travel and remittance restrictions, he won the state again in 2012 -- even narrowly outperforming Republican candidate Mitt Romney among Cuban-Americans on election day, according to a poll by Bendixen and Amandi International. When early votes and absentee ballots were counted, however, Romney topped Obama among Cuban-Americans 52 percent to 48 percent.
Given that change of attitudes among Cuban-Americans, Obama didn't have to worry that his change would doom the Democratic presidential candidate in 2016. In fact, Cuban-American voters may even thank the Democratic Party for Wednesday's decision.
BEFORE YOU GO
PHOTO GALLERY
7 Reasons The Cuba Embargo Needs To Go