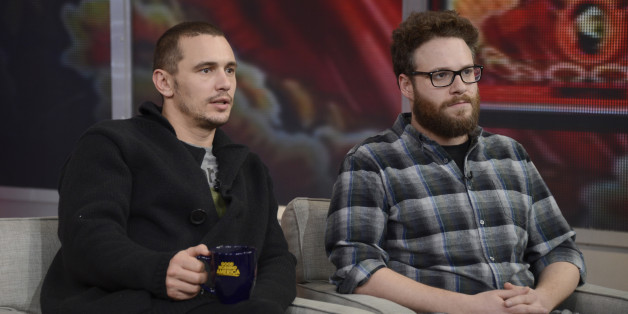 "The Interview" was scheduled to have its New York premiere at Landmark's Sunshine Cinema on Thursday, but the theater canceled the screening after a note threatening terror attacks on screening locations was published Tuesday.
Since the cyber hack was perpetrated against Sony Pictures last month, sensitive data has been revealed about celebrities, forthcoming films and studio executives. But the hackers have put more attention on "The Interview," Seth Rogen and James Franco's film that depicts the assassination of Kim Jong Un. Earlier, the hackers had demanded the film be pulled from release entirely. Tuesday's note made threats against filmgoers who would see the movie.
"We will clearly show it to you at the very time and places 'The Interview' be shown, including the premiere, how bitter fate those who seek fun in terror should be doomed to," the note read. "The world will be full of fear. Remember the 11th of September 2001. We recommend you to keep yourself distant from the places at that time. (If your house is nearby, you'd better leave.)"
As part of a separate story about the threat, Department of Homeland Security officials told The Huffington Post that while they were aware of the statement, "there is no credible intelligence to indicate an active plot against movie theaters within the United States."
Following the Tuesday threat, Rogen and Franco canceled a surfeit of press appearances scheduled to promote the film. Sony, meanwhile, announced that while it would move forward with the release of "The Interview," theater owners were free to drop the film. (Some, including Carmike Cinemas, did.) As The Hollywood Reporter noted, it was Landmark that "made the call" to cancel Thursday's premiere.
Sony confirmed that the premiere was canceled by the theater, though Landmark did not immediately respond to request for comment.
"The Interview" premiered last week in Los Angeles. It is still scheduled for release on Christmas Day.
BEFORE YOU GO
PHOTO GALLERY
James Franco's Most Controversial Moments