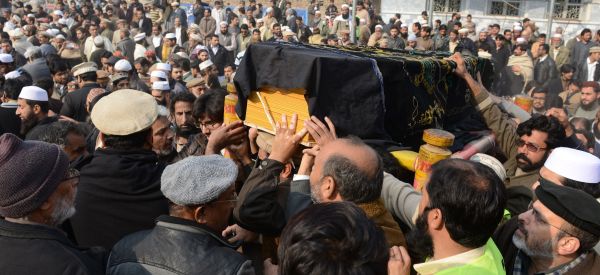 TOP STORIES
PAKISTAN SCHOOL ATTACK LEAVES OVER 141 DEAD, MOST OF THEM CHILDREN In one of the worst terrorist attacks in Pakistan's history, members of the Taliban killed at least 141 students and teachers at the Army Public School and Degree College in Peshawar. Meet the man who orchestrated the attack. Pakistan has lifted its death penalty moratorium in the wake of the attack. And hear from the children who survived. [HuffPost]

OBAMA'S JUDICIAL LEGACY "If there's one thing from 2014 that will define President Barack Obama's legacy after he's left the White House, it's the number of lifetime judges he put on the federal bench. In its final act of the year, the Senate blew through a dozen U.S. district court nominees on Tuesday night. That puts Obama at a whopping 89 district court and circuit court confirmations for the year, and means he'll wrap up his sixth year in office with a grand total of 305 district court and circuit court confirmations -- a tally that puts him well beyond where his predecessors were by this point in their presidencies." [HuffPost]
LOS ANGELES POLICE FIRST TO INSTITUTE CITYWIDE BODY CAMERAS The city is buying 7,000 body cameras to "increase accountability." [HuffPost]
MITCH MCCONNELL: KEYSTONE XL PIPELINE FIRST PRIORITY IN NEXT CONGRESS The vote to authorize the project should be an early win for McConnell, as the bill will most likely pass the Republican-controlled Senate and House. [HuffPost]
NASA'S ROVER FINDS POTENTIAL PROOF OF LIFE ON MARS "NASA's Curiosity rover has found spikes of methane in the Martian atmosphere, a gas that on Earth is strongly tied to life. The rover also found organic chemicals in a soil sample collected by a robotic drill. They are the latest findings as NASA hunts for clues about the possibility of extraterrestrial life. Last week, scientists determined that billions of years ago, a lake filled the 96-mile-wide crater being explored by Curiosity." [Reuters]
JOHNS HOPKINS MISTAKENLY TELLS 294 STUDENTS THEY'RE ADMITTED Whoops. [WaPo]
THEATERS CANCEL SHOWINGS OF 'THE INTERVIEW' AFTER HACKER THREATS "Threats of violence against movie theaters. The New York premiere of 'The Interview' canceled. Leaks of thousands more private emails. Lawsuits by former employees that could cost tens of millions in damages. The fallout from the Sony Pictures Entertainment hack that began four weeks ago exploded Tuesday after the shadowy group calling themselves Guardians of Peace escalated their attack beyond corporate espionage and threatened moviegoers with violence reminiscent of the terrorist attacks of September 11, 2001." Seth Rogen and James Franco, stars of the movie, have pulled out of all press appearances. [AP]
WHAT'S BREWING
USA MAKING BID FOR 2024 OLYMPICS San Francisco, Boston, Los Angeles, and Washington, D.C. are all vying to be host. [HuffPost]
COCA-COLA AND 'AMERICAN IDOL' PARTING WAYS Say goodbye to those giants cups. [Variety]
'CLIFFORD' CREATOR HAS DIED Norman Bridwell, the creator of "Clifford the Big Red Dog," was 86. [CNN]
THE HISTORY OF BOND'S VODKA MARTINI Thou shall always be shaken, not stirred. [Vanity Fair]
AMERICANS MISSING OUT ON SLEEP "Among my Type A, career-minded friends, I've heard two opposing types of personal mantras for the amount of sleep a person should get. The first: 8 hours of sleep will help you be more awake and aware, and then you can work harder. The second: Sleep is for losers.
The American Time Use Survey(ATUS) reports that employed Americans spend on average one more hour working than they do sleeping on workdays." [The Atlantic]
AND YOU THOUGHT CNN OVERHYPED THINGS... Check out this insane promo a Russian state TV network has run in advance of Vladimir Putin's press conference next week. [Digg]
JAY Z AND THE ILLUMINATI: A TIMELINE "Jay Z's use of occult symbols and the public response to that use perfectly encapsulates the locus of the occult in popular culture. For Jay Z, the images work to ignite the imagination, as 
well as to create rumor and speculation, which can only help to 
sell albums and increase internet-video page views." [Vulture]
ON THE BLOG
NEWTOWN TRIGGERS LIVE ON "Emilie, my little creator. She loved to build like her imagination was linked directly to her hands. She would build tall buildings, homes, airports and roads with cars traveling quickly through the streets. Legos are perfect, I thought. I held that bag of Legos under my arm and continued down the aisle of the store. It was December 14th and I didn't have many shopping days left till Christmas. That moment. That very moment has played over and over and over and over again in my mind, hundreds of times. That moment was the same moment my Emilie was being killed in her first grade classroom... and I was picking out Legos." [HuffPost]
WHY THEY TARGET SCHOOLS "Why are schools and universities the scenes of such violence? Is it because schools, with all their problems, remain for us places of hope and optimism? Places of education are spaces for people who still believe in possibilities for positive change. We send our children to school because we hope that they will learn about themselves and the world in ways that will enable them to thrive -- not just to navigate more effectively but also to flourish." [HuffPost]
BEFORE YOU GO
~ Christmas lights, from space.
~ The top GIFs and most-shared Facebook posts of 2014.
~ It's official: Justin Timberlake and Jessica Biel are expecting!
~ Sean Parker pledges some serious moolah to the search for an allergy cure.
~ Cats vs. Christmas trees.
~ Judy Blume is publishing her first adult novel in years.
~ How to survive an escape from Alcatraz.
~ You, too can buy the military humvee you've always wanted.
~ When you're on C-SPAN and your mom calls in...
~ Bill Cosby's youngest daughter says he's the father you think you know.
~ The Jimmy Kimmel-John Krasinski/Emily Blunt prank war just hit new levels.
~ And Adam Levine covered "Ignition," and it's every bit as good as you think it is.
Send tips/quips/quotes/stories/photos/events/scoops to Lauren Weber at lauren.weber@huffingtonpost.com. Follow us on Twitter @LaurenWeberHP. And like what you're reading? Sign up here to get The Morning Email delivered to you.