The year 2014 was a tumultuous one, with more than its fair share of world-changing events. The media has covered the chaos using all the methods at its disposal: Live blogs, images and rapid on-the-ground reporting have allowed journalists to disseminate the news in real time, giving a visceral reaction to unfolding events.
But another type of journalism -- long-form -- has offered readers an invaluable opportunity to better understand the world. In 2014, journalists devoted themselves to delving into the globe's most pressing problems, giving voice to the stories that matter. It's hard to overstate the amount of time, skill and effort put into writing and reporting long-form features like these, let alone what it takes to achieve this level of quality work as a result.
At a moment when the model of media is often to find the quickest, hottest take on an issue, these stories are evidence of the important work that can be accomplished taking a different tack. Though this list is by no means exhaustive, here is some of the best long-form writing of 2014 on global affairs:
Russia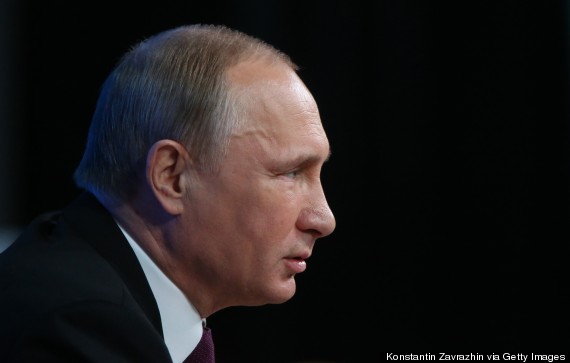 Russian President Vladimir Putin speaks during an annual press conference on Dec. 18, 2014, in Moscow, Russia. (Photo by Konstantin Zavrazhin/Getty Images)
Watching The Eclipse
David Remnick -- The New Yorker
What it's about:
The rise and fall of Ambassador Michael McFaul and the hope for democratic Russia.
Excerpt:
"McFaul was nervous, but an intermediary from Yeltsin's team told him, "You are better off going than not going." He called his wife, who was in Palo Alto, and told her, "If I am not back by the end of the day, tell the Embassy."
The Dying Russians
Masha Gessen -- The New York Review Of Books
What it's about:
Why are so many Russians dying so young?
Excerpt:
"Sometime in 1993, after several trips to Russia, I noticed something bizarre and disturbing: people kept dying. I was used to losing friends to AIDS in the United States, but this was different. People in Russia were dying suddenly and violently, and their own friends and colleagues did not find these deaths shocking. "
Inside the Iron Closet: What It's Like to Be Gay in Putin's Russia
Jeff Sharlet -- GQ
What it's about:
Personal accounts show the horrible reality of living under homophobia and persecution in today's Russia.
Excerpt:
"The new law explicitly forbids any suggestion that queer love is equal to that of heterosexuals, but what constitutes such a suggestion? One man was charged for holding up a sign that said being gay is ok. Pride parades are out of the question, a pink triangle enough to get you arrested, if not beaten."
The Loneliness of Vladimir Putin
Julia Ioffe -- The New Republic
What it's about:
A wide-ranging look at Putin's Russia, and those who oppose it.
Excerpt:
"After the economic collapse and chaos of the 1990s, Putin and the Russians had entered a tacit social compact: The government would provide stability and wealth, and the people would stay out of the government's business. "
Syria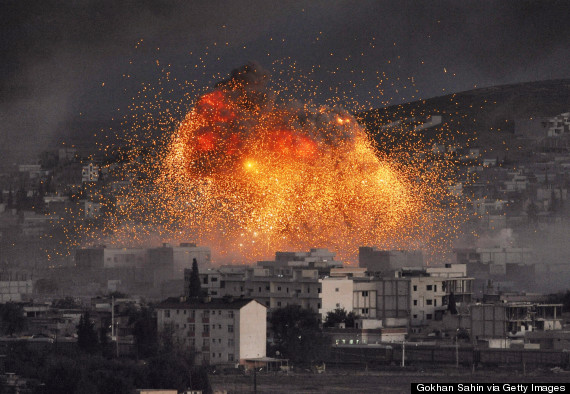 An explosion rocks Syrian city of Kobani, as seen from the outskirts of Suruc, on the Turkey-Syria border, Oct. 20, 2014. (Photo by Gokhan Sahin/Getty Images)
Whoever Saves A Life
Matthieu Aikins -- Matter
What it's about:
A harrowing week with Syria's first responders.
Excerpt:
"It had obliterated the house and blown down a 20-yard section of the heavy stone boundary wall, before smashing in part of the station. If the bomb had dropped ten yards closer, they would all have been killed."
ISIS: The Inside Story
Martin Chulov -- The Guardian
What it's about:
A deep dive into the origins of the Islamic State.
Excerpt:
"Seventeen of the 25 most important Islamic State leaders now running the war in Iraq and Syria spent time in US prisons."
My Story
Theo Padnos -- The New York Times Magazine
What it's about:
An American journalist recounts his kidnap, torture and release in Syria.
Excerpt:
"When I arrived, the commander got out of his Land Cruiser. Standing in the darkness amid a circle of men draped in Kalashnikovs, he smiled. "Do you know who I am?" he asked."
Evaporated
James Harkin -- Vanity Fair
What it's about:
Searching Syria for the trail of kidnapped journalists James Foley and Austin Tice.
Excerpt:
"After the death of Marie Colvin, in a blizzard of Syrian Army shells in Homs in February 2012, much of the Western media drew back from covering the country. Meanwhile, a lightly resourced, laughably paid, almost wholly uninsured cadre of freelancers, often armed with little more than a notebook and a mobile phone, infiltrated Syria anyway."
The Horror Before The Beheadings
Rukmini Callimachi -- The New York Times
What it's about:
A report on the brutal treatment and last days of Islamic State hostages.
Excerpt:
"Inside their concrete box, the hostages did not know what their families or governments were doing on their behalf. They slowly pieced it together using the only information they had: their interactions with their guards and with one another. Mostly they suffered, waiting for any sign that they might escape with their lives."
Iraq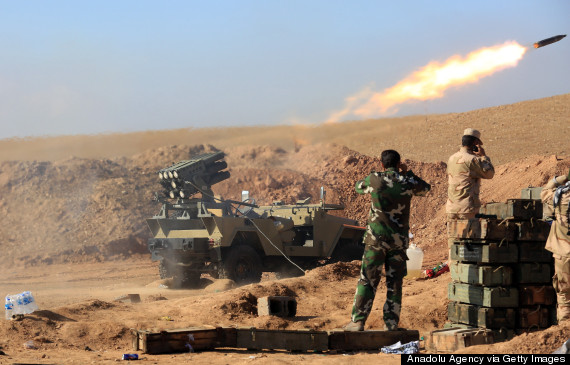 Iraq army forces and Peshmerga forces launch an U.S.-led operation against Islamic State of Iraq and the Levant (ISIL) in Sadiye town of Diyala, Iraq on Nov. 23, 2014. (Photo by Ali Casim/Anadolu Agency/Getty Images)
The Iraq We Left Behind
Ned Parker -- Foreign Affairs
What it's about:
A devastating look at what went wrong in Iraq.
Excerpt:
"All sides hold the others responsible for all the friends and family killed during the Saddam era and the civil war that followed the U.S. invasion. All of Iraq's political leaders seem to live by the maxim that no enemy can become a partner, just a temporary ally; betrayal lurks around every corner."
The Fight Of Their Lives
Dexter Filkins -- The New Yorker
What it's about:
How the Kurds seek to defeat the Islamic State, and build a nation of their own.
Excerpt:
"The fighting between ISIS and the Kurds stretches along a six-hundred-and-fifty-mile front in northeastern Iraq—a jagged line that roughly traces one border of Iraqi Kurdistan, the territory that the Kurds have been fighting for decades to establish as an independent state."
The War Photo No One Would Publish
Torie Rose DeGhett -- The Atlantic
What it's about:
The most powerful image of the first U.S.-Iraq war is one that no news outlet would show.
Excerpt:
"The colors and textures of his hand and shoulders look like those of the scorched and rusted metal around him. Fire has destroyed most of his features, leaving behind a skeletal face, fixed in a final rictus. He stares without eyes."
Europe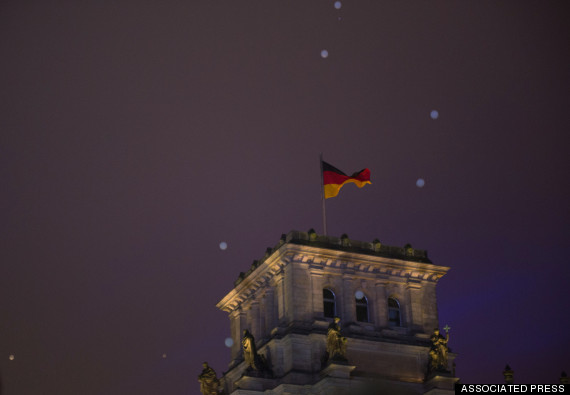 Balloons fly over the Reichstag during the central event to commemorate the Fall of the Wall in Berlin, Germany, Sunday, Nov. 9, 2014. (AP Photo/Steffi Loos)
Life In The Valley of Death
Scott Anderson -- The New York Times Magazine
What it's about:
Unearthing a tragic history in Bosnia.
Excerpt:
"Amor Masovic has the gaze and mournful air of a man who never gets enough sleep. For nearly two decades, his job has been to find the mass graves containing thousands who disappeared during the Bosnian war."
The Knowledge, London's Legendary Taxi-Driver Test, Puts Up a Fight in the Age of GPS
Jody Rosen --The New York Times Magazine
What it's about:
The hardest test in the world may be becoming obsolete.
Excerpt:
"Actually, 'challenge' isn't quite the word for the trial a London cabby endures to gain his qualification. It has been called the hardest test, of any kind, in the world. Its rigors have been likened to those required to earn a degree in law or medicine."
The Quiet German
George Packer -- The New Yorker
What it's about:
A profile of Angela Merkel, the most powerful woman in the world.
Excerpt:
"Among German leaders, Merkel is a triple anomaly: a woman (divorced, remarried, no children), a scientist (quantum chemistry), and an Ossi (a product of East Germany). These qualities, though making her an outsider in German politics, also helped to propel her extraordinary rise."
Africa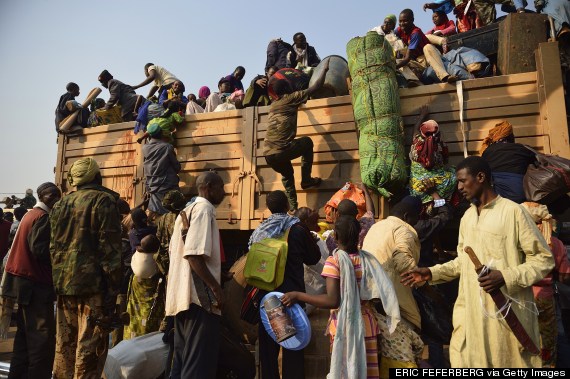 Chadian civilians climb on a military truck in the PK12 district of Bangui on Ja, 16, 2014, as they flee the Central African Republic and return to Chad. (Photo: ERIC FEFERBERG/AFP/Getty Images)
Firestone and the Warlord
T. Christian Miller and Jonathan Jones -- ProPublica and Frontline
What it's about:
An investigation into the role of Firestone Tire and Rubber Company in Liberia's horrific civil war.
Excerpt:
"The killers launched from the plantation under a waning moon one night in October 1992. They surged past tin-roofed villages and jungle hideouts, down macadam roads and red-clay bush trails. More and more joined their ranks until thousands of men in long, ragged columns moved toward the distant capital."
Rwanda's Hunted
Geoffrey York and Judi Rever -- The Globe And Mail
What it's about:
An investigation into the secret plots to kill Rwanda's dissidents.
Excerpt:
"The tone of this offer, calm and confident, is so casual it could be about bringing on workers for a plumbing job. What is actually under discussion: $1-million for the hiring of contract killers to assassinate two of Rwandan President Paul Kagame's most hated enemies."
Boko Haram: Terror's Insidious New Face
Alex Perry -- Newsweek
What it's about:
Assessing the fight against Boko Haram in Nigeria.
Excerpt:
"It's several weeks since the Islamist militants of Boko Haram kidnapped more than 260 girls from a school in northeastern Nigeria and the general wants me to see what he's up against. He invites me to his office in the capital, Abuja, and opens his laptop."
Hell is an Understatement
Graeme Wood - The New Republic
What it's about:
Inside the Central African Republic as it teeters on the brink of genocide.
Excerpt:
"... since December, along a desolate stretch of the Avenue de France, the Red Cross has operated an on-demand, white-gloved sanitation service that, within an hour of being called, will show up to collect human bodies, whether chopped up or left intact."
A Deadly Mix In Benghazi
David D. Kirkpatrick -- The New York Times
What it's about:
Published three days before 2014 began, this in-depth account of the attack on the U.S. diplomatic compound in Libya is too good to leave out.
Excerpt:
"A fuller accounting of the attacks suggests lessons for the United States that go well beyond Libya. It shows the risks of expecting American aid in a time of desperation to buy durable loyalty, and the difficulty of discerning friends from allies of convenience in a culture shaped by decades of anti-Western sentiment."
Asia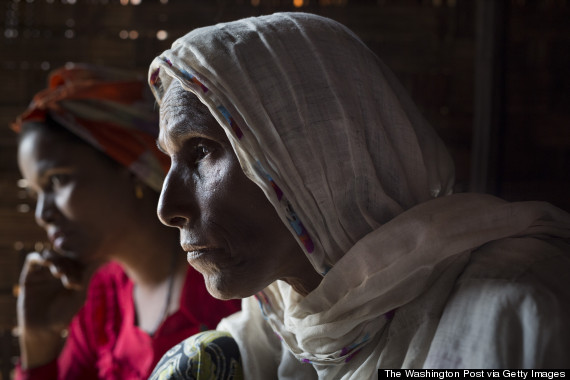 Albella,60, sits inside her thatched hut at the Mayebon IDP camp where registration has taken place forcing the residents of the camp to list themselves as Bengali not Rohingya. (Paula Bronstein for The Washington Post via Getty Images)
Special Report: Thailand Secretly Supplies Myanmar Refugees To Trafficking Rings
Jason Szep and Andrew R.C. Marshall -- Reuters
What it's about:
A meticulously reported, Pulitzer Prize-winning report on the dark world of human trafficking.
Excerpt:
"One afternoon in October, in the watery no-man's land between Thailand and Myanmar, Muhammad Ismail vanished.
Thai immigration officials said he was being deported to Myanmar. In fact, they sold Ismail, 23, and hundreds of other Rohingya Muslims to human traffickers, who then spirited them into brutal jungle camps."
Ghosts of the Tsunami
Richard Lloyd Parry -- London Review of Books
What it's about:
Years after Japan's devastating tsunami, its tragic legacy manifests in powerful ways.
Excerpt:
"There was no advance warning, no marginal area of incremental damage. The wave had come in with full force, spent itself and stopped at a point as clearly defined as the reach of a high tide. Above it, nothing had been touched; below it, everything was changed."
The Americas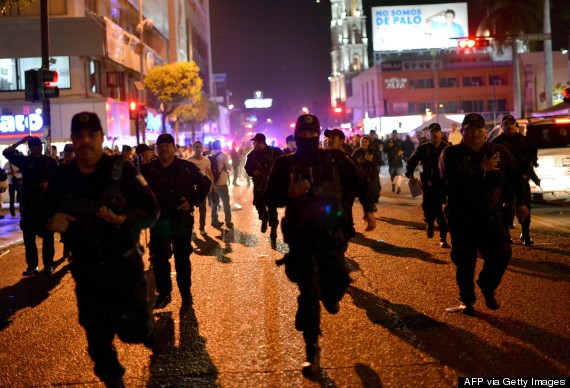 Police run to break up a protest in support of Mexican drug kingpin Joaquin Guzman Loera, aka 'el Chapo Guzman' in Culiacan, Sinaloa State, Mexico on Feb. 26, 2014. AFP PHOTO/Fernando Brito (Photo credit should read Fernando Brito/AFP/Getty Images)
The Hunt For El Chapo
Patrick Redden Keefe -- The New Yorker
What it's about:
Finding the world's most notorious drug lord.
Excerpt:
"Guzmán has been characterized by the U.S. Treasury Department as "the world's most powerful drug trafficker," and after the killing of Osama bin Laden, three years ago, he became perhaps the most wanted fugitive on the planet."