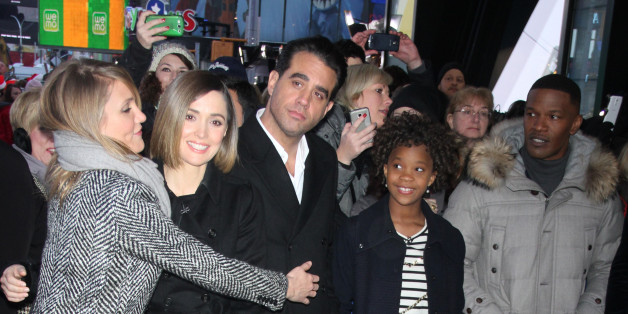 Bobby Cannavale spent three months rehearsing his one song-and-dance number in "Annie," the jazzy "Easy Street" duet with Cameron Diaz. But perfecting the sequence wasn't the only challenge the 44-year-old had in making the new musical. There was also the matter of his murder face.
"There would be some takes where [director] Will Gluck would be like, 'Uh, you've got to fix your look a little bit,'" Cannavale said in a recent interview with HuffPost Entertainment. "When my character turns on Annie and she's no longer useful to him, Will would be like, 'You look like you want to kill her, so you have to soften the look a little bit, because you're you.' That made sense to me."
Despite a career that spans 20 years across film, stage and television, audiences perhaps best know Cannavale for his villainous, Emmy-winning turn on "Boardwalk Empire." (Violent acts perpetrated by Cannavale's Gyp Rosetti included beating one man to death with a tire iron and setting another one on fire.) So starring in Sony's musical remake of "Annie" provided Cannavale with an opportunity to showcase a different side of his talent.
"After 'Boardwalk Empire' I could have been in one of 50 mob movies, but that wasn't interesting to me," Cannavale said. "It's a long race, this career, and I do want try to do as many things as I possibly can. Acting is like baseball: no one bats a thousand. I do want to take risks and play someone no one can see me playing. To see if I can do it. If I can't, that's okay, fair enough. I'll try something else."
The risk here is Sony's revival of "Annie," which takes the familiar story and tweaks it with casting and structure. Quvenzhané Wallis stars as Annie, with Jamie Foxx playing her version of Daddy Warbucks, a man named Benjamin Stacks, who is running for New York City mayor. Cannavale is Stacks' campaign manager, Guy, a villain both dastardly (he creates a fake set of parents for Annie at one point) and silly (he starts an impromptu leaf fight when their car breaks down to create a moment of "whimsy"). Then there's "Easy Street," which Cannavale performs with Diaz, who stars as Miss Hannigan. In the original movie musical, the track is performed by Carol Burnett, who plays Hannigan, and Tim Curry, who plays her brother, Rooster.
"The brother-sister thing is a little strange. I found this to be more accessible," Cannavale said of the sequence, which he cited as the main reason he wanted to do "Annie" in the first place. "For one thing, in the context of our film, it's the most natural place to put a song. They're in a nightclub, there's a band playing and people dancing. If you're going to break out into a song, that seems like a natural place to do it. The other thing is that the storytelling in the song advances the plot and explains this character quite a bit. It's an internal monologue this guy has. It's the best version of himself that he can present through the song. I like that. It made me feel like I was part of something very theatrical."
Not that Cannavale isn't used to theatrics. He's appeared on Broadway in numerous plays and was nominated for a pair of Tony Awards. As a child, he performed in musical theater, including "Guys and Dolls" and "The Music Man." More recently, he was attached to a revival of "Funny Girl" that never made it to stage and he even workshopped the adaptation of Woody Allen's "Bullets Over Broadway."
"It's hard to do a musical on Broadway, because the commitment is so long -- they want you to do a year," Cannavale said. "It's hard for me to do that. 'Annie' was the next best thing."
Well, other than karaoke. Cannavale is an avid amateur singer. "We go to a place with private rooms and just have a good time singing. I love to sing," he said of how he spends time with friends. "I'm a baritone. So I could do anything Neil Diamond, Johnny Cash, Tom Waits."
Cannavale, who just finished shooting Marvel's "Ant-Man" in Atlanta, even has a partner: Ant-Man himself, Paul Rudd.
"He and I went at two in the afternoon, just the two of us, to do it. We sit in a room together, we don't even talk -- we just sing songs," Cannavale said. "We don't even act like we're next to each other."
Beyond "Ant-Man," Cannavale will play the lead in Martin Scorsese's new HBO series about a music executive in the 1970s. They shot the pilot last spring, and HBO recently picked it up for series.
"My thing is that I'm always careful to not come off as a superfan. So when we were shooting the pilot with Marty, he would want me around," said Cannavale, who noted that Scorsese was one of three heroes he had growing up (Woody Allen and Al Pacino were the others). "I was always conscious of being around too much. I wanted to give him space. I would do this thing where I would go, 'Okay, I'm going to let you go.' Finally he was like, 'Where are you letting me go? You're my guy. Why don't you just stay here?' I was like, 'Okay.' But I didn't know what to talk about! What am I going to talk about? I don't want to ask him about 'Goodfellas.' But the truth is, a guy like Marty loves talking about it. So we did! So I did get to ask all the questions I wanted to ask."
And then there's his profane and hilarious Twitter account. Cannavale doesn't hold back online, whether it's live-tweeting the Tony Awards ("ANYBODY left who DOESNT know what the fuck Le Miz is about?") or posting about the New York Jets ("fuckin jets"). Cannavale said he started using the social network as a news source, but then realized it had more to offer.
"I hang out with a lot of funny people. People don't see me as a funny person, but I have funny thoughts. So I just decided one day to make my rules and just do what I want to do on it. I'm not going to be beholden to anyone, and if people don't like it they don't like it," he said. "The first time I had a gas with it was an awards show. I was watching an awards show and I was having a couple of drinks and I just started doing it. I don't really think about it either way. I just do it when I want. I kind of like it. It's a little comedic release for me."
Added the actor: "It's not managed. It's kind of random."
I don't ever wanna live in a place where bats are an issue at all. I was just thinking that.

— bobby cannavale (@bobbycannavale) October 17, 2014
BEFORE YOU GO
PHOTO GALLERY
"Annie" Photos