Few things make us smile as much as the compassion and unquestioning understanding of a child.
An adorable letter written by a nine-year-old to an openly gay teacher went viral on the Internet this week. In it, the child tells the teacher how proud his students are of his decision to live authentically.
According to Attitude, the teacher made the decision to speak to his class about queer issues by asking if any of the students had ever heard "gay" used as an insult before.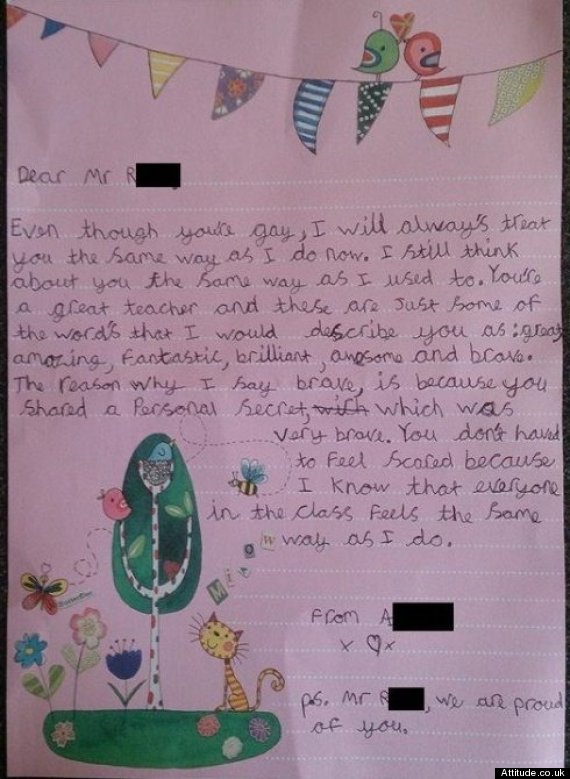 The letter reads:
Dear Mr R,
Even though you're gay, I will always treat you the same way as I do now. I still think about you the same way as I used to. You're a great teacher and these are just some of the word's [sic] that I would describe you as: great, amazing, fantastic, brilliant, awesome and brave.
The reason why I say brave is because you shared a personal secret which was very brave.
You don't have to feel scared because I know that everyone in the class feels the same way as I do.
From A x x
PS. We are all proud of you
Letters like this never fail to make us insanely happy. Last year, a grandfather wrote an incredible letter to his daughter after she kicked out his gay grandson. In the letter, he condemns her decision to disown her child and writes, "kicking Chad out of your home simply because he told you he was gay is the real 'abomination' here."
(h/t Attitude)
BEFORE YOU GO
PHOTO GALLERY
18 LGBT Kids And Allies Who Are Way Braver Than We Were At Their Ages