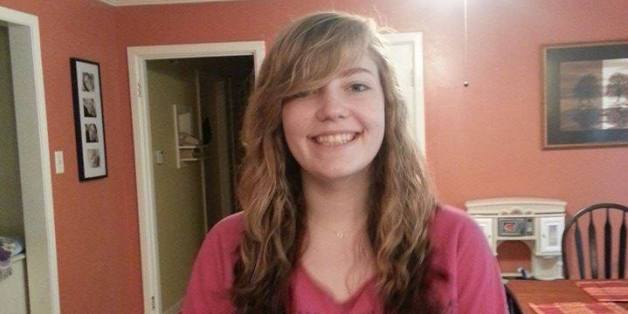 The father of a missing Oregon teen who police suspect of being a runaway said he does not believe his daughter is responsible for her own disappearance.
"There's no way," Hannah Thomas-Garner's father, Jeff Garner, told The Huffington Post. "I know my daughter and she's never run away."
Thomas-Garner, 17, has been missing since Nov. 29. According to her father, she had attended a party that night on Dead Indian Memorial Road near Ashland, Oregon. The teen never returned home and two days later, the 2012 Ford Focus she had been driving was found wrecked and abandoned near the city of Mt. Shasta, California. Mt. Shasta City is located about 75 miles southeast of Ashland.
According to Garner, authorities told him it is possible the vehicle his daughter had been driving struck a deer on the highway. However, Garner said there is no evidence to definitively suggest that is how the damage occurred.
"There was no deer blood or deer hair," he said. "If you hit a deer, there's going to be hair or blood or something."
Contacted by HuffPost on Thursday, Ashland police spokesman Corey Falls said there is "not something that is definite" as to what caused the damage to the vehicle Thomas-Garner was driving.
On the evening of Dec. 1, a man contacted authorities after seeing a news report about Thomas-Garner's disappearance. He reportedly said he gave a hitchhiker -- who matched the teen's description -- a ride from the city of Mt. Shasta to Dunsmuir, California.
"We went down and talked to that person [and] we think that was good information," said Falls.
Garner said he is not convinced the hitchhiking girl was his daughter.
"At that point, her picture had already been released and the guy had seen them, so we don't really know if it was her," said the missing teen's dad.
Falls also said that individuals who attended school with Thomas-Garner said she had made comments suggesting she was planning to run away.
"It sounds like this has been planned for quite some time," he said.
Garner said he is aware of what's being said by some of his daughter's classmates, but claims there are an equal number of them who are saying "there is no way she would have run away."
The distraught father also points to items found during a search of his daughter's vehicle, which he said don't add up to a runaway.
"She left with no money, nothing," he said. "Her phone was left in her car with the SIM card missing. Why would she do that if she was leaving her phone there, anyway? Why go through the effort to take the card out?"
While many questions in the case remain unanswered, one thing is certain: Garner is desperate to be reunited with his missing daughter.
"It's an absolute hell not knowing if she is living, is injured or has been killed," he said. "I have no idea and that's the absolute worst feeling ever. It's all I think about all day every day."
Thomas-Garner's family has created the "Bring Hannah Home" Facebook page to share information about her disappearance.
Thomas-Garner is described as 5 feet 6 inches tall and weighs 137 pounds. She has blonde hair and blue eyes. Anyone with information is asked to contact Ashland police at (541) 482-5211.
Like Us On Facebook |

Follow Us On Twitter |

Contact The Author
BEFORE YOU GO
PHOTO GALLERY
Hannah Thomas-Garner Missing