A Missouri mother and grandmother are both in jail on charges of child abuse after a toddler was found badly burned.
Katie Grimes, 25, was arrested last Saturday after hospital staff and police found a two-year-old toddler suffering from burns on twelve percent of her body, including her face and back. The child's eyes were also swollen shut from contact with hot bleach.
Court documents obtained by The Huffington Post detail the alleged abuse, and how both she and the suspect's mother, 51-year-old Karen Wynn, allegedly attempted to lie to authorities. The details may be disturbing to some.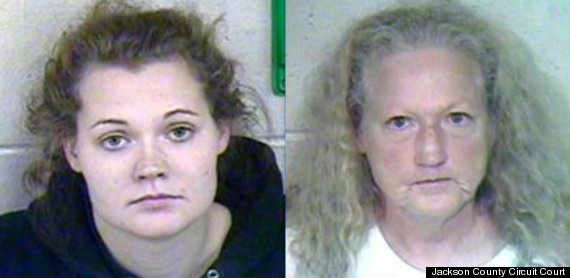 Katie Grimes (L), Karen Wynn (R)
The victim's paternal grandfather, Steve Koehn, arrived at Grimes' residence asking to see his granddaughter after picking up his three other grandchildren at the home. Grimes' allegedly refused to allow the grandfather inside. That's when the older grandchildren told Koehn that the little girl had "screamed really loud" when her clothes were changed.
During the encounter, Kohens' daughter recorded part of the conversation on her cell phone. Grimes' was captured on the cell phone saying about the victim: "It's bad, but it's none of your business," according to the documents.
The child was eventually taken to the hospital, where a Children's Division Worker spoke to the little girl, who said that Grimes poured hot water mixed with bleach onto the child, court records state.
"Mommy is mean," the victim told the worker. "Mommy did it."
Grimes told authorities that she had left a bucket of hot water mixed with bleach in a bathtub for cleaning purposes when the toddler spilled it on herself after the mother had walked away.
Wynn spoke to a detective, and said that she was not present in the house at the time of the incident. She later told the detective that she was in fact at the home, the report reads.
According to police, the victim's eyes were "almost completely swollen shut." When asked why Grimes did not go to the hospital sooner, the suspect allegedly told police that she was "afraid to do so because of a previous Children's Division investigation."
From the time of the little girls' initial injuries, it took more than nine hours for the toddler to receive any medical attention, cops said.
Despite saying that the child had done it to herself by accident, police said Grimes later admitted that she gets frustrated with the child sometimes.
"When asked if frustration just got the best of her, she said, 'Yes'," the report reads.
According to online records, Grimes is being held on a $150,000 cash only bond. Wynn is being held on a $100,000 cash only bond. Both women face one count of abuse or neglect of a child resulting in serious physical injury.