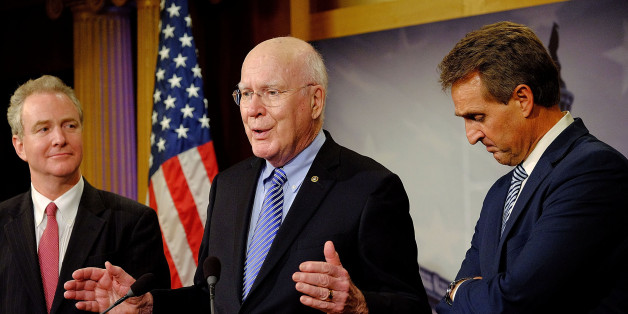 Before President Obama's announcement on Cuba, Americans were largely open to re-establishing relations with Cuba, but opinions among Cuban-Americans may be more complicated. And the American Dream isn't what it used to be. This is HuffPollster for Thursday, December 18, 2014.
RECENT SUPPORT FOR RE-ESTABLISHING CUBA RELATIONS - HuffPollster: "Most Americans...think the U.S. should re-establish diplomatic and trade relations with Cuba, according to a poll conducted by The New York Times. The survey, conducted in October, found that 56 percent of Americans favored re-establishing ties with Cuba, while 29 percent oppose doing so. After American Alan Gross was released from a Cuban prison Wednesday, President Barack Obama announced that the U.S. would start the process to normalize relations with Cuba. He also said the U.S. will ease its embargo on Cuba and called for debate to consider lifting it. Americans' overall views of Cuba in the October poll were lukewarm, with 39 percent rating the country favorably, 34 percent rating it unfavorably, and another 26 percent undecided. While Republicans were more likely than Democrats to hold a negative opinion, there was little difference between Hispanic Americans and Americans as a whole, the survey found." [HuffPost, NYT]
Similar to other recent polling - More from HuffPollster: "A YouGov/Economist survey conducted earlier this year -- as well as four polls in April 2009, after President Barack Obama expressed openness to a thaw in relations with Cuba -- also found majority support for reopening diplomatic relationships." [See also YouGov, Polling Report]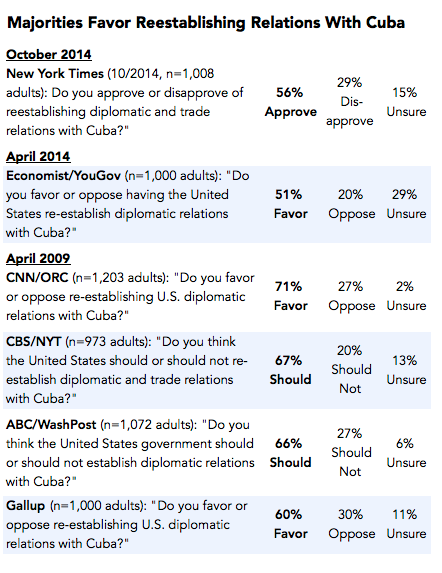 Support for diplomatic relations up since 1990s - Aaron Blake: "A Washington Post-ABC News poll in 2009 -- the last one that was conducted on the subject -- showed that two-thirds of Americans (66 percent) wanted to establish diplomatic relations with Cuba, while 27 percent opposed doing so. And views on the matter have shifted rapidly -- about as rapidly as anything in politics, in fact. In 1998, Americans opposed setting up diplomatic relations, 56 percent to 38 percent. Since then, they have gradually and steadily embraced more open relations. People are somewhat less keen on the idea of ending the trade embargo and opening travel to Cuba -- two other major issues at hand as the two countries engage in talks. But both still had majority support [in 2009]; 57 percent wanted to end the embargo, while 55 percent wanted to end travel restrictions." [WashPost]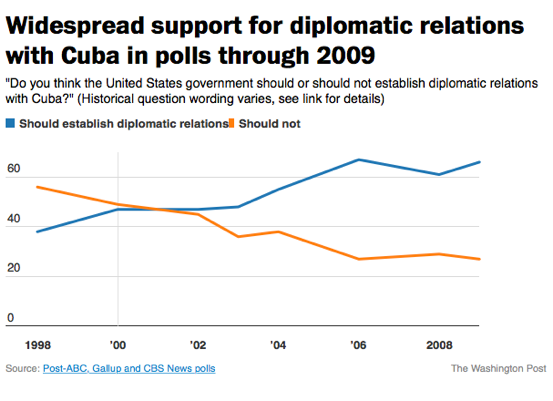 Support also high among Latinos, in Florida - A poll commissioned in early 2014 by the Adrienne Arsht Latin America Center at the Atlantic Council: "For decades the rhetoric around changing Cuba policy has been that Florida would never let it happen. The results from this poll challenge that long-held belief by putting Florida 7 percentage points ahead of the nation in favoring normalization. Not only are Floridians more willing than a supportive nation for change, but [Floridians] favor strongly favor normalization by 8 percentage points more than the country as a whole. Latinos share near identical levels of support. Floridians and Latinos are more likely to be well-educated on the issue of the US-Cuba relationship because of geographic and personal ties. The numbers indicate that the closer people are to the issue, the more likely they are to favor changing policy." The poll was conducted by the bipartisan team of pollsters Paul Maslin (D) and Glen Bolger (R). On Wednesday, the Atlantic Council expressed support for engagement with Cuba. [Atlantic Council, full report, statement on policy change]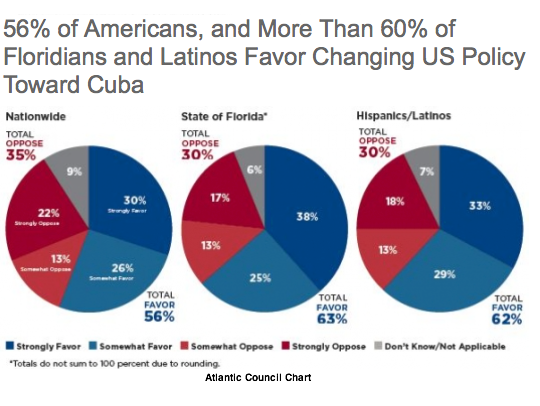 South Florida Cubans divided on embargo - Harry Enten: "Opinions on U.S.-Cuban relations have changed vastly in the past 15 years. The Cuban Research Institute at Florida International University has been polling Cuban-Americans living in South Florida since 1991. On the embargo question, Cuban-Americans had favored maintaining or strengthening it; today, a slight majority oppose it. Only 48 percent favor the embargo. That compares with 87 percent when the question was first asked 23 years ago and 62 percent in 2000." [538]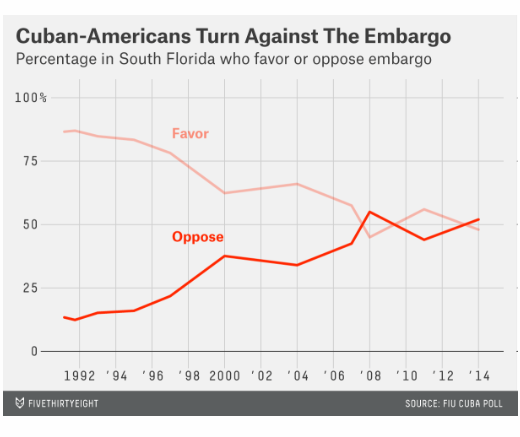 Cuban vote has shifted to Democrats - Philip Bump: "When we talk about the politics of Cuba, we're talking about one thing: Florida...Florida is home to three-quarters of the country's Cuban population...And as Pew Research found in June, the Cuban population in the United States has shifted to the left politically. When the organization polled in 2000, nearly two-thirds of Cubans identified as Republican, in part a function of the party's strong history of criticizing the regime of Fidel Castro. Since, that has shifted dramatically. In 2012, Obama won a majority of the Cuban-American vote in Miami. He won Cubans nationally by two points." [WashPost]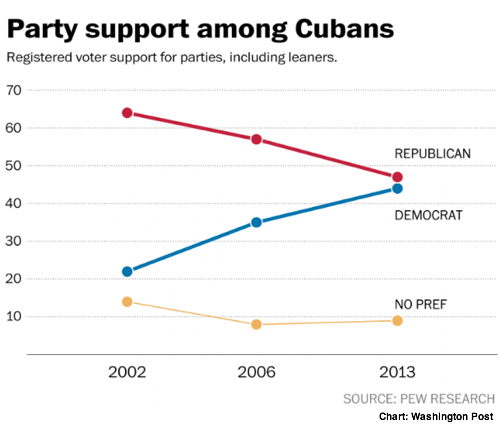 How will Florida's Cubans react? - Nate Cohn: "It's hard to know whether Mr. Obama's decision will move the needle among Cuban-American voters. Polling data reflecting Mr. Obama's decision, which will arrive in a few weeks, will tell us more....[However] Mr. Obama managed to make substantial gains among Cuban-Americans [in 2012] even though he was open to revising Cuba policy. Mr. Crist also ran on a more open Cuba policy and won the Cuban-American vote in the exit polls last month. The fact that Mr. Crist's advisers thought it strategic to emphasize the issue may be an indication of what their polling data showed." [NYT]
AMERICANS HAVE MIXED FEELINGS ABOUT THE AMERICAN DREAM - The American Enterprise Institute's Karlyn Bowman: "[W]hat exactly are Americans saying about the dream and how have their views of it changed over time? Do Americans believe the dream is endangered? The answers are more complicated than one might think…. Americans, by and large, believe that they can achieve their own personal version of the dream. This view has changed little over the past 30 years....Our review also suggests that people always say the challenges for the next generation will be greater than the ones they have faced….It is the public's collective judgment about the American Dream that has undergone worrying changes. We put more weight on what people say about their own experiences, but what people think about the average American's experiences drives our political conversation. And here, as a result of the 2008 financial crash and its aftermath, pessimism about the present and the future is palpable."
[AEI]
Belief in the American dream as a whole at a low ebb - Andrew Ross Sorkin and Megan Thee-Brenan: "Despite an improving economy and jobs picture, the public is more pessimistic than it was after the 2008 financial crisis that it is possible to work hard and become rich, according to a New York Times poll. The poll, which explored Americans' opinions on a wide range of economic and financial issues, found that only 64 percent of respondents said they still believed in the American dream, the lowest result in roughly two decades. Even near the depth of the financial crisis in early 2009, 72 percent of Americans still believed that hard work could result in riches….Notwithstanding the bleaker view of upward mobility, the majority of those polled said they were more concerned about the possibility that too much regulation in Washington could stymie the economy than they were about the prospect of inequality." [NYT]
HUFFPOLLSTER VIA EMAIL! - You can receive this daily update every weekday morning via email! Just click here, enter your email address, and click "sign up." That's all there is to it (and you can unsubscribe anytime).
THURSDAY'S 'OUTLIERS' - Links to the best of news at the intersection of polling, politics and political data:
--80 percent of Russians back Vladimir Putin as the Ruble falls. [AP]
-Jonathan Bernstein says polarization doesn't explain Obama's steady approval ratings. [Bloomberg]
-Kevin Ingham (D) argues that "gun rights" vs. "gun control" is the wrong way to phrase the question. [HuffPost]
-WPA Opinion Research (R) shares its post-election analysis. [WPA]
-On an open-ended question, President Obama is the leading choice for person of the year. [YouGov]
-Nate Silver estimates that killing "The Interview" will cost Sony $100 million. [538]
BEFORE YOU GO
PHOTO GALLERY
Cuba's Economy Through The Years