Scientists have been trying to unravel the mystery of "Racton Man" since 1989, when the Bronze Age skeleton was found clutching an ornate dagger in the hamlet of Racton in southeastern England.
Now, thanks to a new analysis of the weapon and the skeleton's bones and teeth, scientists have a pretty good idea of who Racton man was and how he died.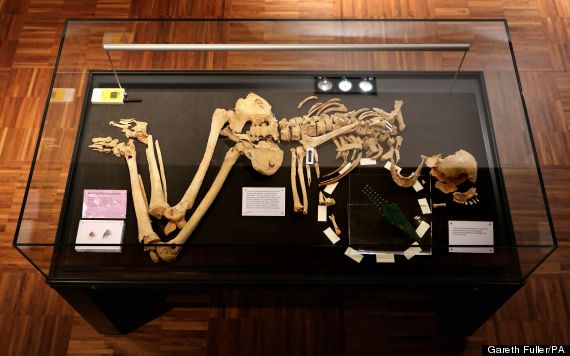 A view of the skeleton known as Racton Man at the Novium Museum in Chichester, England.
"This dagger is bronze and so this item would have been incredibly rare at the time; its color and keen hard edge would have distinguished it from the more common copper objects in use," Dr. Stuart Needham, an expert on Bronze Age metalwork formerly of the British Museum in London, said in a written statement. "We don't understand the social structure of this time, but he would have been a very prominent member of society, someone of great seniority."
The dagger dates back 4,200 years and is one of the earliest bronze objects ever found in Britain. Since bronze technology reached Britain and Ireland much later than other European countries, "Racton Man would have been right at the cutting edge of this technological advance," according to Needham.
The likeliest possibility is that Racton Man was a warrior chief.
Analysis of the skeleton's bones indicates that Racton Man stood about six feet tall and was well into his forties at the time of his death, which is beyond the average life expectancy of the time, the BBC reported. Tests on the skeleton's teeth suggest he was raised in southern England.
The analysis also revealed that he suffered from a number of medical conditions, including spinal degeneration, a chronic sinus infection, and tooth decay. The researchers believe he died some time between 2300 B.C. and 2150 B.C. Evidence of wounds on his right upper arm and shoulder suggest that he died in battle.
Racton Man and his dagger are now on display at the Novium Museum in Chichester, England.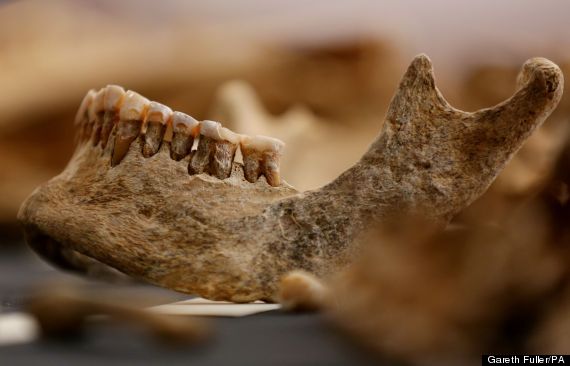 Racton Man's jaw. A view of the bronze dagger found with Racton Man.
BEFORE YOU GO